The improved ranking will lift some public health restrictions as a reward for the counties vaccinating at least 65% of adult residents.
Image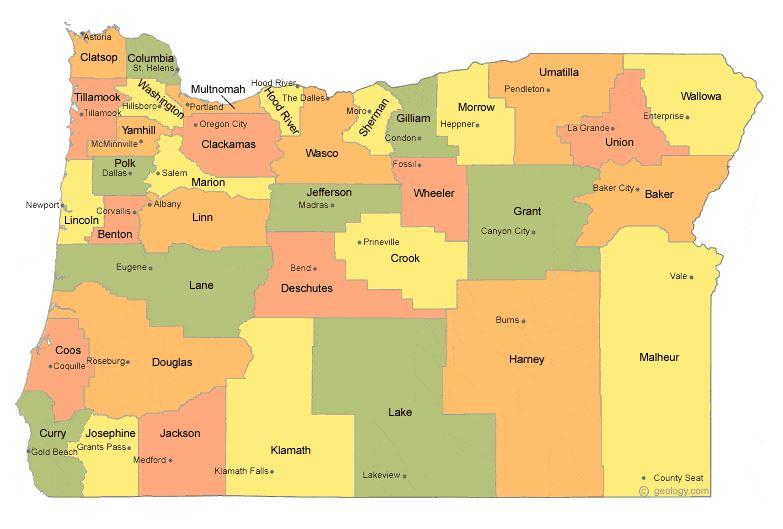 May 25, 2021
Five Oregon counties, including Multnomah, will advance on Thursday to the state's lower risk level for COVID-19, paving the way for businesses and venues to operate with fewer public health restrictions and more capacity, Gov. Kate Brown announced Tuesday.
The timing coincides with the Oregon Health Authority's anticipated release of rules for how businesses and venues like the Moda Center in Portland can operate so-called "vaccinated sections" for fully vaccinated people to sit and interact without social distancing restrictions. In Portland, the lifted restrictions will enable more people to attend events like Portland Trail Blazers basketball games at the Moda Center. 
Businesses and venues must be in a lower risk county in order to offer fully vaccinated sections. The governor's office said those rules will be out by Thursday.
The five counties to enter the lower risk category are: Baker, Curry, Grant, Multnomah and Tillamook. In all, 18 of Oregon's 36 counties will be in the lower risk category, the governor's office said.
Counties qualify for the reduced restrictions when they vaccinate at least 65% of adults 16 or older or when local COVID-19 infections drop. Multnomah County, where 67% of those 16 and older are vaccinated, has reached both thresholds. But the other four counties only qualify because their cases have declined. Baker County, for example, has just a 43% vaccination rate and Grant County has a 39% rate, the sixth lowest in Oregon, state data show. 
Benton, Deschutes, Hood River, Lincoln and Washington counties qualified earlier this month due to their high vaccination rates.
To qualify, counties also have to submit equity plans to the state that detail how they will vaccinate hard-to-reach and marginalized groups, such as communities of color and low income people. 
For the remaining 18 counties, three are in the moderate risk category -- Clatsop, Coos and Wasco -- and 15 are in the high risk category, including Marion and Clackamas counties. Counties in higher risk categories face restrictions that force restaurants, bars, retail outlets and entertainment venues to operate at limited capacity as low as 50%. 
"When fans left the Moda Center last March, it was one of the first signs this pandemic was about to change our lives in ways we hadn't previously imagined," Brown said in a statement. "Vaccines are the key to our return to normal life. It is a testament to the way Oregonians have united to battle this virus and get vaccinated in large numbers that, this week, the Rip City faithful can return to give our Trail Blazers the legendary home court advantage they deserve. If you haven't gotten around to getting vaccinated yet, go do so today. Don't miss your shot to cheer on the Blazers as they make a run at a championship."
The Trail Blazers worked with the governor's office and health authority on the plan for vaccinated sections. That venue will still have sections with socially distanced seating for unvaccinated people, as would any business that opts to have sections for fully vaccinated people. 
In a statement, Multnomah County public health officials urged residents to keep up their guard and recommended they continue to wear masks in indoor public places. State rules give businesses the option to allow fully-vaccinated customers to enter without a mask if they show proof of vaccination. Both the business and the customer have the choice to participate, however. Businesses can continue to enforce mask use, regardless of a customer's  vaccination status. Fully-vaccinated customers can opt to not show their vaccination card and keep their mask on, regardless of the business' practice.
"Masks work, and we ask you to keep masking up until our vaccination rates go up and our disease rates go down further,'' Public Health Director Jessica Guernsey said in a statement. "Thousands of people have been fully vaccinated across this county, but not in every neighborhood or age group. Nearly one-third of those eligible have not yet received any shot, particularly young people. Masks can help us avoid new infections, especially as we still have hundreds of new COVID-19 cases in Oregon occurring everyday.''
Multnomah County officials noted that public health officials in King County, Washington, made a similar mask recommendation. 
Separate from the county-level rankings, Oregon has a statewide vaccination target of 70% of adults 16 and older. When the state reaches that goal, the county risk level framework will end statewide, regardless of the vaccination level of individual counties. Currently, Oregon has an adult vaccination rate of about 64%, and state public health officials have said they expect Oregon to reach the target by the end of June. 
The health authority's update guidance released this week will offer changes for businesses, venues and faith institutions that decide to operate vaccinated sections. It will lift capacity limits or physical distancing requirements for fully vaccinated people 16 and older who provide verifiable proof of their vaccination status, the governor's office said. 
Businesses that opt to have vaccinated sections will still be able to require vaccinated people to wear masks if they wish. 
The new state rules for vaccinated sections will allow unvaccinated children up to age 15 in a vaccinated section if they are with a fully vaccinated parent or guardian. That's because children 12-15 years old recently became eligible for COVID-19 vaccinations.
You can reach Ben Botkin at [email protected] or via Twitter @BenBotkin1.