April 12, 2012 -- TriMet released its final budget proposal yesterday which is intended to save $12 million next fiscal year.
April 11, 2012
April 12, 2012 -- TriMet released its final budget proposal yesterday which is intended to save $12 million next fiscal year.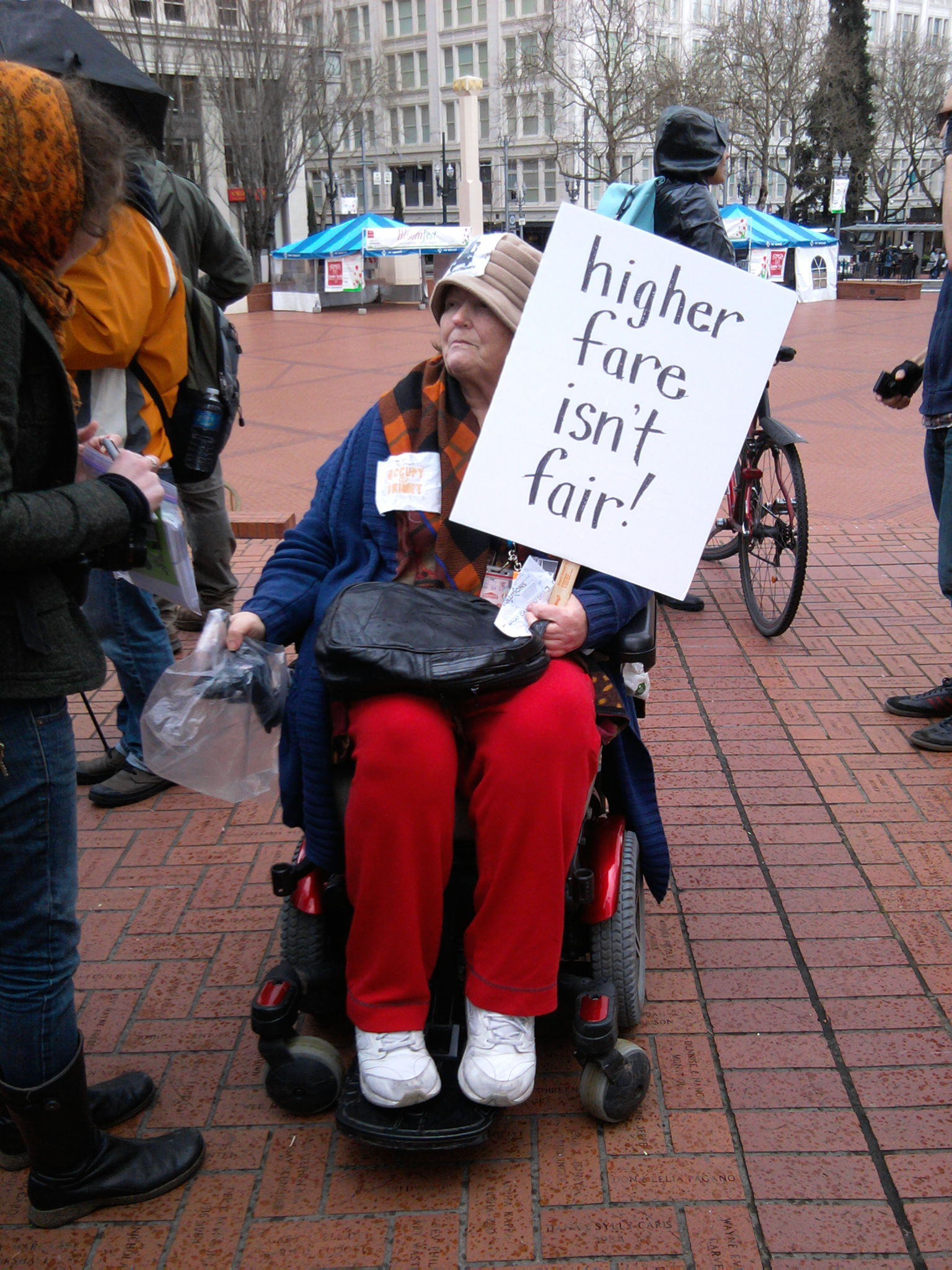 The changes include an increase in fares, a change to a flat fare (doing away with the system that charged different fares based on the distance someone anticipated traveling), elimination of the free rail zone – as well as reductions to programs and staff, reconfiguration of certain bus routes and adjustment of the LIFT paratransit service boundary.
If TriMet loses its contract dispute with Amalgamated Transit Union 757 – which represents its drivers – the agency will have to cut another $5 million.
TriMet contends that part of its budget gap resulted from increased healthcare costs and unreasonable demands by its drivers during contract negotiations. A third-party arbitrator is expected to rule on this issue next month.
 "They're making us out to be the bad guy because we have negotiated smartly from the beginning," Jonathan Hunt, the union's president, told The Lund Report last week before addressing protesters at the rally.
Grabbing the megaphone later, he told the crowd, "This is a great day, when you have those who ride the bus and those who drive the bus coming together."
TriMet should work together with the union, Hunt said, pointing to Lane County, which formed a committee to deal with healthcare issues by focusing on the personal lifestyles and working conditions of its drivers.
The union shouldn't take all the blame for TriMet's financial problems, said John Charles, president of the Cascade Policy Institute, who pointed to capital construction costs – including acquisition of land to build light rail service to Milwaukie. "The two of you are going to be in a bizarre mutual suicide pact while the whole agency goes down the drain," Charles told TriMet's board of directors at their March meeting.
Cutting back on bus services impacts public health, said Nick Maxwell, a health economist. For example, the average person who rides the bus walks about 19 minutes per day compared to a driving commuter who only walks 10 to 15 yards to get to their car and parks about 20 to 40 yards from their destination.
This spring, occupational therapy students at Florida International University will be working with seniors who participate in Ride Connection – a transportation service that serves seniors, people with disabilities and low-income job seekers in Clackamas, Multnomah and Washington Counties – to research how access to transportation affects seniors' quality of life.
Elizabeth Mintz moved to Portland because of its public transportation system, which she depends on to get around. She relies on TriMet because she has a disability that prevents her from being able to drive. "Cutting public transit will harm the disabled and harm the environment," she told the crowd.

Image for this story, portraying Portland resident Janet Sims at the April 4 occupy TriMet rally, was taken by Christen McCurdy.