Former council chair says Elders in Action is too cozy with funding sources and that Multnomah County should more closely monitor vendors to make sure low-income seniors get needed healthcare and transportation services.
December 8, 2015
Until May of this year, Bill Gentile was the elected chair of the statutorily mandated Senior Advisory Council for Elders in Action (EiA), a Portland non-profit advocacy group. That's when he was asked by the group's executive director, Barbara Bernstein, to step down.
"The executive director and I had a phone call, and she said, 'I don't see us having a mutually beneficial relationship,' so you're gone," he says.
Bernstein says that volunteers with EiA "have a responsibility to maintain the dignity and integrity of the organization with the public, accept guidance and decisions of staff supervisors and to maintain smooth working relationships with them. When it became clear that Mr. Gentile could no longer uphold this responsibility, we released him from his volunteer status."
Since being removed as council chair after nearly two years in that position, Gentile, 67, a retired federal investigator and Vietnam veteran, has been busy corresponding with county, state and federal authorities about the problems he sees with how the advisory council, EiA, and Multnomah County officials interact and the impact on services to local seniors.
His concerns prompted a recent state investigation and, after the Administration for Community Living (the federal agency overseeing funding for services through the Older Americans Act) reviewed the results, ACL requested a deeper look. That more extensive inquiry is now taking place from Salem into what Gentile describes as potential conflicts of interest, lack of diversity, and other issues which may run counter to federal statutes.
Jeanette Burket, aging services program specialist with ACL's Region X in Seattle, emailed Gentile on Nov. 17 to say that "we are continuing to follow your concerns about the lack of reflective diversity on the council as well as the conflict of interest issues. At this point, we also have additional questions we are pursuing with the State Unit on Aging and do not at this point consider either issue fully examined nor resolved to our satisfaction."
Mike McCormick, deputy director of the Oregon Department of Human Services' Aging and People With Disabilities Program, took an initial look at Gentile's allegations and found substance in some and dismissed others.
He emailed his findings to Gentile on Nov. 1, calling the claims of potential conflict of interest and lack of diversity on the advisory council "significant," but added that he "cannot conclude that the financial support of EiA compromises the advisory function of the Commission … ."
"We are already taking proactive steps with [Multnomah County's Aging Disability and Veterans Services Division] to discuss the concerns you have raised over the lack of progress in recruiting members from diverse communities, including the issue of resources for translation services, and how their current efforts may be leveraged to address these concerns," he wrote.
McCormick is now having some of his staff take the closer look at Gentile's concerns as ACL requested and plans to have additional information available in the near future.
What is Elders in Action?
Elders in Action is a non-profit advocacy organization based in Portland. It has a small staff and a small budget (currently $595,370, with a large chunk coming from Multnomah County's Aging, Disability and Veterans Services division, or ADVS). Besides the executive director, EiA has two personal advocate program coordinators, a civic involvement coordinator, a community engagement manager, and an office coordinator.
EiA's current two-year contract with Multnomah County (July 1, 2015 to June 30, 2017) specifies that its Senior Advisory Council will advise the City of Portland and Multnomah County's Area Agency on Aging about policies, procedures, funding, service priorities, legislation and other issues outlined in ADVS's area plan. The council gets about $85,000 from EiA to help its members do so.
Because the county helps fund EiA and the EiA advisory council is supposed to speak up on policy and other issues affecting seniors, Gentile says an inherent conflict of interest exists that ends up stifling comments perceived as critical of Multnomah County.
"While on paper, EiA is a separate entity from ADVS, the operating reality is, in its best light, EiA has a substantial conflict of interest in having a program (the commission) which may have legitimate criticism of ADVS," Gentile says. "In its worst light, EiA is acting as an agent of ADVS since the contract with ADVS spells out what services are to be provided by EiA and how they are to be provided."
He adds that if ADVS withdrew its support, it would "literally cripple" EiA since it has no financial cushion available to rely upon.
Bernstein doesn't see it that way. "We do not perceive a conflict of interest," she says.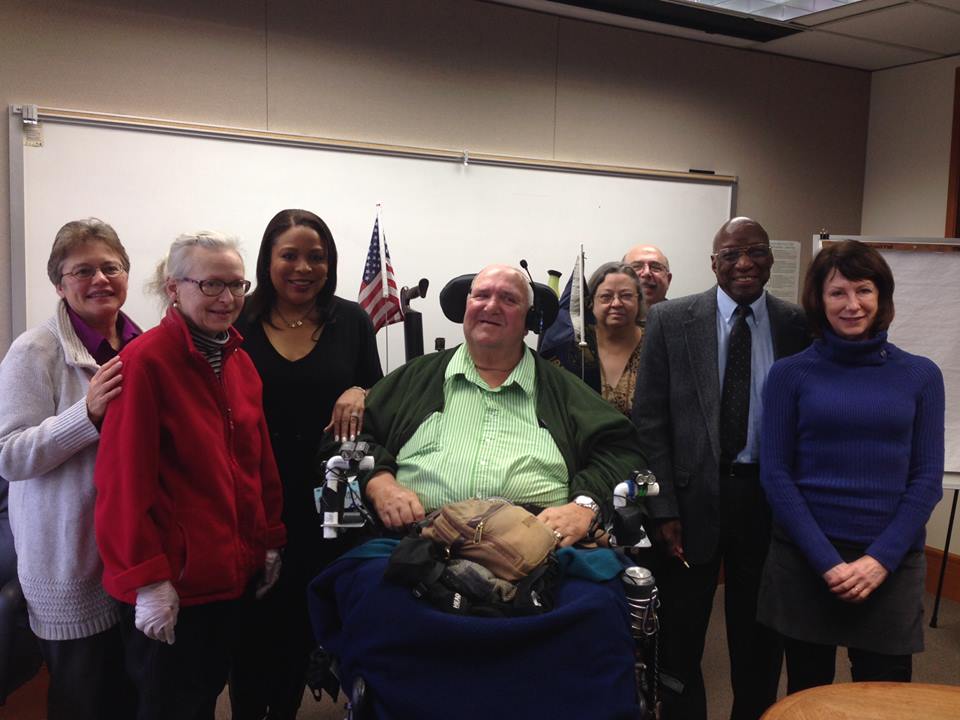 Role of advisory councils
This isn't the only recent local dispute involving the role of county advisory councils. There reportedly has been a power struggle going on between Multnomah County Health Department officials and some members of the department's Community Health Council over the latter's authority to "oversee the physical, dental and mental health services of people receiving county services."
According to media coverage of a contentious Nov. 9 meeting, which wasn't initially going to be open to the public, a federal audit found that this health council, a required entity if the county wants to accept federal grants, "does not document evidence of carrying out all of their responsibilities" and "does not recognize its full authority."
McCormick's opinion is that volunteer advisory councils "should be providing substantive input" to those who administer social services, and that such input should be seriously considered by decision-makers before they take action.
"They oftentimes have great insights and great recommendations, and that's the purpose of establishing an advisory council," he says, adding, "It's not to say that every recommendation that is produced is going to be implemented, but every recommendation should be seriously considered."
Such conflicts seem to hinge on whether these volunteer advisory councils truly play an advisory role, or whether they're merely functioning as window-dressing to meet federal requirements and make it appear that local government agencies are more democratic and representational than they really are.
Real input or a rubber stamp?
Gentile believes the real problem is that some county officials don't want a volunteer group of citizens looking over their shoulder. They want to move quickly when making decisions, and they don't appreciate having another input layer to wade through.
"They don't want the advisory council to be involved in the planning, the development, the implementation and monitoring of county policies," he asserts. "They have worked very hard to develop a good working relationship with the senior centers, and they don't want another pair of eyes looking into their relationship with the senior centers."
County officials tend to bring issues to the EiA advisory council that have already been decided and are only looking for rubber-stamp approval, he adds.
"Usually they come to you when they have something ready to go, and they bring it to a meeting and say, 'Here it is.' You have about 20 minutes to think of what to say," Gentile says. "Most people say they have nothing to offer, not because they're stupid, but because they haven't had time to read the material and digest it and discuss it."
He notes that the people who head up ADVS do good work and are "very competent," but that too many things have been promised to seniors with too few results.
"I tried for two-and-a-half years to work on diversity, and both the county and Elders in Action did nothing. … I met with the Elders in Action board twice and talked about diversity being a key thing to resolve. Everybody agreed and nothing happened," Gentile says.
Bernstein says that EiA staff and advisory council members routinely provide advice and input to the city and county on issues affecting older adults.
"We provide this input by meeting regularly with Multnomah County's ADVS program staff to receive information about programs, services and funding issues and by giving testimony at city and county hearings and in writing and by participating in city task forces and work groups," she says, adding, "We are currently working with the city and county to strengthen the advisory role of the council."
Lee Girard, ADVS's community services manager, says the county is asking for input right now from its advisory councils before finalizing some state-required monitoring of its programs. In addition, the division had the Institute on Aging at Portland State University's School of Community Health assess community satisfaction with senior centers through a survey.
"I would say the majority of [the survey response] was positive," Girard says. "Some members [of minority groups] coming to the sites were pointing out some problems involving not always feeling as welcome as they could."
As a result, she says that Multnomah County is developing a training plan specifically for volunteers operating at those particular sites.
Girard also points out that county outreach materials are routinely translated into various languages and that the county offers interpreting services at joint community meetings and other public events.
The question of diversity
The EiS advisory council diversity issue is also being addressed, according to Liesl Wendt, director of Multnomah County's Department of County Human Services.
"We are working with Elders in Action and with the state to develop a diversity plan. That plan has been developed, and we are reviewing that now," she says.
Wendt notes that the county doesn't want to "quickly add to the diversity on the commission but to have a plan to work toward diversity." To that end, she says the county will be "working toward trust with communities of color" whose members may not
be comfortable with a very traditional Western way of operating (for example, using Robert's Rules of Order to conduct meetings).
Attached to the current county contract with EiA is a chart showing the makeup of the EiA Commission as of July 2013 and the target numbers. That chart shows that there were 32 members on the council in July 2013, and 27 of them were white. Gentile says that the current advisory council is 100-percent white.
Bernstein calls diversity a subject "we care deeply about" and that EiA has made a commitment to seek many diverse voices in its advocacy on behalf of older adults in Multnomah County.
"We continue to strive to improve the diversity of our board, staff and all our volunteers," she says.
The EiA website currently lists five commissioners who are members of a "citizen advisory board" and seven members who are part of a commission "leadership committee," with these 12 people serving during 2014-2015.
Gentile believes that members of minority groups have every right to be irritated with lack of action on the part of government agencies, and it's understandable that their trust (and involvement) level is consequently low.
"By the time you get a resolution, if you ever get one, you forget what it was you asked. I can understand why an African-American on the commission would not be satisfied with that. They've been promised the moon over and over," he says. "I've served on several advisory committees, and when you have African-American members or people from communities of color, Latinos or whatever, they want answers today that they can believe in. They've been given the bureaucratic shuffle long enough and they're tired of it. Sometimes their expression of an issue may come out to be laden with anger, and it's legitimate."
County senior centers
Multnomah County is the largest county in Oregon in terms of population, and it also has a relatively large population of low-income seniors and seniors who are not white and/or grew up speaking languages other than English. Most of the latter are native Spanish-speakers or use Russian, Chinese, and various Asian and African languages as their primary method of communication.
According to 2010 U.S. Census figures 1 percent (about 78,600 people) of Multnomah County's total population of 735,334 are aged 65 and older, and about 12 percent of those (about 9,000 people) live in poverty.
According to July 2013 data included in the contract between Multnomah County and EiA, there were 13,280 people aged 60 and older in Multnomah County that year, and
of those, 9,818 were white, 1,545 were African-American, 784 were Asian/Pacific Islander, 577 were Hispanic, 432 were other, and 125 were American Indian.
One access point for services used by many seniors in Multnomah County, whether low-income or not, are the senior centers run by private non-profit vendors through contracts with the county. They are the Westside District Center, North/Northeast District Center, Southeast Senior District Center, Mid County Senior Services, and East County Senior Services.
These district centers run on multi-year contracts with the county, which are up for renewal next year. Wendt says the county is looking at its historic contracting processes and evaluating how things have been done.
"That process is very rigorous as far as community input and as far as expectations throughout that process," she says.
Gentile says the EiA bylaws provide the opportunity for each district center to send someone to represent that district on the advisory council, but that to date only the Hollywood Senior Center has done so.
Monitoring and evaluation
Gentile has also conveyed concerns to county and state officials about how services to low-income and other seniors in Multnomah County are verified, monitored and evaluated. He is particularly bothered by what he sees as vendors unilaterally changing policies in ways that may shortchange needed services to low-income seniors.
As an example, he says an incident occurred a few years ago when subsidized bus tickets were being limited to one book per person at the district centers except for those without a waiting list. He was told the reason was to get rid of the lengthy waiting lists, but says he learned later that the change was actually for the convenience of one district center with a waiting list that wanted to reduce its office hours. This action "inflicted great economic harm on the most needy of folks," he says.
"All I've ever asked the county to do is, if you have a policy, have it be consistent throughout the county, not one district center have one policy on transportation and fare assistance that's different. If you're going to give people one book of tickets, that's fine. Give everybody one book of tickets," he says.
Gentile hopes that transportation options for low-income seniors in Multnomah County may be improved when TriMet implements its planned e-fare system in 2017.
According to a 2014 "Eldercare Data Locator Report" done by ACL, 19 percent of about 271,000 seniors who called the National Call Center at 800-677-1116 or visited www.eldercare.gov that year said transportation was their greatest need. Of those, 77.5 percent said it was necessary to get to some sort of medical appointment.
Gentile says that while local senior centers may provide transportation services and put in for reimbursement from the county, that doesn't necessarily mean all the services were actually provided. And, barring adequate monitoring and evaluation of contracted services, the county doesn't really know what it is paying for or whether vendors are following county policies.
Future action
Going forward, Gentile says his requests are few. First, he would like a detailed plan submitted by ADVS to the state and the commission to address the concerns he has detailed. Second, he would like a meeting with all relevant parties (including him) to have a "candid conversation about expectations, duties and responsibilities."
Third, he would like to see a conversation begin about the "inherent conflict of interest" between EiA and the county and work toward a more independent advisory council. Fourth, while he would like a seat on the council, he says he doesn't want to be reinstated as chair.
"I know [the county is] strapped for money and staff, but you're going to have to find a way to squeeze in this advisory council. It's required by statute. It's not optional," Gentile says. "And Elders in Action has really done a disservice to the community by not looking forward into the future and realizing that this is something they have to be in partnership with the county, state and feds."
He also questions whether his removal as chair was proper since he says that EiA considers the council as a program offer within the non-profit, while he contends that it is a federally mandated advisory body.
"If Elders in Action is correct, then the executive director can remove any volunteer for any reason," Gentile says. "If I am correct, then the commission is the only body that can remove a member and the executive director has no authority to remove anyone and my removal was improper."
Meanwhile, McCormick has tasked state department staff with taking a closer look at the potential conflict-of-interest and diversity issues Gentile has raised. As for the timeline for getting that inquiry done, he only says, "expeditiously."
Once the draft findings are available, he says he will review them, accept or reject the conclusions, or ask for the investigation to be redone.
"I have confidence that we're going to be able to get all of the parties, which includes the state, the feds and Multnomah County, to agree on the steps that need to be taken," McCormick says.
Gentile says that he's "not trying to win anything" by speaking out, and that he only wants low-income and other seniors in Multnomah County to have the best possible services they can get.
"Part of that is having a vibrant and robust advisory council collaborating and cooperating with the agency and the services," he says. "Everyone has challenges, and I appreciate that, and I think we should be very candid about those challenges and say, 'Here are those limits and how can we provide services within these constraints?' That's it. That's all I'm after."
However, Gentile has also asked the feds to investigate whether any financial irregularities exist between the county and EiA. Specifically, he says that EiA may have "falsely billed and received payments" from ADVS for "services not rendered in this area."
This time, he has requested that his inquiry be referred to the Office of the Inspector General, U.S. Department of Health and Human Services.
Cathy can be reached at [email protected].