Farm to School Program Awards Grants to Local Schools
Schools can still apply for funding from a state-grant program until December 14
November 15, 2012 -- School children in Eugene and Portland will be eating more local agricultural products next year, and learning more about where their food comes from thanks to federal grant funding from the U.S. Department of Agriculture's Farm to School Program – and schools around the state are still invited to apply for funding through a state-run grant program whose application deadline is Dec. 14.
According to information released by the USDA Food and Nutrition Service this week, School District 1J in Multnomah County has received a $99,961 grant to expand purchasing and promotion of regionally produced food in schools, and the Willamette Farm and Food Coalition in Eugene has received $92,244 to provide comprehensive farm to school education for student in six schools in Lane County.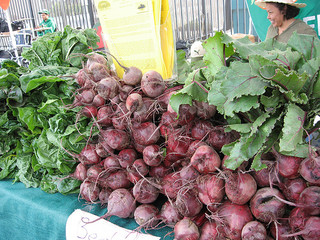 The Portland program has three primary goals: to increase purchases of locally sourced foods that support local agricultural producers and processors, as well as develop new student-approved breakfast foods (featuring local ingredients) and to connect low-income elementary students to their regional food system through hands-on gardening, farm field trips and nutrition education.
Students in the Willamette Farm and Food Coalition program will also participate in farm field trips, garden sessions and nutrition education, and will receive coupons for use at local farmers markets or farm stands – and they will be eating more locally sourced food in school-provided meals. The two programs were among 68 throughout the country to receive USDA funds for Farm to School programs.
Meanwhile, a state farm-to-school pilot program that struggled to get off the ground after receiving $200,000 from the legislature last year (later reduced to $193,000) – due to the retirement of its coordinator and a subsequent hiring freeze – is actively soliciting grant applications to get more local foods in schools.
Funds will be administered by the Oregon Department of Education, which is looking to fund between two and six projects. Kasandra Griffin, food policy and coordinated school health policy for Upstream Public Health, which lobbied for the state program, said that several school districts will be funded by the state program, and while the proposed programs do not have to cover the entire district, the applications need to come from the district level.
Griffin added that members of the Farm to School Coalition are hoping to receive a high number of applications, in order to demonstrate that there's a high level of interest.
"We would like very much for as many school districts as possible to apply for the small pilot grant funded program that is now being funded because we would like to go back to the legislature in 2013 and ask for a larger pot of funding," Griffin said. We would like to be able to demonstrate that there is a high level of interest."
While the month of November isn't exactly the height of fresh produce season, the funds can be used for other Oregon agricultural products as well, including lightly processed foods and local meets as well as fresh fruits and vegetables, she said.
"Lots of foods qualify for the reimbursement, from stored apples and pears, to meats, to root vegetables, to canned and frozen local foods," Griffin said. "So it's not the best season for fresh Oregon produce, especially in some parts of the state, but that shouldn't prevent anyone, anywhere, from being able to make good use of this grant."
For more information about the state farm-to-school program, click here.
For more information on the USDA farm-to-school program, click here.
Image for this story by Foto Motto (CC BY-NC-SA 2.0) via Flickr.