Low capacity and staffing shortages create long wait times for hospital beds.
Image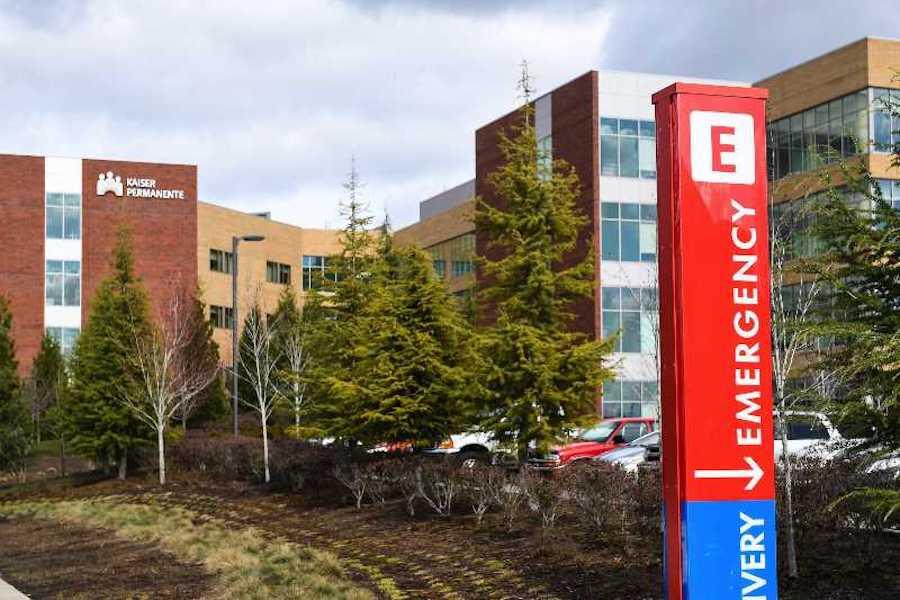 July 30, 2022
A lack of hospital bed capacity coupled with staffing shortages has health care workers across Oregon on high alert.
On a Wednesday in late July, only one intensive care unit bed was available among four counties, including the bulk of the Columbia River Gorge from Hood River to the rural town of Mayville in Gilliam County, nearly two hours away. The four-county region has only six ICU beds and 12 non-ICU hospital beds.
What's happening in the gorge is a statewide issue, health officials say. As reported by Pamplin Media Group in 2020, Oregon has the fewest hospital beds per capita, in the United States. It's also facing a critical shortage of health care workers. That's left Oregon's health care system in a perpetual state of strain since the pandemic.
Oregon Health & Science University's hospital and clinics have been at or over capacity nearly every week since January.
But what's alarming about the July numbers that show Oregon hitting full capacity mid-month, is that the state isn't seeing a surge in COVID-19 cases.
Following a winter surge in January, the state has logged a fairly steady increase in patients hospitalized with COVID-19 since late April, which peaked July 17, when Oregon had 464 patients hospitalized and some emergency departments in the Portland region were at or over capacity due to combined demand.
As of July 27, those numbers subsided a bit, down to 400 patients hospitalized with COVID, but hospitals have still been slammed.
In Region 1, which includes the Portland metro area, as well as Clatsop and Tillamook counties, 92% of the region's ICU beds were full. In the same area, 95% of non-ICU hospital beds were occupied by patients for various medical needs. Benton, Lincoln, Polk, Yamhill, Linn, Marion, Coos, Curry, Douglas and Lane counties were also 95% full.
"The capacity situation is as bad as it was during the delta and omicron surges, but we're not in a surge in cases," said Dave Northfield, a communications director with the Oregon Association of Hospitals and Health Systems on Thursday, July 28.
While some of the hospitalizations are from patients with COVID-19, hospitals also are seeing an uptick in patients due to so many people delaying medical procedures or doctor appointments during the pandemic, a physician with Oregon Health & Science University said. The hospitalizations are for a variety of reasons, but they're coming at a time when the state doesn't typically see that big a demand on capacity.
Northfield said Oregon hospitals usually get busier around fall, when flu season hits. Northfield said across the state, hospital directors are reporting a delay in getting patients moved to the appropriate care facilities. Some ambulance companies are reporting up to 90-minute wait times to get patients admitted, while others report having to travel long distances to find an open emergency room slot.
"We're running a full hospital every day for months," Dr. Matthias Merkel, a critical care physician with OHSU, said Friday, July 29. "We're essentially using every area we can and have to board patients in our emergency room who should be in an inpatient area. We can only admit the next patient when the previous patient has discharged."
Merkel noted a constant demand for care over the past year.
"The demand is just growing. The type of patients and what drives this demand, that is the interesting part. That is changing during the pandemic. I don't think we have a complete understanding in detail, of what drives that."
Oddly, the high capacity actually creates financial issues for hospitals. Oregon's hospital association reported the state's hospitals lost a combined $103 million during the first quarter of 2022 due to rising labor costs, a surge in patients and long discharge times that often leave patients occupying ER beds for more time than insurance companies will reimburse for.
Merkel said that since the start of the pandemic, OHSU and hospitals around the state have collaborated and used advanced analytical tools to figure out how to meet patients' needs and predict demand, but health care workers are stretched thin, working longer hours and more days per week.
"The staffing shortage has been chronic and severe," said Northfield, with the hospital association. "This has been an issue for a while, but the pandemic has turbocharged the problem."
Earlier this year in spring, it wasn't uncommon for Oregon to record 350 to 450 available adult non-ICU hospital beds each day, but the state has had fewer than 400 since May 7. On July 27, there were 291 hospital beds open across the state. In Region 6, the one that includes Hood River, Wasco, Gilliam and Sherman counties, just four hospital beds were available.
The number of available beds reported by the state may not be the number of physical beds in local hospitals, rather, the resources available for patient care. Even then, the state warns that some hospitals have staffing constraints that might further limit capacity.
"Hospitals have continued to experience strains on their capacity, with more than 85% of Oregon's adult ICU beds occupied since May," said Rudy Owens with the Oregon Health Authority. OHA differentiates between ICU and non-ICU beds available across all hospitals. Owens noted that there's been a bigger shortage of regular, non-ICU beds, saying the state health agency "continue(s) to monitor trends in hospitalization and bed capacity data."
Courtney Vaughn is a reporter for The Portland Tribune and can be reached at [email protected]. This article is used with permission of the Pamplin Media Group. Read more from Oregon's largest source of independent local news at pamplinmedia.com.