Dr. Howard Frumkin Urges Medical, Nursing Students to Consider Human Habitats
During a keynote address at the 10th annual Western Regional International Health Conference, he stressed the need to build healthier cities
April 10, 2013 -- Dr. Howard Frumkin, MPH, opened his address to a crowd of 300, most of them medical and nursing students, assembled last week at the Portland Art Museum, to imagine that they were zookeepers anticipating a new shipment of frogs or butterflies. The first priority, he explained, would be to create the right habitat for those animals before they showed up.
"It's remarkable how rarely, as humans, we think in those terms," said Frumkin, dean and professor of public health at the University of Washington nd the author and co-editor of several books --most recently Making Healthy Places: Designing and Building for Health, Well-Being and Sustainability, with Dr. Richard Jackson – about the relationship between urban planning and human health. His talk kicked off the weekend-long 10th Annual Western Regional International Health Conference, whose theme was Global Health in Changing Environments.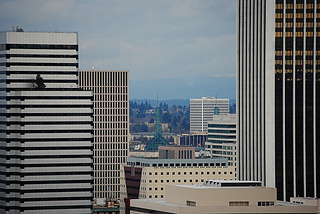 Frumkin noted that for the first time in human history, more than half of people living on the planet live in cities, which has an upside and a downside.
While an estimated one billion people live in urban slums, there are good reasons people are drawn to live in urban centers, he said. "Cities have a lot going for them. They're sites of innovation and economic opportunity. On the other hand, cities are challenging places." Namely, they can be noisy, crowded and polluted.
Frumkin went on to ask the students to imagine themselves as urban planners, listing the things humans need to thrive in their habitats: clean air, clean water, food, activity, light, not too much noise, safety, and privacy – but not too much privacy because people need to have contact with other human beings. Cities also need to be legible – that is, people need to be able to get their bearings, find landmarks and travel around easily – and cities need to have social equity and opportunity.
Rattling off the four "D"s of urban planning – density, diversity, destinations and design – Frumkin said, "In sprawling cities, you can't even support mass transit."
Frumkin also talked about what factors determine walkability in a neighborhood, noting that they go hand in hand with increased walking, biking and cycling as well as reduced car crashes.
"If you replace car travel with other types of travel, they're statistically safer," Frumkin said.
A CDC study also showed that people who use public transit to commute to work are more likely than drivers to get all the physical activity they need in a day, just by walking to their bus stop and back.
Frumkin also stressed the need for cities to preserve access to food, by preserving farmland and creating community gardens, and by improving offerings in grocery stores, particularly in neighborhoods considered "food deserts."
"Now you're asking, how am I as a health professional going to address these layers of human design?" asked Frumkin, who urged the audience to expand their expertise and build alliances with those in other fields, including urban planners and community leaders.
"I submit to you that we'll have the most success in healthy cities if we reach out to colleagues," Frumkin said.
He also stressed the need to find ways to measure a city's health: "What proportions of slums in the cities have improved over time?"
Some measures of success could include improvements in behavioral indicators, like the number of people in the community who smoke, but also the number of traffic fatalities.
To be healthier, cities also need to reduce their energy use and become more energy independent. The fact that many cities rely on coal burned outside their communities is bad for the global environment, while installing solar panels creates more jobs in the community, and greater social equity and justice, which are also key determinants of health.
Energy independence – as well as improvements to the built environment, like seismic retrofitting -- also helps communities stay resilient in the event of a natural disaster.
"When you look at sustainability indicators, good governance is always an indicator," Frumkin said.
"The goal isn't just healthy cities."
Frumkin closed his talk by challenging audience members to think outside the constraints of their professional training.
"We have the chance to hitch health to other values," he said, and then referred to the English physician who helped trace the origins of cholera outbreak in mid-19th century London. Dr. John Snow is considered one of the fathers of modern epidemiology, and his work also influenced the discipline of urban planning. "When John Snow took the handle off the Broadstreet Pump, he had not learned how to do that in medical school."
Reporter Christen McCurdy can be reached at [email protected].
Image for this story by C.M. Keiner (CC BY-NC-ND 2.0) via Flickr.