Dental Organizations Interested in Reform Take Their Case to the Legislature
Organization leaders continue to be concerned about the role they will play in coordinated care organizations, and whether they will be part of the decision-making process
May 24, 2012—Dental care organizations serving Oregon Health Plan patients are still publicly concerned about their attempts to become part of the newly forming coordinated care organizations – and made a presentation to the Senate's health committee during a three-day
interim session on Monday.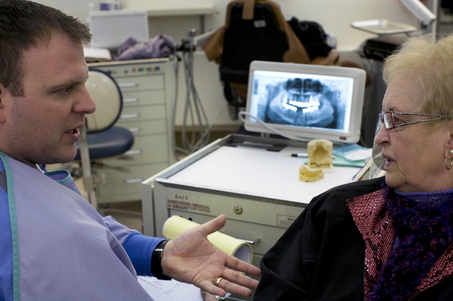 Coordinated care organizations are the backbone of the reforms the Legislature set in motion last year to reform the Oregon Health Plan's delivery system. They will integrate and coordinate each Oregon Health Plan patient's physical, mental and dental health starting this August; the hope is by creating patient teams, more efficient and effective care will be provided, thus saving costs and decreasing emergency room and specialty care use.

Dental care organizations aren't required to become a part of coordinated care organizations until July 2014. Until then, they can simply contract with a coordinated care organizations to provide
dental services.

But dental care organizations worry that if they do not become a part of a coordinated care organization's planning process now, providing effective dental care will not be emphasized and instead will be put on a back burner. "Dental care organizations are probably cut more than
any of the health plans," said Sen. Alan Bates (D-Ashland) during the hearing, alluding to the importance given to dental care in the past. "They can't handle any more cuts, or they would collapse."

"They don't want to be left out, let's put it that way," said Sen. Laurie Monnes Anderson (D-Gresham) during the hearing. "Hopefully, the [coordinated care organization] boards are going to
listen to what these people have to say."

The experience of dental plans trying to join the boards of coordinated care organizations has been mixed, leaders of the state's largest dental organizations reported.

"It's been very difficult for dental plans to be recognized as having any place in the emerging [coordinated care organization]," said Deborah Loy, executive director of Capitol Dental, which provides dental care to 90,000 Oregon Health Plan patients.

She went onto to tell legislators that many coordinated care organizations are not necessarily working with all the dental plans in a particular service area (the legislation creating coordinated care organizations said they could contract with "any" dental provider; legislative counsel later provided an interpretation of "any" as meaning "all" dental plans in a service area).

"There is some tendency to think that once you engage with one dental plan, you're done," Loy said. "It takes all of us to provide the care necessary to serve those particular communities."

Mike Shirtcliff, the CEO of Redmond-based Advantage Dental, said some the governing boards of some coordinated care organizations are taking competitive bids from dental organizations to determine who will be part of the coordinated care organization. "Those kinds of things are very troubling," he said.

Shirtcliff, for his part, is confident that providing appropriate dental care can easily save the two percent in Medicaid savings the state expects to save in the next two years.

Loy emphasized oral care represents a "major component of the healthcare delivery system...and should be considered a piece of overall health," and asked for support from the legislature, Oregon Health Authority, and the Governor's office.

Shirtcliff points to the language in Senate Bill 1580 as one reason for the frustration dental organizations are experiencing. That bill, which passed the Legislature in February gave the Oregon Health Authority the ability to move forward and create coordinated care organizations,
but didn't require dental organizations to serve on their governing boards.

"Some people took that as meaning they were outside of [coordinated care organizations]," Bates said. That was not the intent."
Image for this story appears courtesy of The Oregonian.