Critics say a court order that limits how long some patients can be treated at Oregon State Hospital could hurt public safety and put people on the street without care.
Image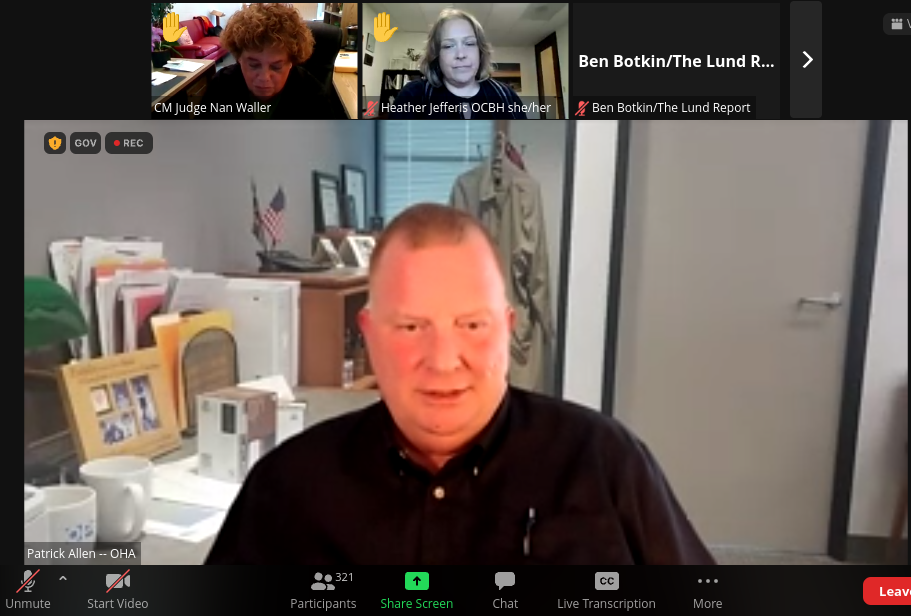 September 7, 2022
Behavioral health providers and prosecutors  are deeply concerned about a court order to release Oregon State Hospital patients after a limited amount of time to treat them.
The order, issued by federal judge Michael Mosman on Aug. 29, sought to reduce a backlog that keeps people waiting in jail without treatment they need to face criminal charges. But behavioral health providers and advocates worry that the plan will force newly discharged patients to live on the streets when they return to communities that lack local beds and resources to serve them. Oregon Health Authority officials don't dispute that scenario. 
Specifically, the order focused on the set of patients facing prosecution,  who need treatment so they can "aid and assist" in their defense.
On Tuesday, during a virtual town hall hosted by the Oregon Health Authority — which oversees the state hospital— advocates and prosecutors questioned whether that order will result in homelessness for patients and infringe on the rights of crime victims. This is because Oregon counties often lack the community mental health resources and beds, making it unclear  where patients will go when released.
Under the new court order, aid-and-assist patients can now stay at the hospital for up to 90 days if they face a misdemeanor, six months if they face a felony charge or 12 months if they face a violent felony charge. The order is intended to reduce lengthy wait times for people who sit in jail for weeks without treatment — and to eventually bring the state into compliance with a 2002 court order that requires aid-and-assist patients be admitted to the state hospital within seven days. Oregon has been out of compliance with that 2002 order for years. After a lawsuit, the state and advocates, including Disability Rights Oregon, agreed to hire an outside behavioral health expert, Dr. Debra Pinals, to draft recommendations for improvements. 
"This court order is one piece of the remedy," Pinals said at the meeting. "There are an array of other actions that the state is taking that come together as a package."
Aid-and-assist patients make up more than half of Oregon State Hospital's population. The state hospital currently has 409 aid-and-assist patients and a total capacity of 705 beds between its main hub in Salem and a satellite campus in Junction City. Other patients include civil commitments and patients found guilty except for insanity in criminal cases.
In 2021 Oregon lawmakers appropriated about $1 billion toward new behavioral health initiatives and programs, including housing and bolstering the workforce. But the state is still working to set those new initiatives up — and they don't offer an immediate solution.
In an interview, Heather Jefferis, executive director of the Oregon Council For Behavioral Health, said Oregon already is short on beds and other mental health residential options in communities.
"It's horrible because these folks are some of our most vulnerable people because they're involved in vulnerable systems and here we are in a situation where we just don't have community-based capacity to serve folks," Jefferis said.
During the town hall, Oregon Health Authority Director Patrick Allen fielded questions about the state's planned rollout, including one that asked if people will be discharged to live on the streets.
"To get down to brass tacks, is the Oregon State Hospital going to discharge people into the street?" one participant asked.
"The most straightforward thing I can say is that we intend to comply with Judge Mosman's order," Allen replied.
Allen said about 120 patients already fit within that criteria for release. The state will stagger out its release of those patients across a six-month period starting in October.
Even so, prosecutors are alarmed. Under the court order, counties will get a 30-day notification of when a person will be released as part of a plan intended to give them time to determine where to place the person. But some prosecutors say that won't be enough.
Washington County District Attorney Kevin Barton said his county has two murder defendants in the state hospital who are already past the one-year limit.
"I'm curious why OHA and the state hospital didn't ask for the ability to make case-by-case exceptions, for example, for extremely dangerous individuals where the harm to the community would far outweigh the benefit of one single hospital bed," Barton said. 
Allen responded that the health authority would get an answer back to him in writing.
Next Steps 
Counties will receive 30-day notices on Sept. 12 for the first group of patients to be released. The statewide group of 23 people is closely divided between felony and misdemeanor cases.
Allen said the state is starting with the "most straightforward" cases involving people the hospital has been unable to restore to face charges who are not accused of violent felonies. 
The Oregon District Attorneys Association, which represents county prosecutors statewide, said in a statement after the meeting that the plan is based on arbitrary deadlines.
"Release decisions should be based on the recommendations of medical doctors evaluating the individual defendant, and balanced with public safety and in the interest of justice — not based on arbitrary timeframes," said Umatilla County District Attorney Dan Primus, the association's president. "In addition to putting entire communities at risk, prematurely releasing defendants before they can be rehabilitated and held accountable deprives crime victims of their constitutional right to seek justice and be restored after harm has been done."
Washington, Clackamas and Marion County district attorneys petitioned the court to stay the order. That's been denied, but the judge has allowed them to file briefs weighing in on the issue in October. That's significant because they are not parties to the original case but have received recognition that they have standing to make arguments in court.
You can reach Ben Botkin at [email protected] or via Twitter @BenBotkin1.