Data on Kaiser 'Exercise as a Vital Sign' Still Preliminary
Physicians hope that by talking to patients about their physical activity levels they can get information about barriers, and advocate for changes in the community
February 7, 2013 – Despite numerous correlations between exercise and long-term health, doctors don't necessarily ask patients how often they work out and what they do – unless the patient is being seen for a sports injury, heart problem or other issue directly related to exercise.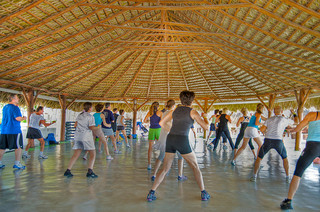 But since late 2011, Kaiser has started to treat exercise as a vital sign, urging physicians to discuss the topic with their patients as a regular part of every visit, borrowing from a California Kaiser initiative that's been under way for three years.
Dr. Keith Bachman, an internist with Kaiser in Oregon, said the initiative is part of a larger push to promote exercise and healthy living. Along with promoting events like Sunday Parkways – a health event held several times each summer, during which streets are closed to car traffic to promote cycling, walking, and healthy eating – and hosting farmer's markets, Kaiser is interested in both the small and the big picture when it comes to exercise.
Talking to patients about their exercise habits helps at the individual level, Bachman said. But clinicians are also analyzing the data from electronic medical records to look at trends that shape behavior.
"We've learned some really important things about social support," Bachman said, such as the way work schedules and the availability of social exercise activities influences patient's behavior. "Things like Sunday Parkways, we think, are exactly on the right track."
Analysts at Kaiser are also mapping patient data to see how geography influences exercise patterns – for instance, to determine whether people who live in suburban areas tend to exercise less than people who live in denser, urban neighborhoods.
Analysts are also looking at the connection between exercise and chronic conditions generally assumed to be linked with it, like heart disease, Type Two diabetes, and depression – as well as the connection between obesity and other factors, such as socioeconomic status.
While there is some data available on these issues – for instance, correlating obesity rates in zip codes – Kaiser is hoping to get a better picture of what influences patient behavior, and advocate for change to help people stay healthier.
"I think what we're learning is that it's hard, because of the environment that we live in, for many patients to get enough exercise," Bachman said.
Preliminarily, Bachman said, it looks like the question does occasionally get missed, but in general physicians have complied with the initiative, which also represents something of a cultural shift in how they think about caring for patients.
"We've found that doctors aren't that comfortable talking about behavioral change," Bachman said, and receive very little training relating to nutrition or how to counsel patients about their habits.
But just asking certain questions makes patients think about their own habits, which is the first step toward making changes.
Providers and other clinical staff are also thinking about exercise more often.
"Staff is asking these questions 30, 40 times a day. It makes you want to walk the talk," Bachman said.
While definitive data for Oregon hasn't been compiled, what Bachman's seeing thus far closely matches the result of data gathering in California, that showed only about a third of Kaiser patients were meeting the Centers for Disease Control and Prevention's 2008 recommendation of two and a half hours of vigorous physical activity per week.
Chris Kernion, a 41-year-old instructor at Portland Community College and Clark College, said he joined Weight Watchers and started exercising for 30 to 60 minutes every day after discussing fitness with his physician, Dr. Julie Matteson, who practices at the Kaiser Interstate Clinic.
"I've lost about 49 pounds," Kernion said. "I'm technically at goal weight, so it's just been maintaining and toning." Either he takes a short walk with his dog, uses a cardio machine or lifts weights.
"I try to vary it up, so I don't get bored." Kernion said he's also been able to reduce medications he was taking for chronic conditions and eventually hopes to phase them out altogether.
"I don't like to make a joke of it, but I was basically a walking heart attack before I walked into Kaiser," Kernion said. 
Image for this story by Ed Yourdon (CC BY-SA) via Flickr.