More than 120,000 doses of the Pfizer BioNTech Covid-19 vaccine for children should be available in Oregon by early next week.
Image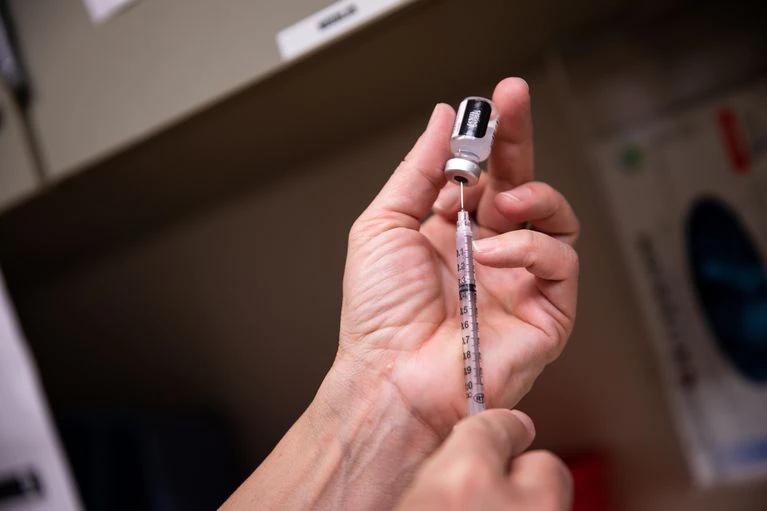 November 4, 2021
More than 120,000 initial doses of the Pfizer BioNTech Covid-19 vaccine for children should be available in Oregon by early next week.
The CDC's Advisory Committee on Immunization practices recommended the shot for kids ages 5 to 11 in a unanimous vote on Tuesday, after concluding that the benefits outweighed the risk.
Among the benefits of vaccination for the group cited were a reduction in hospitalizations and deaths for children in the 5 to 11 age group from COVID-19, a reduction in cases of multi-system inflammatory syndrome, a rare and serious complication that can occur in children a few weeks after a COVID-19 infection, and fewer missed school days for children.
On Wednesday, the Oregon Health Authority announced health care providers could begin administering the shot, after scientific advisors to a coalition of western states also signed off on the CDC decision.
With shipments of the pediatric vaccine still in transit and being unpacked, state health officials said they expect it will take a few days before any shots are actually given to 5-11 year-olds.
Related: PDF: Oregon Health Authority's pediatric vaccine plan for Portland region
"Many sites are still getting organized. I'm hearing anecdotally about some providers getting ready to start up this weekend," said Dr. Kristen Dillon, senior advisor to Oregon's COVID-19 Response and Recovery Unit.
Unlike children 12 and up, younger kids won't get the exact same shot as adults. The approved pediatric version is a one-third strength dose and ships in vials with orange lids to distinguish it from the adult version with a purple lid. The pediatric vaccines work in the same way as the adult version and are also administered in two doses at least 21 days apart.
Efficacy of the shots was similar to what was observed in adults. In Pfizer's clinical trial, vaccination was nearly 91% effective in preventing infection in children 5-11 years old while the delta variant was circulating.
The Oregon Health Authority is warning parents they might have to wait a few days before the vaccine is widely available, and that demand for the vaccine could exceed initial supply.
More than 77,000 of the pediatric doses coming to Oregon are being shipped directly to health care settings like children's hospitals and pediatrician's offices. Another 38,100 are going to county public health departments and federally qualified health centers working to vaccinate people who are Black, Hispanic, or in other under-vaccinated populations. In addition, the federal government has made 60,000 of the pediatric shots available to pharmacies in Oregon, though it's not clear whether pharmacies have ordered that full amount.
According to OHA, the initial doses are going out to every county and every provider that requested the pediatric shots, and there will be additional shipments in the coming weeks.
In the Portland metro area, the four major health systems that pooled their resources to open a mass vaccination clinic for adults have each formed separate plans to distribute the shots to kids through their clinics, pediatric offices, or events with schools and community groups.
Kaiser Permanente has the most ambitious plans to distribute the shot, according to notes from an OHA meeting on vaccine distribution this week.
Kaiser is planning to have the capacity to administer 3,000 to 5,000 doses per week across its facilities in Portland and Beaverton. Providence estimates it has capacity to administer 1,500 doses per week; Legacy 500-1500 doses a week; and OHSU 1200 doses a week.
OHA is also in the process of standing up three larger-scale vaccination sites to operate in the evenings and on weekends in the metro area that will provide the Pfizer pediatric COVID-19 shot along with first doses and booster doses for adults.
In Washington County, the state is planning to administer 500 vaccinations a day at an indoor and curbside vaccination site on the Tektronix campus in Beaverton.
In Multnomah County, OHA hopes to give out 1,000 to 2,000 doses daily at a drive through site in the parking lot of the closed Gresham K-Mart. The state is still working to identify an appropriate site in Clackamas County.
The state has no immediate plans to require COVID-19 vaccination as a condition to attend public school.
State epidemiologist Dean Sidelinger said the earliest the state would consider adding the COVID-19 shot to the school vaccination schedule would be for the next school year. He said the process of adding it and taking public comment could take up to a year to complete.
This story was originally published by Oregon Public Broadcasting.