Courtney Wants $4.9 Million for Scholars for a Healthy Oregon
Senate Bill 2 would give scholarships to 40 aspiring providers and has strong bipartisan support, but funding the program remains a question
March 28, 2013 — The Oregon Legislature is considering yet another measure to make the price of medical school more affordable, this one with the backing of Senate President Peter Courtney, D-Salem.
"Between 2010 and 2012, there was a 7.8 percent drop in the number of primary care physicians practicing in Oregon," Courtney said. "Furthermore, in 2012, 6 percent of physicians reported plans to reduce hours, move out-of-state or retire in two years."
Senate Bill 2 asks for $4.9 million from the state general fund to support a new Scholars for a Healthy Oregon program at OHSU, giving scholarships to aspiring doctors, dentists, nurse practitioners, physician assistants and certified registered nurse anesthetists who commit to work in underserved areas.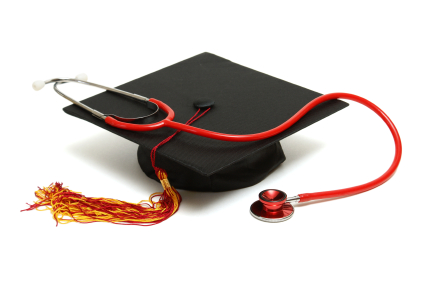 A 2012 Oregon Healthcare Workforce Institute report said 39 percent of the state's physician workforce was older than 55. Meanwhile, high tuition at Oregon Health & Science University
Courtney said that the problem had gotten so severe that Dr. Bud Pierce — a Salem oncologist and president of the Oregon Medical Association — told him that if he were coming out of college now, he would not go to medical school because he couldn't justify the cost.
"He is an extraordinary talented doctor," Courtney said. "I can only wonder what Oregon would be like without him."
Unlike other programs the Legislature is considering to support medical providers by paying off lenders or loans, the Scholars for a Healthy Oregon would give money directly to the medical school, cutting out the expenses of the lenders.
"I share Senator Courtney's passion for this crucial legislation," said Dr. Joe Robertson, the president of OHSU. "This is something near and dear to my heart."
Robertson said primary care shortages will increase with 400,000 uninsured people getting access to health insurance through the Affordable Care Act next year.
Underserved areas include rural doctor shortage areas as well as urban neighborhoods where patients often have trouble finding a primary care physician. Very select parts of Portland and Eugene could qualify, along with Roseburg, most of the Coast and much of Eastern Oregon, but generally not Hood River or Jackson Counties where a high-number of practitioners get a tax subsidy but doctor shortages are less prevalent.
The program would also be set up to require participants to agree to serve a proportionate number of Medicaid patients.
The sum is expected to pay the tuition of 40 professionals, including 12 new doctors. Anyone who accepts the scholarship money will be bound to their underserved practice area for a time equal to their length of study, plus one year.
Robertson said preference would be given first to Oregonians whose parents did not attend college, then to people who grew up in rural Oregon or in racially diverse communities.
"They are more likely to serve in these areas and stay," Robertson said. The program is also limited to Oregon residents.
If people in the program renege on their promise, they'll foot the bill for their entire tuition, plus a 25 percent penalty.
"We've been striving for this for a long time," said Sen. Jeff Kruse, R-Roseburg, who enthusiastically supported the bill as it passed 4-0 from the Senate Health and Human Services Committee. He told Courtney that he could get a raft of sponsors for the bill if he circulated it among the legislators.
Sen. Tim Knopp, R-Bend, took his support a step further: "I like the president's bill so much that I want to sign on to this. I will do everything I can to see this go through."
Knopp then launched into a call for Courtney to help him get the "biggest PERS reform" bill possible through the Legislature to find enough money to pay for the scholarship program. The Joint Ways & Means Committee still has to decide whether to fund SB 2.
The preliminary 2013-2015 budgets show only modest revenue growths as services continue to rise. Gov. John Kitzhaber and Democrats and Republicans in the Legislature are attempting to help boost education spending by making cuts in public employee retirement benefits, but they disagree on the severity of the cuts.
Democratic legislators offered Senate Bill 822 on Monday, which they say would save $805 million, roughly half through cutting benefit increases and half by putting off employer contribution increases. Republicans oppose the legislation, demanding that pensions be cut more drastically.
"I think this is also an argument to help me with tax increases," Courtney replied to Knopp. "Thanks for throwing in with me. You're my wingman."