Omicron EG.5 has become the U.S.'s most dominant variant, making up nearly a quarter of national cases
October 26, 2023
The most common COVID-19 variant in the U.S. is still rare in Oregon, according to data from the Oregon Health Authority.
Omicron EG.5 was first identified this year, and has become the U.S.'s most dominant variant. It now makes up nearly a quarter of national cases, the CDC estimates.
However, the sub-variant has been relatively unsuccessful in Oregon, peaking in July with less than a 10% share of cases. And for the first two weeks of October, officials didn't detect the variant at all within limited sample sizes.
Instead, recent data has shown a split between several other Omicron offshoots in Oregon, commonly among those from the XBB lineage.
"It is a ton of little tiny variants causing a few percent of the disease each," said Dr. Paul Cieslak, the Medical Director for Communicable Diseases & Immunizations at the OHA.
Cieslak theorizes that EG.5 arrived too late to dominant in this competitive environment. He said no new variant has taken over like Delta or the original Omicron once did.
"There's just been fragmentation of all the Omicron variants," he said. "So little mutations here and there, but not terribly different from each other."
The World Health Organization is tracking EG.5 as a variant of interest, as it may be more infectious or immune-resistant. However, Cieslak said he suspects those advantages are marginal.
He said some immunity overlaps between the offshoots, and the distinctions aren't that important for public health. As of September, WHO has found no indication that infections from EG.5 are more severe.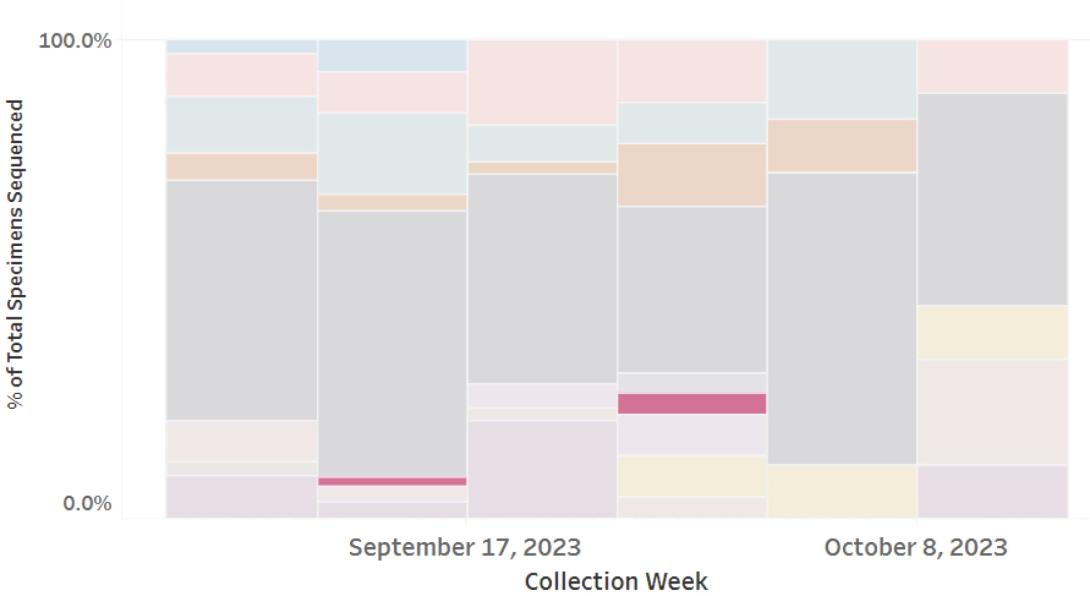 More data on variants is available online through the Oregon Respiratory Virus Data dashboards. Additionally, the service has expanded to include information on influenza and RSV.
The dashboards display weekly data on outbreaks and hospitalizations in Oregon, as well as what percentage of tests are positive.
"This provides information regarding the urgency of getting vaccinated, for example, or getting tested should you develop symptoms," said Cieslak.
Also new is a map of wastewater data, which estimates the scale of infection in different regions, primarily of Western Oregon. Cieslak said viral trends can take multiple weeks to travel across the state.
The data doesn't update in real-time, with some metrics falling weeks behind. Cieslak said virus conditions can change quickly, but this service will still show larger trends.
Cieslak said the dashboards will help high-risk people know when to take necessary precautions, such as wearing masks or avoiding crowded indoor spaces.
---
This article was originally published by KLCC. It has been republished here with permission.