Cost of Coverage – The Real Measure of Health Reform Impact
The author who runs an insurance agency in Roseburg, contends that only low-income Oregonians and people on Medicaid will benefit from the insurance reforms under the Affordable Care Act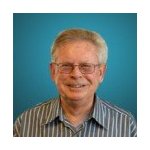 OPINION – May 20, 2013 -- Prior to actual plan pricing being available, everyone, including me, tried to predict how much the Affordable Care Act (ACA) would increase premiums.
Estimates generally ranged from 25 percent to 38 percent, and I was on the high end. So we all knew premiums were most likely going to increase, we just weren't sure how much. All these efforts to predict were generally done on a false assumption that similar plans to the new Platinum, Gold, Silver and Bronze plans were available already, and all we had to do was predict the added cost of the new 2014 ACA requirements. These included a change in rating methods, added preventive benefits and guaranteed issue with no health restrictions, in addition to added fees and taxes. None of these plans actually existed. We knew prices were going up but not actually how this would impact the people who buy health insurance and those who haven't, but are now required to or pay a fine.
Now we have actual prices for all the plans from all the insurance companies who will be participating in Oregon's health insurance exchange, Cover Oregon. These are the plans and rates submitted to Oregon's Insurance Division for approval. How much the premiums increased was as difficult to measure now as it was to predict beforehand. Prices vary dramatically between companies, and we now have both smoking and non-smoking rates for most companies with differences in how much more they charge for smoking. This is further complicated by the fact that premiums increase with age on a yearly basis rather than the previously common five-year age bands. This means that premiums will increase for members each year based both on age and increases in medical costs, much like most Medicare Supplements do today. When I averaged, as best I could, all the rates together and compared to my earlier 38 percent prediction, it looks like 29 percent would have been a better number.
This still didn't tell me what I wanted to know. What would be the actual impact on the people who buy health insurance? At first glance, a few plans looked much lower priced than expected. Could it be that we have some good choices here, and people won't be affected that much? The prices on the second lowest cost Silver plan, the one that will be used to base subsidies on, looked really good with no difference between smoker and non-smoker rates. It certainly was when compared to the other Silver plans on the exchange, but was it? These new plans all had better coverage than those that clients had been buying in the past.
To find out, I took all of our agency's sales for individual policies over the last 12 months and averaged their premiums. On average, our clients had purchased policies with an average premium of $249.15 per month. What would happen if I hypothetically had sold them the second lowest priced Silver plan that, at first, looked so good? When I calculated the average premium for that scenario, I arrived at a $369.57 which represents a 48.3 percent increase in the cost of their coverage and this is the second lowest price plan. This means the others are higher yet. This is a much better measure on the impact health reform will have, not the 25 to 38 percent increase in premium previously predicted.
Maybe they can afford the Bronze plan? That came in at an average premium of $291.14, or an increase of only 16.9 percent. Then I looked at the benefits of the Standard Bronze plan. Many of my clients would not be happy with a $5,000 deductible plan where the $5,000 deductible has to be met before they get any help with medical or prescription drug expenses, even as they do get free preventive care. It does provide a lower cost option for some of them, but not nearly as well suited to them and their needs as what they have now and can't keep.
For the curious, the Gold plan came in at an average premium of $440.67 or a 76.9 percent increase over our last 12 month's purchases. I can't think of any of our clients who have plans this expensive, so for all practical purposes Gold and Platinum plans are not viable choices. This leaves us with the Silver plan and its 48 percent increase in cost of coverage or the second best Bronze plan with no prescription drug coverage until after meeting the deductible.
Wait a minute John; you forgot to take into account the subsidies. This is a story all by itself. Since the subsidies are based on the cost of the second lowest cost Silver plan, and the premiums for that plan were relatively low, this had a dramatic effect on the value of subsidies. For single people in their 20s, 30s and 40s, subsidies are non-existent or so low as to provide no incentive to purchase unless they are below 200 percent Federal Poverty Level (FPL). For families, there isn't much help above 250 percent of FPL. A chart of available subsidies is shown below.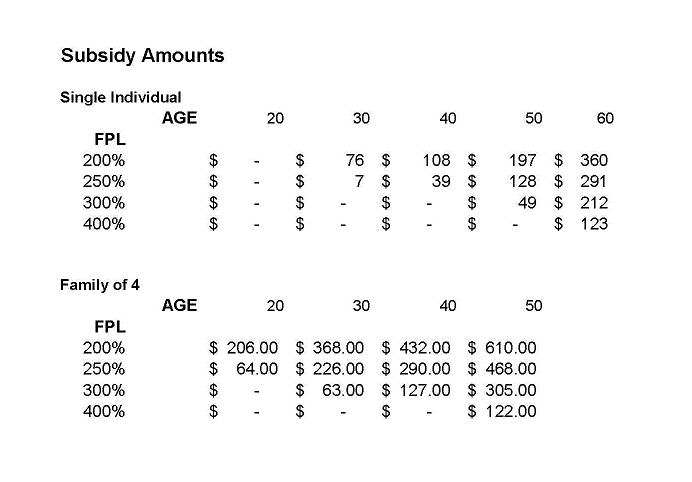 Only those people in their 50s and 60s receive much help above these levels and the number of large families in their 50s and 60s has diminished as dependents leave home. Many of them may also have higher incomes than young families.
There is one question I can't answer. What will our own clients do when they find they have to pay considerably more for health insurance with little or no help from the government? Will they tighten their belts and pay the higher premium, be willing to go with less coverage and purchase a lower benefit plan than they have now or just drop coverage altogether? I don't know the answer. All the outreach in the world, by Cover Oregon, to enroll people will hardly find a willing audience. How will they convince someone who hasn't bought insurance up until now, to do so at a higher cost with little or no subsidies? The main benefactors of health reform in Oregon will be those newly eligible Medicaid members and a few low income older people.
Those small businesses waiting for the new SHOP plans on the exchange, will find they have more choices off the exchange as not all companies are participating in the SHOP program. The big selling point of the SHOP program is the ability of employees to choose the plan and company they like best. Small employers have never been keen on multiple choice plans which are already offered by many of the insurance companies. These only offered choices within the same company. We only sold two or three out of about 300 group sales. Those waiting for the exchange to come along thinking they can now afford to cover their employees are in for a rude awakening.
Cover Oregon is counting on agents to help with their outreach program. This may not happen. The arrival of 2014 comes with a 25 to 30 percent pay cut for agents. Many will not be able to continue paying their overhead expenses and will likely leave the business or have to focus on other lines of insurance rather than health. With so few people actually qualifying for subsidies, a maximum commission of $120 (If an applicant happens to choose the right insurance company) and the possibility on not being paid at all if the individual qualifies for Medicaid, we cannot afford to spend the half-hour to two hours estimated as required to fill out the subsidy application and still stay in business. We have to focus on those who can afford to buy outside the exchange and our Medicare clients.
In summary, the ACA sounded good, but was not well thought out and can't deliver on most of its promises. Unfortunately, we may find that fewer people are covered by health insurance in Oregon in 2014 than there are today. For everyone who does qualify for a subsidy, there will be someone else who can no longer afford or be willing to pay for insurance even with the looming penalty.
John Gridley, who moved to Roseburg in 1990, runs First Choice Health Insurance, Inc., with his wife, Ann, and the agency has 12 insurance agents. He began selling insurance in New York in 1961.