Conference Committee Wants Under-18 Ban for Tanning Beds
The move should clear the way for Oregon to be the third state to ban tanning for minors, and comes a day after the Food and Drug Administration proposes warning labels for the carcinogenic devices.
May 8, 2013 -- A day after the Food and Drug Administration proposed new warning labels about the risk of cancer from tanning beds, the Oregon Legislature moved closer to banning commercial tanning salons from serving customers younger than 18.
A conference committee that met Tuesday chose unanimously to go with the stronger House version of HB 2896, over the weakened Senate version which would have set the restriction to children under 17.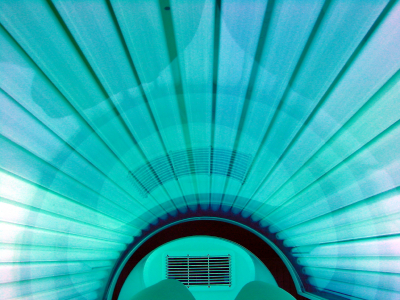 "The FDA's ready to ban tanning beds," said Rep. Mitch Greenlick, D-Portland. "I would've favored 21."
The conference committee — appointed by Senate President Peter Courtney and House Speaker Tina Kotek — was composed entirely of sponsors of HB 2896, including four Democrats and two Republicans.
Their vote clears the way for the Senate to approve the under-18 ban, which should come in a close vote later this week.
The FDA has proposed moving tanning beds into the same category as computed tomography, since both machines expose people to potentially dangerous levels of radiation. CT scans emit X-rays, which sit on the electromagnetic spectrum just beyond the ultraviolet light emitted by tanning beds.
Dr. Brian Druker of the Knight Cancer Institute told The Lund Report that evidence about the cancer-causing effects of tanning beds had been clear since 2010, but he was glad the FDA was weighing in now.
"There's no dispute that tanning beds and UV rays cause cancer," Druker said. "UV exposure in a tanning bed is 10 times what you'll get in the midday sun."
Druker said regulations, although stronger in Oregon than some states, are still quite poor. People who use tanning beds have a 58 percent chance of getting a sunburn from overexposure, as well as two-thirds of college-age women, according to statistics from the FDA.
The FDA regulations would require warning labels such as found on cigarettes or alcohol, and would advise teenagers not to use them — a potential first step toward the Obama administration banning the machines for teens through an executive order.
People who use tanning beds are 75 percent more likely to develop melanoma, which kills 120 Oregonians each year.
Druker conceded there is only limited evidence that tanning hurts young skin more than older people, but "the reality is that it's dangerous at any age."
The House bill had passed with wide bipartisan support, but the bill had to be amended to make it out of the Senate Health Committee to gain the support of Sen. Chip Shields, D-Portland, who has opposed the bill on the grounds that it could hurt the small businesses who sell tanning services to teenagers.
According to the American Academy of Dermatology, two million out of the 28 million tanning salon consumers are teenagers, meaning HB 2896 will affect 7 percent of its customer base.
"I felt the Senate had a very good compromise with the industry," said Sen. Laurie Monnes Anderson, D-Gresham, defending her Solomonic decision to split the difference between Shields and ardent supporters of the bill like Sen. Elizabeth Steiner Hayward, D-Portland. "We know that melanoma is rare compared to breast cancer," Monnes Anderson added.
Steiner Hayward said the ramifications of pervasive tanning won't be known for 15 to 20 years — when a number of high school girls tanning in large numbers now could show signs of cancerous lesions. According to the Centers for Disease Control and Prevention, a third of high school senior girls go tanning, and about 40 percent of Caucasian girls.
"The use of tanning salons is not what we were seeing 10 or 15 years ago," Steiner Hayward said.
Melanoma is the most common cancer for people between 25 and 29.
It's unknown whether Shields will vote against the more restrictive bill on the Senate floor. The stronger bill has at least one Republican supporter — Sen. Chuck Thomsen of Hood River.
Sen. Bill Hansell, R-Pendleton, supported the under-17 version that passed the Senate. All other Republicans voted against the bill, including Sen. Jeff Kruse, R-Roseburg, who had sponsored the bill.
Oregon teens currently can tan with a one-time written note from a parent. New Jersey and New York ban the practice for teens under 17, while Vermont, California and the city of Chicago ban the machines for anyone under 18.