Clark County Medical Transportation Provider Suspends Service
NOAH Medical Transportation is no longer active in Clark County, but may have changed hands in Multnomah
March 6, 2013 -- A major medical transportation provider in Clark County abruptly suspended services at the end of January, leaving social services agencies scrambling to coordinate alternative transportation for dozens of seniors and people with disabilities who depend on medical transport.
Noah Medical Transportation Inc., also known as Noah J. Medical Transportation, notified the Area Agency on Aging & Disabilities of Southwest Washington and Clark County's Human Services Council, which coordinate medical transportation in the area, that the company would not be able to renew its required insurance, which expired Jan. 31, and would have to suspend services in the county as a result.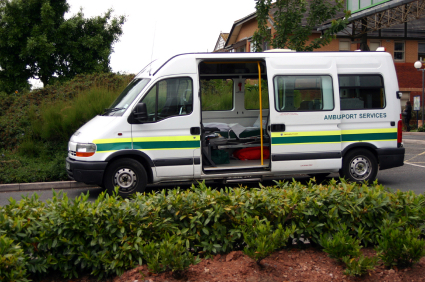 "They let us know that their quote was very high," said B.J. Jacobson, transportation services manager with the Human Services Council, which coordinates medical transportation for Medicaid patients. "They are looking for other quotes."
Cheryl Collins, president of Golden Chariot, another medical transport company in southwest Washington, said that when medical transport companies renew their insurance, they typically make a 25 percent balloon payment, probably $5,000 to $7,000, followed by nine monthly insurance payments.
Jacobson said about 50 clients from her agency had to have rides rescheduled after Noah suspended services, but to her knowledge, nobody was left without a ride.
Mike Reardon, community services program manager for the Area Agency on Aging & Disabilities of Southwest Washington, said Noah provided him with a list of clients scheduled for rides in February, as well as everybody who had used the service in January and December. Those scheduled for upcoming rides were contacted immediately, and those who had used the service in recent months were sent letters referring them to Golden Chariot. 
Golden Chariot has operated in Clark and Cowlitz counties since 2005. It has 13 vehicles in service and plans to add three more next month, Collins said.
Jacobson, who works with 16 medical transportation agencies, has referred clients to Golden Chariot as well as to the ambulance provider MetroWest and to Quad City Cab, whichRidgefield Living Center owner Mary Bodine operates out of the center.
Jacobson said that Noah, like Golden Chariot, was one of the few agencies that provided 24-7 service and specialized in after-hours service to medical appointments.
No one from Noah responded to requests for comment. Reardon said Noah's staff hasn't communicated with his agency, either.
According to Paul Meury, supervisor of the transportation unit at the Washington Healthcare Authority, medical transport providers in Washington must carry liability insurance of $1 million per event and $2 million in aggregate. Without the insurance, Meury said, Noah had to take about half a dozen lift-equipped vans out of service.
"We've lost a resource we really value, and we're not happy when this occurs," Meury said.
A public records search showed Noah is still doing business in Oregon, with a new legal representative listed in its paperwork and a new business name pending.
Incorporation papers listed on the Oregon secretary of state's website show that on Feb. 4, Noah J. Medical Transportation filed to change its name to Jabez Medical Transportation. The incorporation paperwork names as the company's representative Samrawit Gebredengel of Portland, who according to public records is a certified nursing assistant licensed by the Oregon State Board of Nursing.
Gebredengel, who was also identified as Noah Medical Transportation's representative in previous incorporation papers in Oregon, filed for the new name just days after the social services agencies in southwest Washington learned that Noah would suspend services there. Earlier, Gebredengel had applied to change the business's name to Noah J. Medical Transportation and to be the company's authorized representative.
In Multnomah, Clackamas and Washington counties, Noah had been transporting Oregon Health Plan Plus members through a contract with TriMet. According to a TriMet spokeswoman, Roberta Altdstadt, Noah's insurance has also expired in Oregon, so the company is no longer providing trips for TriMet.