Childhood Lead Action Level Drops, But Funding Lags
Removing the Source of Exposure Critical to Treating Lead Poisoning
October 29, 2012 -- Until May of this year, the Centers for Disease Control's "action level" for blood poisoning in children was 10 micrograms per deciliter. Now the CDC has set what its website calls the "level of concern" for blood-lead poisoning at five micrograms per deciliter – but just what that means for families, healthcare providers and local governments remains to be seen.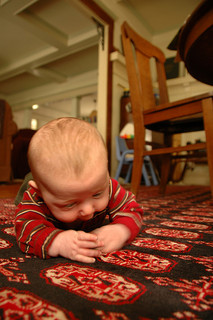 The CDC – which did not respond to phone calls or e-mails for this story – has left it up to states to determine what action they will take when a child's blood-lead levels test at 5 or above, even after it slashed funding for its lead prevention program from $67 million to $2 million.
Barbara Zeal, program coordinator for the health homes and lead poisoning prevention program for the Oregon Health Authority, said her agency plans to convene an advisory group of health department staff and healthcare providers from around the state to discuss how to respond to both the lowered threshold and the reduction in funding.
Even the semantics around the lowered threshold for concern are unclear: initially level 5 was called the new "action level," then the new "level of concern," and now officials are throwing around the phrase "Zevel of reference," Zeal said.
Getting The Lead Out
The recommended first step after a child tests with a high blood lead level is to inform the parents, then perform a home inspection, and – when the source of contamination is found – to address it quickly and safely.
"The responsibility of the clinician is to first identify and remove the exposure source. It doesn't matter what you do medically if you don't," said William Lambert, PhD, an environmental epidemiologist at Oregon Health & Science University, as well as a former board member of the Josiah Hill III Clinic, which provides free blood lead tests for children in the Portland metro area.
Multnomah County was recently singled out by a USA Today investigation on lead poisoning as the only locality in the country that actually has the funding to perform home investigations after a child has a high blood lead test – and on the municipal level, lower-income families can get assistance with home inspections and improvements to prevent lead poisoning.
The Portland Housing Bureau receives $1 million per year from Housing and Urban Development to perform home inspections and remodel homes to contain the lead following referrals from Josiah Hill, the Multnomah County Health Department and the Community Energy Project. Families don't have to have a child with a high blood-lead level to be eligible for assistance through the program, said Andrea Matthiessen, program manager for the Portland Housing Bureau.
"Our program is not dependent on blood lead level," Matthiessen said. "We're hoping to get to them before they're poisoned."
Richard Sassara, lead grant program coordinator for the Housing Bureau, said it costs, on average, about $8,800 per residence to make a residence safe – either by removing lead-based paint safely or, where that isn't possible, by containing it with siding, concrete or additional construction. It takes about 45 to 60 days from referral to completion of the project, Sassara said, and typically families only need to vacate the property for one day – though it can take up to five or six days to make a property lead-safe depending on what needs to be done. By the end of 2012, Sassara said, the bureau will have renovated about 1,800 homes (housing 3,500 children).
To be eligible for housing bureau assistance, a family's income must be 80 percent or less than the median family income – that is, equal to or less than $58,400 for a family of four, according to estimates by the Department of Housing and Urban Development.
For families outside Portland – whether they're seeking to prevent lead poisoning or responding to a high blood-lead test – the resources are scarcer.
Zeal said there are six times as many children in Oregon whose blood lead levels test between 5 and 9 micrograms per deciliter than children with levels of 10 and above. While the lowered CDC threshold theoretically means six many homes should be inspected, that may not be a realistic outcome given the funding cuts.
"We may not be able to provide home inspections for every confirmed case," Zeal said.
Moving Forward
Once the source of contamination has been discovered and removed, a child's blood lead levels should be monitored closely, Lambert said, and, "Over time, the lead will wash out of their bodies."
The exception is when a child – or an adult – has blood lead levels of 45 or higher. In that case, the CDC recommends chelation therapy – the administering of an intravenous compound which binds with lead and allows it to be flushed out of the body.
Chelation therapy has to be very carefully administered, Lambert said, because EDTA – the compound typically used – also binds to, and flushes out, calcium, which can have serious health effects on patients. (In 2006, the state Board of Naturopathic Examiners temporarily suspended the license of Donald D. McBride, Jr., a Salem naturopath, following the 2003 death of a patient receiving chelation therapy.)
Whether immediate medical treatment is recommended or possible, the effects of lead exposure – particularly in young children – can have lifelong implications, particularly in the classroom.
TO LEARN MORE
This story is the second in a series about the ongoing effects of lead on human health. To read the first installment, click here.
To visit the CDC's page on lead, click here.
Image for this story by Tim Holmes (CC BY-NC-ND 2.0) via Flickr.