With health insurance coverage limited for non-hospital births, Our Community Birth Center starts out small with plans to grow.
Image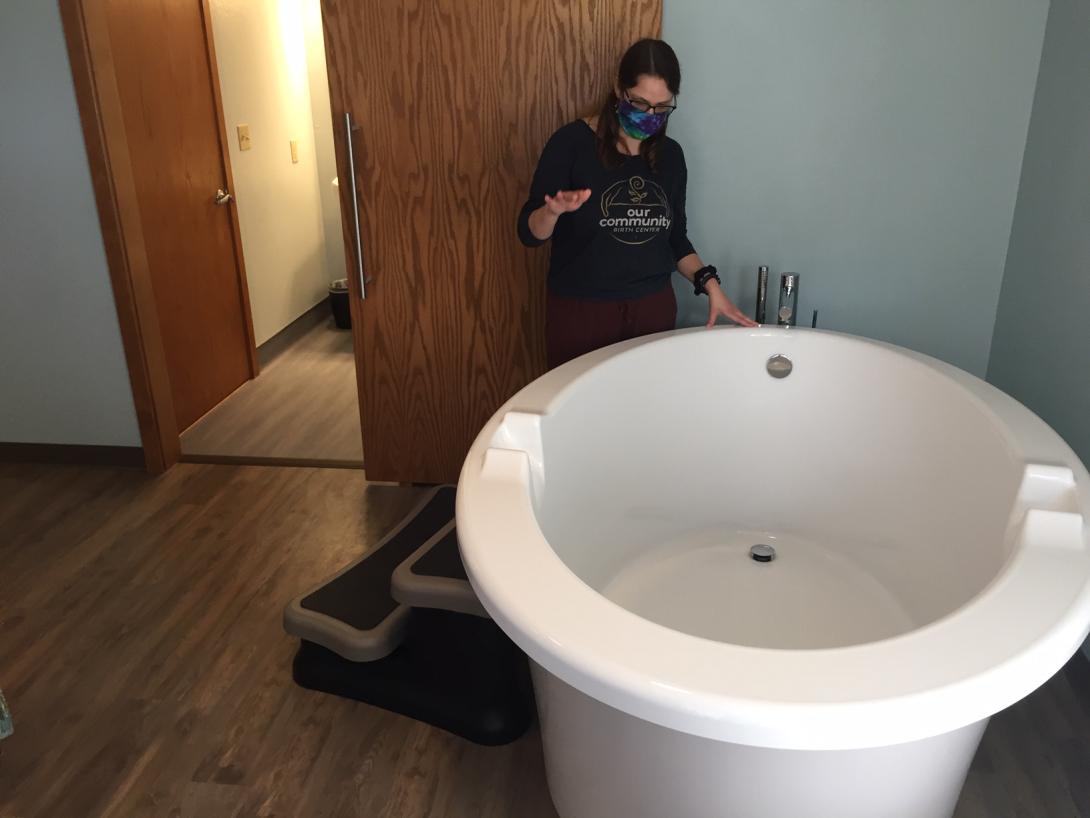 November 16, 2021
More than two years ago, PeaceHealth shut its stand-alone birth center in Springfield and terminated the staff. That's how nurse midwife AlexAnn Westlake found herself out of a job.
Rather than go work for another medical practice, Westlake chose a more challenging path.
She and other midwifery advocates set out to create a new nonprofit birth center for the Lane County market, a complex endeavor now coming to fruition. Their difficulties reflect the struggle stand-alone birth centers face nationwide in trying to join the medical mainstream.
PeaceHealth's 9-year-old stand-alone midwife-staffed birth center was the only one in the county, and birth-center advocates were furious that PeaceHealth, citing financial losses, closed it.
"I couldn't allow Lane County not to have a birth center. It was really important to me," said Westlake, a nurse practitioner and the executive director of Our Community Birth Center, which opened in October in rented space in Springfield.
Freestanding birth centers — typically midwife-run facilities that offer natural births and don't provide medical interventions such as epidural anesthesia or cesarean deliveries — are a niche health service. The vast majority of deliveries in Oregon and nationwide are at hospitals.
But birth center advocates are fierce. Westlake and others who battled closure of the PeaceHealth clinic have been tenacious in starting the new center.
The challenges have been many. They've included creating a nonprofit organization, recruiting board members and other volunteers, finding a suitable building to rent, raising hundreds of thousands of dollars in donations for remodeling and equipment, bringing on staff, negotiating with health insurance companies for the center to be included in-network, making sure a local hospital is willing to take birth center patients in case of emergency, and coming up with a financial plan that lets the center gradually ramp up services and staff to meet demand.
"We are not going to expand our costs until our revenues allow us to," said Westlake.
Despite their supporters, freestanding birth centers are not fully embraced by parts of the medical establishment, including health insurers. The divide was apparent in the Oregon Legislature earlier this year when advocates, including Westlake, pushed a bill — House Bill 2388 — to require health insurers to cover nurse practitioners, professional midwives and naturopathic doctors for home births as well as births at freestanding birth centers, and to increase the rates insurers and the Oregon Health Plan pay.
Advocates testified that many insurers and the state-run Oregon Health Plan don't pay birth centers enough to cover actual birth costs.
The Oregon Affiliate of the American College of Nurse Midwives testified that roughly half of health insurance plans in Oregon provide only limited or no coverage for birth centers and home births.
Oregon has strived for years to incorporate birth centers and midwives into the broader health care system, but insurers continue "denying payment to (birth center) providers and facilities, placing an inappropriate financial burden on some families who choose non-hospital birthing venues," testified Dr. Duncan Nielson, a Portland obstetrician-gynecologist who advocated for the bill and is a consultant to the state's Health Evidence Review Commission.
Birth centers typically charge $6,000 to $12,000 for a birth, while hospitals typically charge about $18,000 for an uncomplicated birth, according to testimony from a professional group, Nurse Practitioners of Oregon.
One of the bill's chief sponsors was Rep. Rachel Prusak, D-Tualatin, chair of the House Interim Committee on Health Care and a nurse practitioner. Still, the bill died in Prusak's committee. Prusak told The Lund Report she was unable to muster lawmakers' support. Some lawmakers are leery of home births, and insurance companies fiercely oppose coverage mandates, she said.
"​​There wasn't an insurer that was supportive of (the bill), there was not a health care system supportive of it," Prusak said. Insurers "definitely don't want to be mandated to cover home births," she added.
Kaiser Permanente, a health care system with its own hospitals and health insurance plan, opposed the bill, saying that to ensure patient safety the legislation should require all midwives and other birthing clinicians have "adequate" medical liability insurance and to only handle "low-risk births" outside of hospitals. Kaiser also did not want its insurance arm to be forced to cover midwives and birth centers that are not part of Kaiser, testified Dr. Stella Dantas, associate medical director of ambulatory and convenient care for Kaiser Permanente Northwest.
Prusak asked the state Department of Consumer and Business Services to research which commercial insurers cover non-hospital births, and their level of coverage. She also asked Oregon Health Authority to see if it can increase Oregon Health Plan payments for birth center births, she said.
Prusak said she hopes to make the case to insurers, including to coordinated care organizations that administer the Oregon Health Plan, that stand-alone birth centers can save money.
"The CCOs are set up to save money. What we need to prove is that this will do that," she said. Prusak said she'll take another run at the issue in the 2023 long session.
In the meantime, Westlake's nonprofit center has launched a $188,000 fundraising campaign to help cover the birthing costs for parents who lack insurance or are on the Oregon Health Plan, Westlake said.
Westlake said insurers' discrimination against birth centers risks making birth centers a luxury affordable only to those who can pay out of pocket. "This is particularly harmful to people of color, people who live rurally and people on Medicaid insurance," she said.
A nationwide study of state Medicaid programs published in December in the Milbank Quarterly, a peer-reviewed health policy journal, drew similar conclusions. "By addressing these barriers, more Medicaid beneficiaries could access care that is associated with positive birth outcomes for mothers and newborns, and the Medicaid program could reap significant savings," it said.
Like many birth centers, Our Community Birth Center is modest. The rented space, in an office complex next to a park, includes two birthing rooms, one with a large tub for water births.
Westlake is the sole midwife, although the center plans to hire one more in the coming months. There is also a handful of support staff.
The center's goal is to have three to four nurse midwives delivering about 100 babies a year, Westlake said.
The center has eight pregnant clients already signed up for intake visits this month, with due dates ranging from February to May of next year, Westlake said.
In Oregon in 2020, there were just over 40,000 births, according to state data. Birth centers handled about 550. There were about 850 home births in the state.
Oregon has 14 birth centers licensed by the state. Our Community Birth Center is in the midst of applying for its state license. Oregon Health Authority sets standards for staffing, rooms and equipment needed and how births are handled. The birth centers are scattered about the state, with four in Portland and the remainder in cities from Grants Pass to Salem and Bend. Most deliver one to two dozen babies a year. Andaluz Birth Centers, with one center each in Portland and Yamhill County, is among the biggest, with 150 deliveries in 2020. 
Some Patients Prefer Birth Centers
Birth centers have never been big business. According to national studies, they have gained popularity over the past two decades as some soon-to-be parents have shied away from hospitals where cesareans, epidurals and other interventions are common. Birth center advocates say part of their appeal is a more calming and home-like environment than most hospitals offer. 
In its heyday in 2013-14, the PeaceHealth birth center, about a mile from the hospital system's RiverBend Medical Center, delivered about 140 babies a year, state reports show. That began dropping and PeaceHealth in 2019 shut the doors, citing consistent operating losses. PeaceHealth terminated about 20 staff.
Westlake's goal for Our Community Birth Center is a leaner staff. There is demand for the service in the Lane County area, she said.
Westlake noted that after PeaceHealth closed its birth center, home births rose in Lane County, and she said some Lane County families chose to use the birth center in Corvallis.
In 2020, there were 94 home births in the county, up from 72 in 2019, and 59 in 2018, according to state reports.
"The demand for community birth (centers) in Oregon has actually increased, but the data are skewed by the barriers that prevent access to community births," Westlake said.
PeaceHealth did not respond to a request for comment.
National studies tout the value of birth centers. Birth centers reduce the use of cesarean delivery and are associated with higher birth weights and better baby health, these studies indicate.
Still, most expectant parents want the proximity of a physician and emergency services.
Arrangement With Hospital
A key milestone for Our Community Birth Center was establishing a relationship with nearby McKenzie-Willamette Medical Center in Springfield. The arrangement lets the birth center transfer any birth patient to the hospital if there is a medical need, said the hospital, which has its own in-house midwifery unit as well as a labor and delivery unit.
"We have worked with the leadership at Our Community Birth Center to ensure that transferring patients have a smooth transition with excellent and supportive medical care," said Dr. Jess Versage, McKenzie-Willamette's chief medical officer. Patients transferred to the hospital will either be handled by the hospital's midwife staff, or the on-call obstetrician-gynecologist/laborist, depending on their needs, Versage said.
Nielson, the Portland obstetrician, testified that a group he helped establish, the Oregon Perinatal Collaborative, is researching ways to improve patient transitions from birth centers to hospitals.
Some Oregon hospitals are willing to establish relationships like that between Our Community Birth Center and McKenzie-Willamette, and some aren't. Most Oregon hospitals have their own labor and delivery staff, often including midwives, who, as at McKenzie-Willamette, work on the hospital premises.
Midwifery and birth centers are becoming more popular as people hear from friends or relatives who have used them, said Silke Akerson, owner of Two Rivers Midwifery, a Portland home-birth practice, and executive director of the Oregon Midwifery Council, a trade group.
"There is definitely a high demand. People want more personal care," said Silke, a certified professional midwife.
But creating a financially sustainable birth center is not easy.
At hospitals, high patient volumes generate big revenues. Many hospitals contract with physician groups to handle in-hospital labor and births.
Birth centers, by contrast, tend toward low volumes due to the time  midwives spend with patients.
Westlake and her group raised about $300,000 to pay for setting up and starting the center.
To supplement revenues and offer a wide range of services, the center serves as a general health clinic, center offers general health clinic services plus LGBTQ services, as well as birth control, baby wellness and parenting classes.
Westlake said she is working with insurers to get the center listed in their approved provider networks. That's time-consuming but important, she said. Being in-network gets better insurance coverage and saves patients money, said Akerson, the Portland midwife. 
"People want to be able to use their insurance," she said.
All the work has been worth it, Westlake said. 
"It's the joy of people having the birth option they want," she said.
You can reach Christian Wihtol at [email protected].