Medical providers at the region's only hospital system now must scrutinize patient admissions and at times discharge people "uncomfortably early."
Image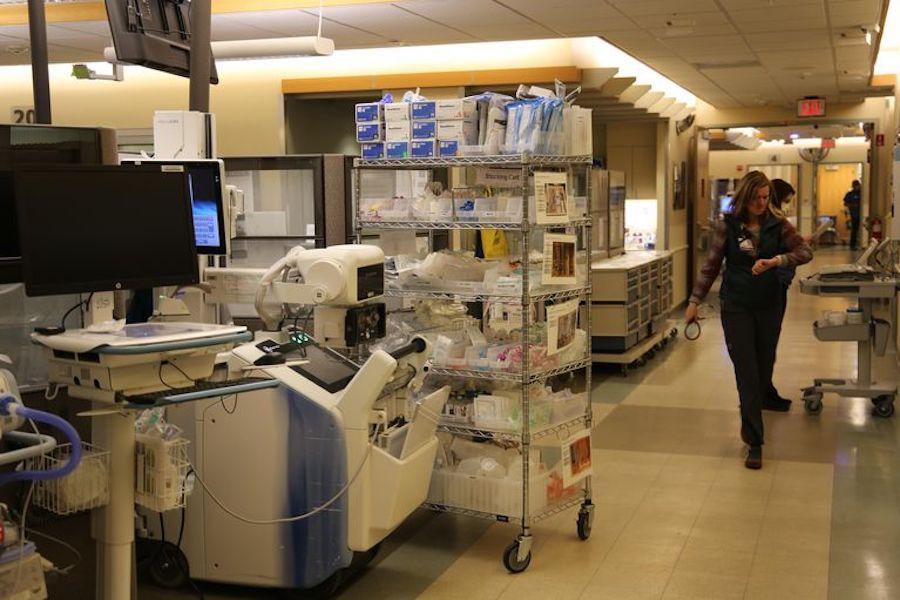 July 17, 2022
St. Charles Health System laid off two of its most highly paid executives this week, the latest departures from the Central Oregon hospital system's leadership as staff shortages lead to a rationing of care.
The health system eliminated the positions of Chief Physician Executive Jeff Absalon and Senior Vice President Strategy Rod Marchiando this week. The layoffs were an effort to reduce costs amid a financial crisis, St. Charles spokesperson Lisa Goodman said.
It's the latest development in a tumultuous year for St. Charles, which operates the only hospital certified to care for the most severely injured and ill patients east of the Cascades in Oregon.
Now, medical providers are being forced to decide who will get a hospital bed and who will be sent home early.
Physician's assistant Erin Butler said it's a struggle potentially discharging patients who could likely benefit from a longer stay.
"I worry if I'm doing the best thing for the people that I'm caring for," Butler said. "I worry I'm not doing enough for everyone involved."
Goodman denied the organization is turning away patients or rationing care.
"Depending on a patient's health care needs, we are boarding them in our Emergency Department until a bed becomes available or we are working with our community partners to place them in an appropriate facility," she said in an email.
Goodman said the nonprofit health system has had losses of more than $40 million so far this year. Hospital leadership has frequently cited rising costs from the COVID-19 pandemic as a primary factor behind the large deficit.
Absalon and Marchiando did not immediately return requests for comment.
Absalon was frequently critical of the hospital's various unions, as more employees have attempted to organize in recent years. In May, he sent a message to staff ahead of an announcement that 300 providers would seek to form a union and said it would be detrimental to St. Charles.
"We are disappointed in this shift in direction to organize, as it could hamper our ability to work directly on solutions going forward," Absalon wrote at the time.
Marchiando had served in his role as senior vice president since 2015, according to his LinkedIn profile.
In 2019, Absalon earned a salary of $600,000 a year, while Marchiando made $380,000, according to St. Charles' most recent publicly available tax forms.
Both Absalon and Marchiando will likely remain in their positions until Aug. 1, according to Goodman.
The firings come two days after St. Charles announced that longtime CEO and President Joe Sluka would resign. He will serve in an advisory role for the foreseeable future, all while still receiving his salary, which as of 2019 was more than $1 million a year.
While these latest layoffs come at the top, much of the rank-and-file staff has faced harsh reductions in 2022. The hospital laid off more than 100 non-medical staff and eliminated another 76 vacant positions in May, a total staff reduction of 4%.
Goodman said the hospital is not planning any more across-the-board layoffs.
The open jobs that St. Charles has left have been difficult to fill. It's still trying to hire for 427 positions across all locations, a vacancy rate of 15%, Goodman said. That's made it increasingly difficult for St. Charles to serve patients, especially at its Bend hospital.
Emails hospital executives sent Friday paint a dire picture.
Daniel Davis, senior director of patient flow, instructed staff to scrutinize all incoming patients and discharge people quickly. He also said the hospital would reduce 30 beds going into its night shifts.
Chief Medical Officer Doug Merrill told staff in a Friday email that St. Charles had entered a "new, darker era" of staff shortages and that some patients could feel the effects.
"Since the pandemic began, I know your teams have been attentive to discharges, have sent people home who normally have been admitted in years past, have expedited discharges sometimes uncomfortably early," Merrill wrote.
"We unfortunately need more of that same work in order to keep safe those patients who truly need acute inpatient care."
The language mirrors that used by officials when St. Charles was forced to ration care during the height of the COVID-19 pandemic, when a large number of infected patients flooded hospital beds across the U.S.
Now, while cases are comparatively low, the hospital is still struggling to meet the demand from patients.
This story was originally published by Oregon Public Broadcasting.