CDC Reduces Funding for HIV Prevention
Funding drop is due to low HIV prevalence in Oregon, while the number of people being diagnosed hasn't changed very much in the last decade
April 12, 2012 -- Oregon ranks in the lowest quartile in the nation in terms of HIV prevalence, said state epidemiologist Dr. Katrina Hedberg – a piece of good news that's been tempered by fewer dollars flowing into the state for prevention.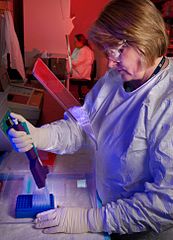 This year, Oregon received $2.273 million, compared to $2.7 million from the Centers for Disease Control and Prevention, compared to in 2011, in addition to a $492 million grant awarded in March. Hedberg said the state intends to distribute those funds to seven counties using a "money follows the disease" policy based on the prevalence of the HIV virus in specific areas.

The number of new HIV diagnoses in Oregon – about 250 – has remained relatively flat for over a decade, and HIV-related deaths haven't declined. "We haven't made an appreciable dent," Hedberg said.

Since 2009, HIV cases among people aged 20 to 29 years have been increasing, and the infection rate is three times higher in African-Americans in Oregon.

At the same time, only 42 percent of adults recall having been tested for HIV, and that number is even lower for people in their 20s. Of those who test positive ,42 percent develop full-blown AIDSwithin a year, meaning they're likely to have been carrying the virus for seven to 10 years (the average incubation period for the virus when it is not treated by anti-retroviral drugs), Hedberg said.

"At this point we're trying to normalize HIV, creating an' opt in' rather than 'opt out' for HIV testing," said Hedberg, to help more people learn about their HIV status during routine health screenings and get treatment immediately.

"Beginning this year, funding was allocated to each state, territory, or directly funded city based on the number of people that were reported to be living with an HIV diagnosis in that jurisdiction in 2008 (the best measure of the HIV burden available in every U.S. Jurisdiction)," said Janet Cleveland, Deputy Director for Prevention Programs in the HIV/AIDS Prevention Division.

Cleveland said the new funding model improves on prior health department funding allocations, which were based on AIDS cases earlier in the epidemic. HIV data is a better indicator of the epidemic's current burden than AIDS data, Cleveland said, because fewer than half of all Americans living with HIV have progressed to having AIDS.

Cleveland said the total budget – $359 million – is nearly unchanged, and the amount shifted is less than 10 percent of the total funds allocated. Nationally, southern states and major cities report some of the heaviest HIV burden.

Image for this story appears courtesy of the CDC's Public Health Image Library.