Tyler TerMeer will depart CAP to head up the San Francisco AIDS Foundation at the end of January.
Image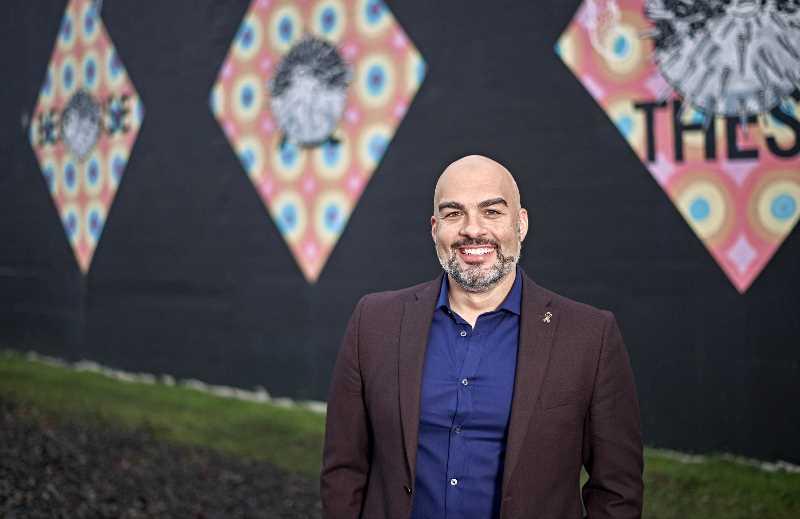 January 6, 2022
After seven years at the helm, Tyler TerMeer is leaving Cascade AIDS Project on Jan. 28 to become CEO of the San Francisco AIDS Foundation.
The 39-year-old will be the first BIPOC (Black, Indigenous and People of Color) chief executive officer in SFAF's nearly 40-year history. He holds a Ph.D. in public policy and administration from Walden University in Minneapolis.
"I couldn't pass up the amazing opportunity to work with the foundation in San Francisco as I continue my life's work to promote health, wellness and social justice for all those impacted by HIV," TerMeer said in a statement Tuesday, Jan. 4. "However, leaving is bittersweet."
CAP's staff size and budget of $24 million are about half that of the San Francisco AIDS Foundation. "SFAF has been in the game a bit longer," TerMeer told the Portland Tribune.
Both organizations have changed as the AIDS epidemic changed.
"Both predominantly serve those who were hit hardest at the beginning of the epidemic, which were gay, white men, but as the epidemic has evolved, and as we've seen more communities of color at greater impact, they have evolved. San Francisco has done the same to ensure that they're serving the BIPOC community, or Black and Brown communities, as well as being responsive to the needs of drug-user health in San Francisco."
Jedi work
TerMeer caught the wave of equity and inclusion work that intensified after the racial justice protests of 2020. Half of CAP's eight-person board is comprised of people of color. He said of CAP, "We are stronger and more resilient. We are more sustainable with greater infrastructure. We are owning the mistakes of our past and investing in critical Justice, Equity, Diversity and Inclusion (JEDI) work."
Cascade AIDS is also the home of Prism Health, Oregon's first federally-qualified health center focused on LGBTQ+ people. And on Jan. 1, 2022 CAP merged with Our House of Portland, which assists with independent living for people with HIV.
TerMeer told the Poz news outlet that he started out wanting a career in theater, but after testing positive for HIV in 2004, he dedicated himself to people living with HIV.
TerMeer is familiar with SFAF's groundbreaking work, and has also been on its AIDS/LifeCycle charity bike ride. The former spin instructor has been both rider and road crew on the 545-mile bicycle ride from San Francisco to Los Angeles. Like Cycle Oregon, AIDS/LifeCycle is a fundraiser for serious cyclists with glamping stops along the California coast road.
TerMeer succeeds Joe Hollendoner, a gay man who stepped down from SFAF in May to lead the Los Angeles LGBT Center.
In his LinkedIn message for the new year, TerMeer said in 2020 he was focused on the new (Biden) administration, and "the dueling pandemics of COVID-19 and the spark of racial reckoning spurred by the murders of unarmed Black and Brown bodies in 2020 and the powerful and unimaginable political turbulence it created."
He admitted he did not anticipate the insurrection of Jan. 6, 2021, and "the roller coaster vaccine approval and rollout, heightened political divide, life-changing Supreme Court cases, an underscored environmental crisis and congressional decision-making, heartbreaking and devasting results in local and state courtrooms, delta and wicked sister omicron, and FINALLY a moment of justice, as we saw justice for Ahmaud Arbery."
He calls all this "turbulence" and said it "presented opportunities to close the gap between our values and our actions" and it made him "a stronger person and a more fierce and authentic leader."
Mistakes were made
Of adding the J to EDI, he said: "Justice means ensuring that mistakes of the past are owned, that experiences, the lived experiences that people have had with our organization, with society, with legal matters, with health care institutions, are validated and that things are made right."
He said "mistakes of the past" have caused "valid medical mistrust and mistrust of large institutions that Black and Brown communities have had throughout the course of time. Cascades AIDS Project, just like many institutions, has not shown up in the ways that we perhaps should have." Rather than one event, there were "a series of times in our history where we could have been a louder voice, or we could have advocated harder, we could have designed programs to be more inclusive. And we have really been trying to own that in the last few years."
As a leader, TerMeer's first job at SFAF will be "to really listen and engage the community." He wants to sit down with those working in harm reduction and drug-user health, with long-term survivors of HIV and with communities of color.
He says SFAF "has continued to be one of the stronger public policy voices in the HIV movement in the Bay Area in Washington, D.C., advocating for a fully-funded response to the domestic epidemic, for the appropriate research and funding to get closer to the end of the epidemic."
For those who have not been paying attention, a brand-new national HIV/AIDS strategy was released on World AIDS Day, Dec. 1 of 2021, by the Biden administration. "It sets out in an ambitious goal to end the HIV epidemic by 2030," TerMeer said.
Moving to San Francisco is a welcome challenge. The camping bike ride Life Cycle is also about "honoring those we've lost and celebrating how far we've come. It's lot of folks sleeping out in tents, in a pretty amazing community that is fondly referred to as the love bubble, because there's so much love, compassion and dedication to the mission."
How is he going to settle in? TerMeer has changed cities before, and one thing that helped him on arrival in Portland was taking historical walking tours.
"I look forward to doing something similar, to learn more about San Francisco."
Cascade AIDS Project is the oldest and largest community-based provider of HIV services, housing, education and advocacy in Oregon and Southwest Washington. The nonprofit organization was founded in 1985 as a grassroots response to the AIDS crisis. It seeks "to support and empower all people with or affected by HIV, reduce stigma and provide the LGBTQ+ community with compassionate health care."
This story was orginally published by the Portland Tribune.