Image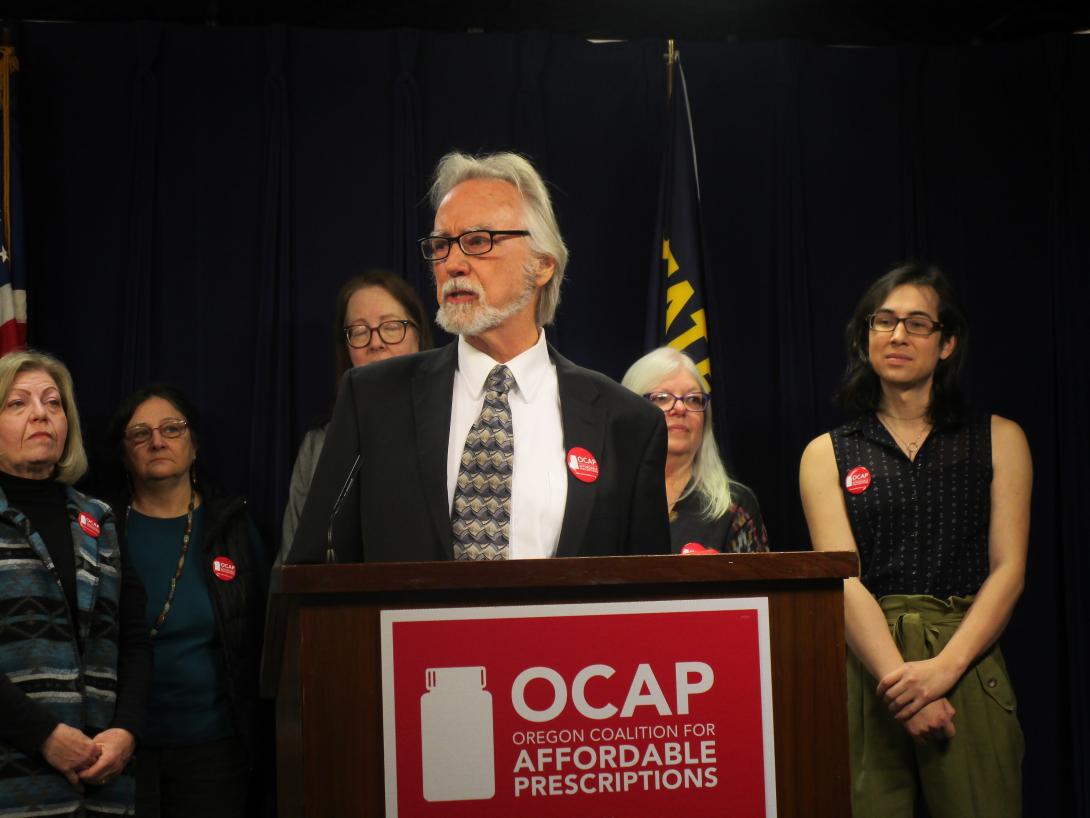 February 10, 2020
A legislative proposal for importing wholesale prescription drugs from Canada has died -- for the second time.
House Bill 4147 was effectively killed by House health care leaders who did not put it on the committee agenda. 
Advocates said they may pursue a couple of alternatives for the remainder of session, including getting the bill's language added to a different piece of legislation. 
The bill would have directed the Oregon Health Authority to design a program for the importation of wholesale prescription from Canada, with the goal of putting more affordable prescriptions in the hands of Oregonians. Four other states, Florida, Vermont, Maine and Colorado, have passed similar laws amid nationwide consumer concerns about steep pharmaceutical prices. State plans need approval from the U.S. Department of Health and Human Services to move forward.
A similar importation bill was proposed last year, but it also died.
Numi Lee Griffith, patient advocate for health care at the advocacy organization, OSPIRG, said it wasn't clear why the bill was dropped. "I haven't gotten a satisfying explanation from the House leadership," she said.  
Next year, lawmakers are likely to try to pass a new bill on Canadian imports. "Even though the bill is not going forward we haven't given up,"  John Mullin, board chair of the Oregon Coalition of Affordable Prescriptions, said Monday. 
Ever-rising prescription prices have put lives at risk in Oregon.
Joan Morgan of Happy Valley said her father was diagnosed with late-stage lung cancer in 2017 and found medication that could help him. After losing prescription drug coverage, they started looking for options. 
"Unfortunately, it came with a price-tag of $4,000 a month -- $4,000 a month for 30 pills a day," she said. 
Her sister, an investigative journalist who lives overseas, found the same product was available in Holland for $243 a month. 
"She comes twice a year at great expense and brings the medication," Morgan said. 
That drug is now $10,000 a month in the U.S., Morgan said, adding, "I don't know anyone who can afford that."
The drug has extended her father's life, Morgan said. 
"We get time, and drug companies know that you're desperate for that time," she said.
Morgan added: "I had great hope that this bill would go forward and Oregon would do the right thing. And unfortunately, our fight is not over yet."
Melodie Holliday of Bend, a diabetic, said a vial of insulin costs $30 in Canada vs. $365 at her pharmacy for a 30-day supply. 
"You either pay the price or you die," she said. "It's not a very good choice. I would like to urge our legislators to bring this bill forward."
Sen. Dennis Linthicum, R-Klamath Falls, said the state needs to change the framework of current drug pricing. A diabetic for nearly 55 years, he has seen insulin prices rise more than 70-fold  since he was first diagnosed.  
"It's a great conversation to bring up again during the next session," Linthicum said. "It's a  shame that it didn't get time in this session, but this is a short session." 
In a statement to The Lund Report, the Pharmaceutical Research and Manufacturers of America or PhRMA, which represents biopharmaceutical research companies of brand-name products, called the proposal an "importation scheme" that needs a broader approach that looks at the full supply chain. 
"Pursuing an importation scheme could endanger Oregonians, could worsen the opioid crisis and has been called unworkable by Canadian officials," PhRMA spokesman Nick McGee said in a statement. 
He added: "At a time when nearly half of every dollar spent on medicines goes to someone in the supply chain who doesn't make them, policymakers can't help patients afford their medicine if they ignore where almost half of the money is going. Instead, lawmakers should look across the entire pharmaceutical supply chain for meaningful solutions that will directly benefit patients and lower their costs at the pharmacy counter."
Rep. Rachel Prusak, D-Tualatin/West Linn and  a family nurse practitioner, said the issue is not going away. 
"It's really important that we find ways to decrease costs of our medications," she said. 
A separate bill, House Bill 4073, would cap out-of-pocket insulin costs at $100 a month for patients. Oregon Coalition of Affordable Prescriptions hasn't taken a position on that bill. 
You can reach Ben Botkin at [email protected] or via Twitter @BenBotkin1.