As the vaccination of seniors lagged in Oregon, the state had relatively more cases of severe illness among the elderly than other states.
Image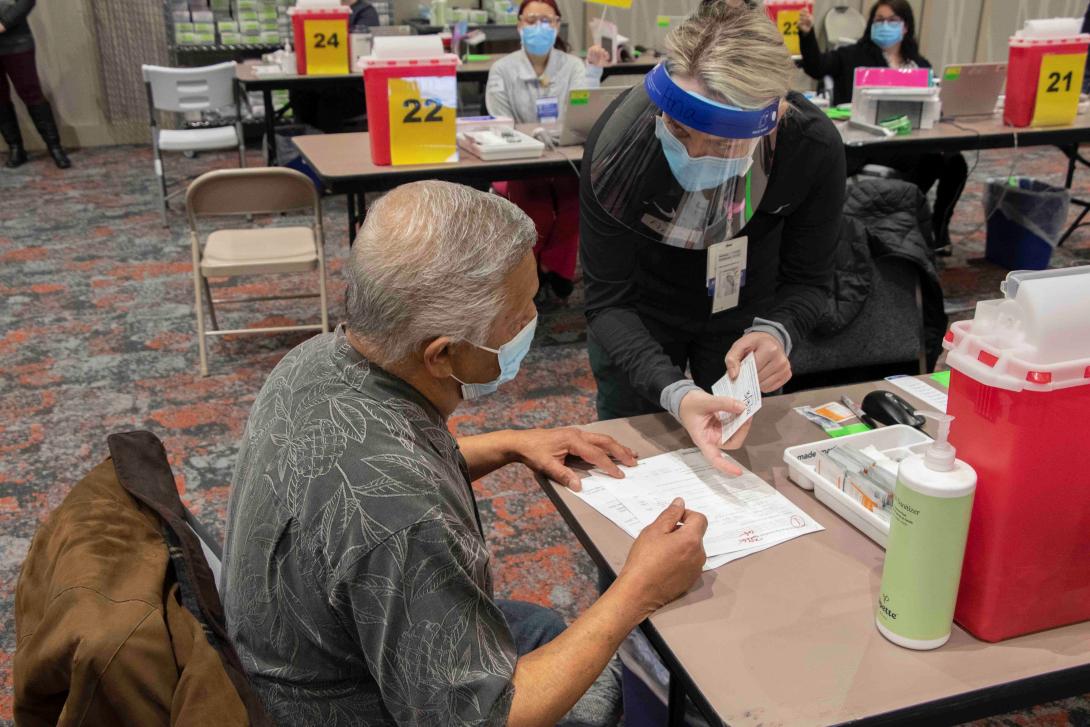 May 19, 2021
In January, Oregon Gov. Kate Brown faced a firestorm of criticism over her decision to vaccinate educators before seniors, but refused to back down. She said teachers would be quickly inoculated and that the elderly would get their turn soon enough.
But federal vaccination data make clear Brown's decision to delay the shots for seniors had lasting consequences: Oregon's rate of fully vaccinated seniors, aged 65 and older, remained one of the lowest in the country for months. On April 1, nearly 41% of seniors in the state were fully vaccinated against COVID 19, placing Oregon 49th among the 50 states. By then, Hawaii, at 39%, was the only state with a lower rate. 
"It's a very sad situation," said Joyce DeMonnin, a spokeswoman for AARP Oregon. The policy's predictable result "underlines why all of the leaders from the aging network pushed so hard to keep seniors at the front of the line."  
Brown's office did not respond to a request by The Lund Report for comment. 
Newly released federal hospital data show the consequences of that policy. As vaccine campaigns advanced, the proportion of seniors hospitalized for COVID-19 shrank across the country. But that trend lagged in Oregon, leaving fewer elderly protected while COVID case rates remained high following the winter COVID surge. (The numbers do not include a federal program targeted at long-term care facilities.)
Hospitals around the country have been required to report to the U.S. Department of Health and Human Services the number of daily COVID-19 admissions by decade of age since last July. 
In March, the department declined to release these data to The Lund Report, but it finally made it part of the federal weekly data update on April 30.
Oregon is home to about 170,000 people aged at least 80. The Oregon Health Authority estimates that of those 80+ who contracted COVID-19, 30% have been hospitalized. That compares with 22% for those aged 70 to 79.
Because the elderly are so much more likely to be hospitalized for COVID-19, daily admissions of these patients have always skewed older. But as states rolled out the vaccine, the daily mix of new COVID hospital admissions changed: The fraction of new admissions in the oldest age group temporarily dropped. 
The share of older adults hospitalized in overall admissions is expected to rise again as younger cohorts are vaccinated; the shift back can already be seen in states that vaccinated seniors earlier. But the timing mattered: Oregon lagged while overall case counts remained high.
Chuenhuei Chi, a professor and director of the Center for Global Health at Oregon State University, said that these data reflect  "excess hospitalizations" in Oregon that could probably have been avoided. 
Chi said the best strategy for reducing severe illness was to vaccinate those who have faced the highest risk of getting sick, something the Centers for Disease Control and Prevention also recommended.
Brown's Strategy Misses Mark
Throughout the pandemic, politicians have talked about "following the science", but Chi emphasized it's up to society at large to establish priorities, and the role of scientific advisors is to point the way how to achieve them.
Chi said that vaccinating teachers first was "not wise" but there were legitimate tradeoffs to be considered. Brown repeatedly cited youth suicides as the reason for her vaccination decision though no data quantifying them were released. 
Brown's decision hit turbulence from the day it was announced, but if the goal was getting kids back to school, Oregon ignored the science on that too, Chi said. 
"Just vaccinating teachers doesn't make schools safe," Chi said. 
In fact, infections in Oregon schools are on the rise.
There are currently 389 COVID-19 outbreaks at schools in Oregon, up from 367 last week, according to the Oregon Health Authority's latest weekly outbreak report.  
The emergence of more infectious variants has increased infections -- including in young people. 
The B.1.1.7 British variant, which has become the dominant strain in Oregon, is one of the main culprits. Some studies suggest it is about 20% more transmissible in people under 20 years old.
The rise of variants prompted Michael Osterholm, a member of the COVID-19 task force under President Joe Biden, to tell the Oregon state Legislature in March that he no longer supported reopening schools.
In most schools, it's difficult to gauge the prevalence of the virus.
Portland Public Schools, the state's largest district, has no regular testing, so asymptomatic cases are unlikely to be noticed. In contrast, Oregon State University tests every on-campus student weekly. Tracking actual infection rates requires randomized testing of asymptomatic students, Chi said. 
One lesson learned from the pandemic, Chi said, is that a test rate higher than 5% suggests that the virus is widely circulating. Because COVID is often asymptomatic, this suggests the actual number of cases is considerably better, but there's no way to gauge how much greater it is without more testing. 
Experts have emphasized random testing as a crucial element of keeping track of the virus' spread in schools. But Oregon, and 38 other states, do not publish test positivity rates by age. Iowa, one of the few states that does, found a 33% positive test rate in children, according to a recent report from the American Academy of Pediatrics. None of the 11 states that track test results in children has reported that less than 5% were infected. A spokesman for the Oregon Health Authority said that Oregon does not release the count of children tested, though he provided no explanation for why. 
While left-leaning critics see Brown's choice to put teachers before seniors as a misstep, she's faced few political consequences. Democrats control the Legislature, and they've largely stood behind her. On May 4, though, six Democrats voted with Republicans on a procedural move in the House that failed 28 to 27. The vote would have allowed further consideration of a Republican-backed bill to cut Brown's emergency powers, which she's relied on to force COVID safety measures in counties that would rather ignore them. 
The Democrats backing of further debate included two Portland-area medical professionals: Rachel Prusak, D-Tualatin/West Linn, and Dr. Maxine Dexter, D-Portland. Prusak is a nurse practitioner and chairs the House health care committee, and Dexter is a pulmonologist who treated Oregon's first COVID-19 patient to be hospitalized and chairs the House's COVID-19 subcommittee.  
Neither Prusak nor Dexter explained their vote to The Lund Report.
(For more details, see the analysis notebooks on the data used for this article.)
You can reach Jacob Fenton at [email protected] or on Twitter @jsfenfen.