Image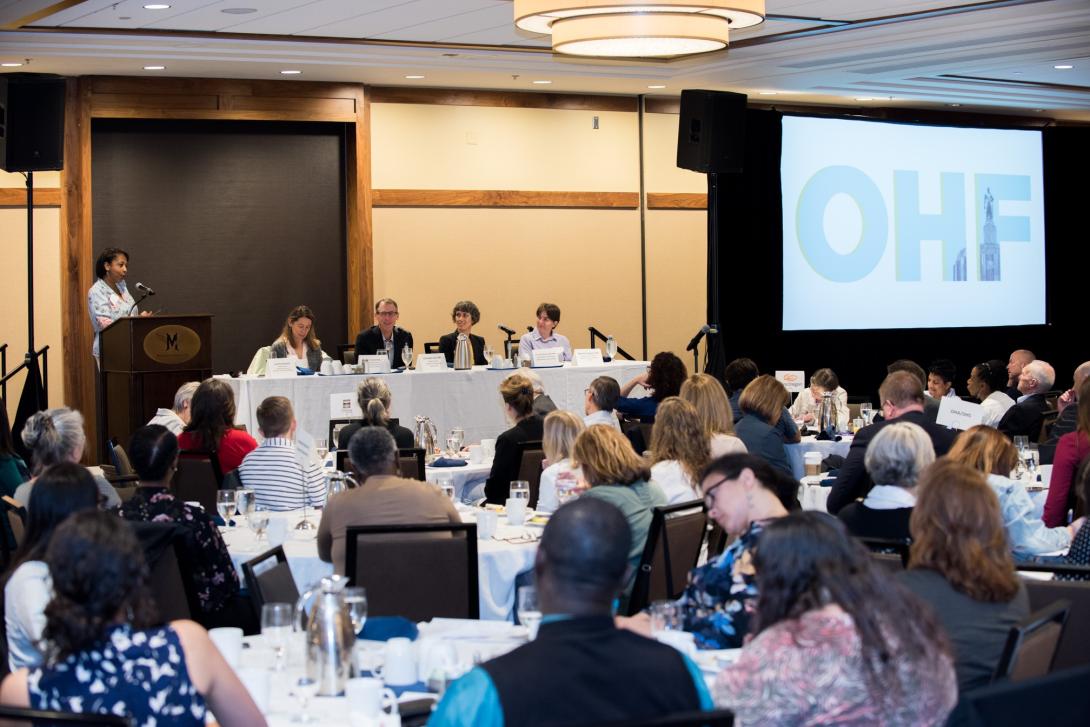 June 19, 2019
Language, education, income and housing all play a role in the health care disparities in Oregon, panelists at a health care forum said on Wednesday.
The barriers to access to insurance and care have fallen somewhat under the Affordable Care Act, they said. But some minorities -- especially Hispanics -- still suffer health care inequities, said Dr. Nathalie Huguet, assistant professor at Oregon Health & Science University.
Huguet was one of four panelists at the breakfast forum on health care inequity, sponsored by the Oregon Health Forum, a sister organization to The Lund Report. The other panelists at the event in Southwest Portland were Gloria Coronado, a researcher at the Kaiser Permanente Center for Health Research; Dr. Chris Hill, associate medical director of the Virginia Garcia Memorial Health Center; and Carly Hood-Ronick, health equity senior manager of the Oregon Primary Care Association. Vanetta Abdellatif, executive director of community health centers at Multnomah County, moderated the event, which drew 160 people.
A study of community health centers serving low income patients under the Affordable Care Act showed little difference in the uninsured rates between whites and blacks, Huguet said. But Hispanics trailed behind.
"We actually showed widening disparities in terms of having health insurance among Hispanics compared to the other groups," Huguet said, speculating that a lack of documentation or tougher immigration policies might be to blame.
Hill said Virginia Garcia treats more insured patients now.
"We went from about 30 percent of our patients being uninsured to down to 20 percent," Hill said. "If we had a national health care system and everybody was covered, it would make a huge difference, obviously."
But improvements can be made in other ways, the panelists said.
Working in as a provider team helps, Hill said. When patients hear the same things from medical assistants, the nurse and the doctor, they start to pay attention.
"If the patients hear from different people, they say 'okay,' it must actually be important," Hill said.
The panelists acknowledged the role of language in health care inequities.
"Data from 2015 show that 20 percent of Hispanics nationally are not covered by health insurance," Coronado said. "This compares to 6.3 percent for non-Hispanic whites. About a third of Hispanics state that they are not fluent in English."
She said her father, who was from Mexico and only had a fourth-grade education, died from cancer that could have been prevented.
"At the age of 75 he still did not have a regular doctor because he only had insurance for about 10 years," Coronado said.
"A lot of these health disparities stem from social issues," Coronado added.
Only 66 percent of Hispanics have a high school education, compared with 92 percent of whites, she said.
"The disparity is even greater when you look at data on bachelor degree completion," Coronado said.
Housing status also affects health care disparities.  
"Our social systems are not really set up equally for all people," said Hood-Ronick. "Owning a home will over time will help build wealth and savings for education or other health-promoting opportunities."
"Our history of exclusionary housing policies has ensured that communities of color have been institutionally prevented from starting their own nest eggs," Hood-Ronick said. "We're only now seeing some of the intergenerational downstream health impacts of those policies."
"The best solution for reducing disparities is eliminating poverty," Hood-Ronick added.
Society as a whole is affected by health care inequities, the panelists said.
"The U.S. spends an estimated $93 billion each year because of health disparities," Coronado explained.
Money could be saved by helping patients control chronic health conditions, she added, and by treating diseases at an earlier stage when costs are lower.
This issue is not going away. In 2016, people of color accounted for 40 percent of the U.S. population. By 2050, they're expected to account for 50 percent, with the biggest growth in the Hispanic population.
"If we don't address the issues that are linked to health disparities and unequal access to health care and unequal outcomes, this issue is only going to get worse," Coronado said.
Abdellatif, the only African American on the panel, suggested that reducing health disparities starts with each individual.
"I think the foundation of being able to move the needle on some of this work is that you have to know your own story," Abdellatif said. "We're not going to be able to move that needle unless you look back at why we're here, why this is happening and looking forward."
As a physician, Hill said he usually spends less time with patients than other staff, and perhaps half of his 20-minutes with patients involves typing in charts. He said sometimes physicians need to leave the documentation for later.
"When the conversation gets heavy, you just have to push the computer away," Hill said. "Just try to just be present in the moment and just be ready to listen."
The panelists acknowledged that the health care workforce needs more diversity. When patients see providers who look like them, they're more likely to follow the care plan.
A case in point, Hood-Ronick said, was a recent study in California. It showed that black men who saw black doctors were more likely to agree to preventive tests than black patients who saw white physicians, Hood-Ronick pointed out.
But training minority providers is not enough. Dr. Linda Moore, an African American obstetrician in Portland and a member of the audience, told the panelists that there needs to be a system in place that focuses on retaining black talent once they're trained.
"We've recruited a whole bunch of very talented people of color here in Portland, and we send them back out into the world," Moore said. "They don't stay because they don't feel welcome. They don't feel they can make a difference."
There is no single solution, the panelists agreed. There has to be change across the spectrum.
"I think we get there through community engagement, cultural competency and patient-centered care," Coronado said. "These are really key to improving health equity."
You can reach Lynne Terry at [email protected].