The Republican candidate for governor says if elected, she'll work to "repeal the section of Measure 110 that legalized hard drugs."
Image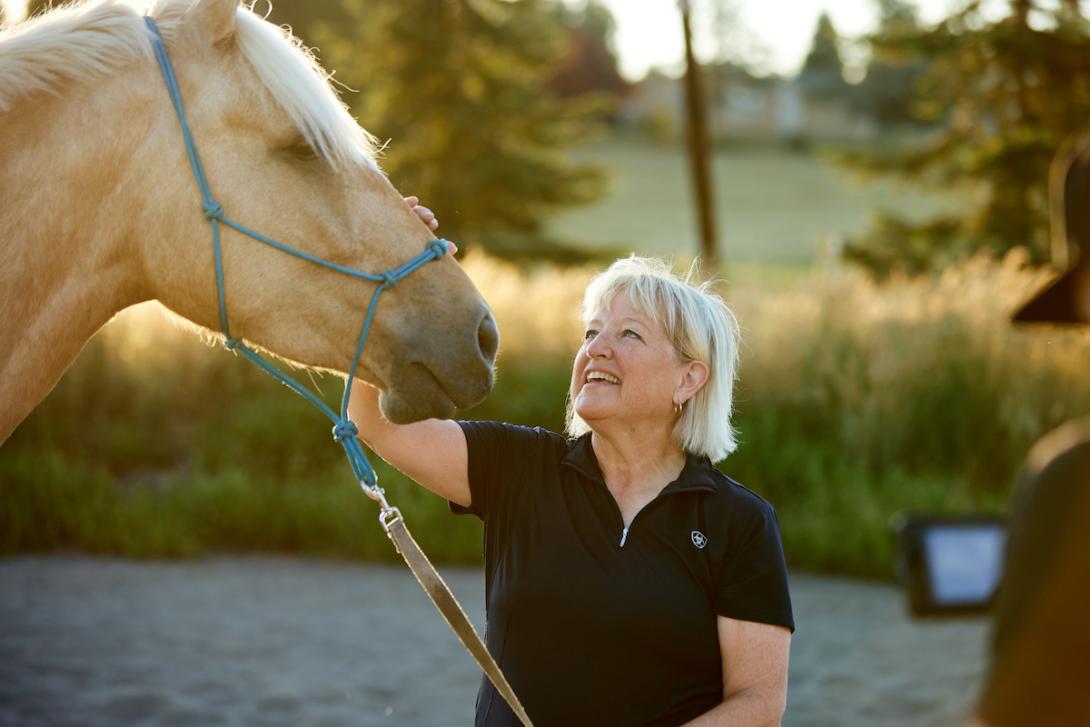 April 23, 2022
As Oregon continues to contend with the pandemic, health care workforce shortages, and the impending loss of Oregon Health Plan coverage for hundreds of thousands of people, the state's next governor will have no shortage of health care crises to tackle. 
The Lund Report reached out to top contenders in the 2022 gubernatorial race to see how they'd address the state's most pressing problems related to health care. Here's how Republican candidate Bridget Barton replied to our questions:
What specific policy would you pursue to improve health care for Oregonians?
I'm a Republican outsider with nothing to lose. I don't owe anyone anything so I can DO anything. That starts with calling the career politicians to the carpet — from both parties — for failing to even acknowledge that Oregon has a massive substance abuse problem. We're No. 2 in the nation in substance abuse and No. 50 in treatment beds. I've never been afraid to do hard things and that includes facing my own alcohol addiction. As someone who has helped hundreds of alcoholics and addicts through my life, I know that Measure 110 that legalized hard drugs was one of the worst experiments that the liberal left has unleashed on our state. Crime, drugs and homelessness are all intertwined.
I will join with law enforcement and Oregon parents to repeal the section of Measure 110 that legalized hard drugs. I will stop Oregon from being a playground for cartels and drug dealers. Violent crime is a public health emergency and repealing the legalization of hard drugs is the first step to stop the bleeding. 
Oregon is simultaneously in the midst of addiction and behavioral health system crises. What is your plan for ensuring Oregonians have access to treatment when they need it?
As someone who has faced my own addiction to alcohol and has spent decades helping other alcoholics and addicts face their own addictions — l know our current laws are focused on the exact wrong things. You can't throw the keys to an apartment and some food stamps at an addict or alcoholic and think that's going to solve everything. And our jails have become the new mental health long-term care facilities. These policies are inhumane and wrong. Our streets have become open-air institutions.
After billions of dollars in spending, the problem is worse, not better because it has been approached backwards. First, we must repeal the legalization of hard drugs. Affordable housing funds must be immediately reallocated toward low-barrier shelter to clear our streets and to treatment options for substance abuse and mental health. We must establish one-stop-shop triage centers in those low-barrier shelters for substance abuse and mental health evaluation and treatment options. We also must re-establish a long-term care facility for the mentally ill.
What does Oregon need to do to rebuild its public health system — and strengthen it — to address disparities and improve equity?
I'm a Republican outsider and I don't accept the premise that simply shoveling cash into a broken system is going to help our most vulnerable. I'm a mom — soon to be a grandmother for the first time — and I know our Leftist-led government has failed to protect our most vulnerable citizens despite having $112 Billion in total funds to spend.
The foundation for any public health system, much like our education system, must be focused on re-engaging in government providing the basics that our most vulnerable citizens need. State government has wandered into areas that a vast network of nonprofits and other charities already provide. After more than 30 years of establishment Democrats assuming new government health services every year, we need to reevaluate each service and determine which are core services that only government can provide. Then we can work with our nonprofit partners to cover what government cannot or should not shoulder. 
Only when that reevaluation is done can we understand what we need to improve instead of just building further on the status quo — which isn't working. This reevaluation won't be quick, but it will be necessary.
About 300,000 people must exit the Oregon Health Plan over the coming year because their incomes exceed the threshold, and Oregon is in the early stages of developing a bridge plan to cover a fraction of them — the working poor who make up to twice the poverty level. Do you agree with those who say Oregon needs a more ambitious "public option" plan covering people with incomes four times the poverty level?
Larger government seldom works better for our citizens. Every time Oregon expands government health services, we end up cutting them during recessions. We set ourselves up for failure. The goal for any government assistance should be to only provide those services for the least among us with a vision toward giving our neighbors who need this assistance the tools to live their lives independent of government assistance.
The foundational way to address this issue is to raise incomes for Oregon families. The only sustainable way to do that is to unleash our Oregon business owners to build and maintain strong businesses that provide job opportunities for people to take care of themselves.
Oregon's public health response to the pandemic has been criticized from different perspectives. What is your take on what worked well and what didn't?
I raised my kids as a working mom. The most hideous side effect of Gov. Kate Brown's unconstitutional emergency order extensions was when she closed our schools longer than nearly any state in America. Those working parents who watched their children suffer alone in front of screens for far too long are the heroes of this pandemic. Oregon school kids and their hardworking parents were the biggest losers and when Gov. Brown offered relief, it was too late. Oregon's pandemic response was driven by fear and had shameful, lasting effects on all of us.
View responses from other leading gubernatorial candidates in Oregon's 2022 election here.