Image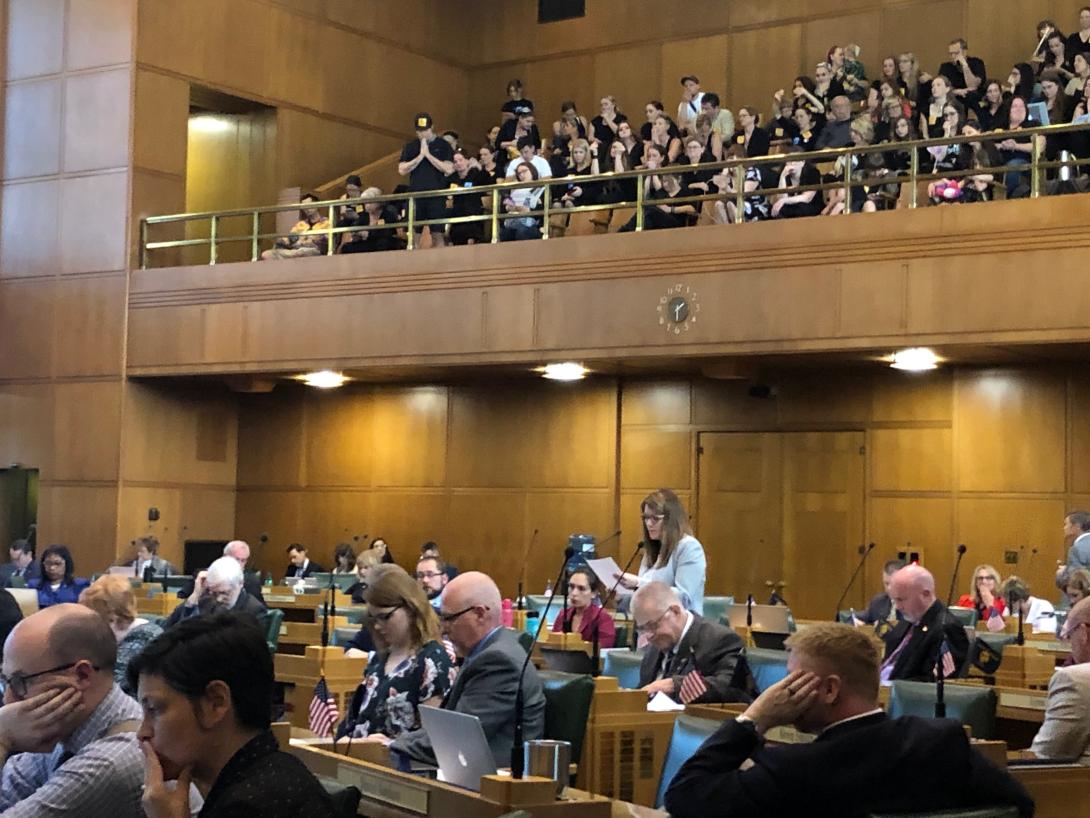 May 6, 2019
SALEM – With more than 100 opponents of mandatory school vaccinations looking on, an undeterred Oregon House of Representatives passed a bill on Monday that removes non-medical exemptions for school-aged children.
Representatives sent House Bill 3063 to the Senate with a 35 to 25 vote, mostly along party lines. Nearly all Democrats voted in favor of the bill, while most Republicans were opposed. There were exceptions on each side, notably Rep. Cheri Helt of Bend, a Republican and one of the bill's sponsors.  
"I will lead for common good and shared public health," Helt said on the House floor, "to save lives, to protect children and communities and ensure endurable immunizations and freedom from dangerous diseases. We know they can be prevented with scientifically proven, safe vaccines."
The atmosphere was charged in the Capitol building, where vaccination opponents sang "Amazing Grace" and prayed in the rotunda before filling the House pews. Numerous children and infants could be heard crying or playing while lawmakers for and against the bill said they had the public's best interests at heart during nearly two hours of floor speeches. Some members of the audience occasionally yelled "lies!" as bill proponents spoke – prompting a rebuke from House Speaker Tina Kotek. D-Portland.
"This bill to many of my constituents invokes fear and coercion," said Rep. Greg Barreto, R-Cove. "It's an assault on personal freedoms, personal choice and parental rights. What will be the next freedom to be removed in the name of public peace, health and safety?"
Rep. Bill Post, R-Keizer, who is known for divisive comments and was removed from the House Judiciary Committee this year over an inflammatory social media post, said HB 3063 amounted to discrimination similar to racial segregation laws of the past.
The bill would require children attending public or private schools to be vaccinated against preventable diseases like measles, polio and tetanus unless a parent presents a valid medical exemption. The bill would reverse the state's longstanding practice of exempting children whose parents have religious or philosophical exemptions to vaccines.
The Centers for Disease Control and Prevention -- and most physicians -- consider vaccines to be one of the biggest medical breakthroughs of the 20th century, saving scores of people from debilitating and potentially fatal diseases.
Yet HB 3063 has been among this session's most divisive bills, prompting large rallies and hours of often emotional testimony in House committees by parents who choose to alternate their child's vaccination schedule or forego them entirely.
The original bill, written by Rep. Mitch Greenlick, D-Portland and former chair of the House health care committee, allowed medical exemptions approved by a local health official or physician, but an amendment expanded the authority to grant exemptions to naturopathic physicians and nurse practitioners.
Oregon has the highest rate in the country of kindergarteners lacking one or more vaccines due to a non-medical exemption – 7.5 percent. Roughly 31,000 Oregon children aren't fully vaccinated according to the CDC's recommended schedule.
But fears of vaccines are spreading. So far this year, 764 people have contracted measles -- the highest number in 25 years.
Many House Democrats alluded to the recent measles outbreak in Clark County that sickened 70 and the risks the disease could pose for children in Oregon who are unable to be immunized due to medical reasons.
"The debate so far has centered largely on choices for patients and families," said Rep. Sheri Schouten, D-Beaverton, who spoke of her childhood lymphoma diagnosis and subsequent isolation due to her weakened immune system and concerns of catching highly contagious illnesses like the measles from other children. "I ask all my colleagues to consider children like myself who never had a choice, children who were kept out of public spaces, families in constant fear of them catching dangerous yet preventable diseases."
Starting in 2020, school-aged children who aren't fully vaccinated would be barred from attending public or private schools if HB 3063 passes, though they could pursue their studies online.
Opponents say public health concerns about preventable illnesses like the measles are overblown. Many worry the bill would force children into substandard online education programs and that they would become isolated from their peers, force parents out of jobs to homeschool their children or even prompt them to leave the state.
Two Democratic lawmakers echoed these viewpoints, saying they would join Republicans in opposing the vaccination bill.
"My concerns for the education of students outweigh my personal beliefs on vaccination," said Rep. Janeen Sollman, D-Hillsboro. "Not every student learns the same way or thrives in the same type of learning environment. Online school, while a good option for students, does not serve all students well."
Rep. Pam Marsh also spoke against the bill. A Democrat, she represents Ashland, which has pockets of parents opposed to the CDC's vaccination schedule.
The bill now heads to the Senate, where Democrats have an 18 to 12 advantage, but at least two Democrats – Sen. Lee Beyer, D-Springfield, and Sen. Jeff Golden, D-Ashland, have said they'll vote against it. The bill also has at least one Republican supporter in Sen. Chuck Thomsen, R-Hood River. The bill would pass 17 to 13 if Beyer, Golden and Thomsen were the only defectors.
Gov. Kate Brown has said she will sign HB 3063 if it reached her desk.
Have a tip about the health-care industry or legislation? You can reach Elon Glucklich at [email protected].