Amid Proposed TriMet Cuts, Activists Fight for Transit Equity
Critics of the cuts say decreased investment in public transit will have a negative impact on health outcomes
February 29, 2012 -- Earlier this month, TriMet announced sweeping cuts that activists say would have a significant impact on health outcomes for people in Portland.
The proposed changes include eliminating the free rail zone in the city center, reduced or altered service on some bus lines, a fare increase – the 11th in 12 years -- and making single tickets one-way instead of offering transfers.
"I think there's a whole litany of public health impacts," said Ben Duncan, a health educator with the Multnomah County Health Department and board chair of Organizing People, Activating Leaders (OPAL), which advocates for public transit riders.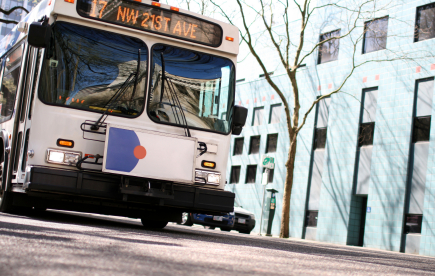 Before TriMet announced its intention to eliminate fare transfers, OPAL had launched a Campaign for a Fair Transfer, which would extend transfer times, and make them equal regardless of which form of transit the rider had initially boarded.
"Why is it that when you pay your fare at a MAX stop, you get two hours, but you board a bus and it's an hour and a half?" said OPAL membership coordinator Myrna Andrade-Booker. Also a home care worker, she was just hired after volunteering with OPAL for nearly two years and is a frequent TriMet user who calls their comment line – to give good feedback as well as bad – and said the dispatchers know her by name.
Short transfer times – and missed connections between transfers, which are particularly common in East Portland – hit low-income people particularly hard, according to OPAL organizing director Jonathan Oster. The proposed change to the ticketing system is "such a small money saver and the impact can be huge" in terms of riders.
Oster is critical of the analysis behind TriMet's cuts, as well as the agency's lack of transparency – partly on the grounds that it doesn't consider public health outcomes. "For many folks, it's a lifeline to all basic daily needs," he said.
Besides having an impact on the environment, the proposed cuts could force people to reevaluate their health choices, making it more difficult to purchase affordable fresh produce, Duncan said.
TriMet's website includes a statement touting the health benefits of public transit: encouraging daily walking, facilitating cleaner air and supporting safer streets. The agency also cites spiraling healthcare costs as one reason for making these cutbacks, and its 12-page proposal includes a jab at the Amalgamated Transit Union Local 757, which "removed certain cost-saving proposals," including cuts to riders' healthcare.
"The current contract (expired) is likely the richest in the country: $5 co-pays, no deductibles, no premium contribution, no co-insurance and lifetime healthcare upon reaching age 55, with just 10 years of service," according to Mary Fetsch, TriMet's director of media relations. "These benefits have been in place a long time. It took 30 years to get here, but it can't take 30 years to bring healthcare benefits in line with peer agencies or we could become a healthcare agency instead of a transit agency."
Attending a board of directors meeting recently, ATU Local 757 President Jonathan Hunt blasted TriMet's rejection of the union's counteroffer and contended that the health and safety of operators – which in turn effects the healthy and safety of riders – was not a major concern for the agency.
Increasing fares is also shortsighted, Oster said. "If you keep raising fares, you're going to lose people. Everybody benefits from increase public transit and increased ridership."
"We've heard that there is a greater desire to retain service and a willingness to pay more for that service," Fetsch said. "If the service isn't available, riders, especially transit dependent riders are without options."
Based on comments from more than 4,800 people, TriMet intends to present a revised proposal and hold a series of public hearings in March.
OPAL's Transit Justice and Health Equity Campaign is powered by a $150,000 grant from the Kaiser Permanente Community Fund, which was announced earlier this month. The fund seeks to address the social determinants of health from an "upstream" perspective – that is, preventing health problems before they begin.