Image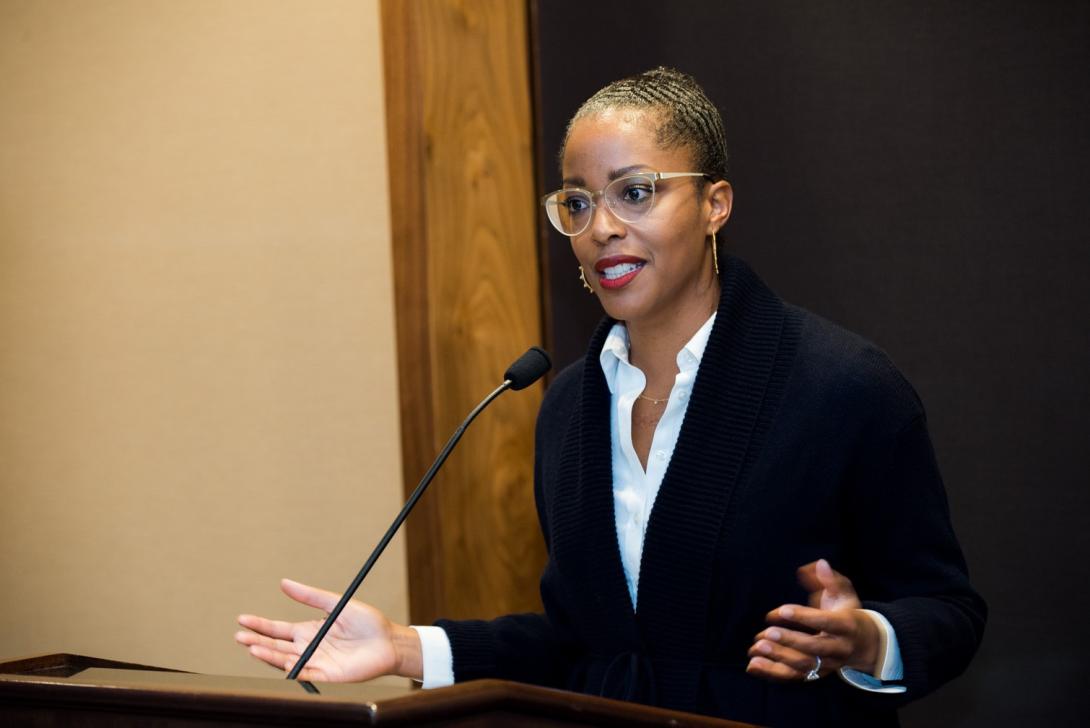 September 11, 2019
Oregon can brag about widespread health insurance coverage across the state, but when it comes to the health of the population, its outcomes are mediocre.
That was one of the messages of Rukaiyah Adams, a leading investment advisor in Portland, who gave the keynote address Tuesday night at the Oregon Health Forum inaugural awards dinner. Held at the Multnomah Athletic Club in Southwest Portland, the event was moderated by KGW anchor Laural Porter and drew about 200 policymakers, public officials, company executives and policy professionals involved in health care issues. 
"More coverage doesn't mean more healthy," Adams said.  
African-American mothers are three times more likely to die in childbirth than their white counterparts, Adams said, and fatalities due to complications from diabetes are six times higher for African-Americans. 
Adams leads investment activities at the Meyer Memorial Trust in Portland and chairs the Oregon Investment Council, a board that manages about $90 billion for the state of Oregon and its Public Employees Retirement System. 
The only way to improve health for everyone is if everyone works together, she said.
The dinner's theme – Partners for Health – aimed to encourage local groups to work together to improve the health of Oregonians.
The benefit for the Oregon Health Forum, which is affiliated with The Lund Report, honored Ermila "Mila" Rodriguez-Adair, who works for Portland Public Schools. She received the 2019 Health Impact Award, which honors people who are contributing to the health of their community. Rodriguez-Adair works with school system staff and community organizations to make sure students and their families get resources they need if they are experiencing a mental health crisis or other major health challenges. 
Three other individuals -- Danielle Tucker, Tessa Cooper and Mikayla Schlegel -- received $1,000 Oregon Health Forum Scholarships for Health. Tucker, a mother of twins, is pursuing a career in nursing, as is Schlegel, an 18-year-old who is active in Youth Era, an advocacy organization that aims to empower young people. Schlegel wants to go to nursing school. Cooper is a surgical registered nurse at Legacy Emanuel Medical Center in North Portland and studies oriental medicine at the National University of Natural Medicine in Southwest Portland.
The event also included a standing ovation for Diane Lund, the executive director of the Oregon Health Forum who started The Lund Report about a decade ago. The dinner raised funds to hire Lund's replacement as Oregon Health Forum executive director, a role she has held voluntarily. 
In her keynote, Adams discussed the failings in the current health care system -- and offered encouragement. The North Portland native pointed out that 27 million people don't have health care nationally. And while more than 94 percent of Oregonians have health care, she said, including nearly all children, Oregon still ranks in the middle of the pack in terms of healthiness.
The key is collaboration. 
As an example, she said that a group of people with diverse job experiences worked together to save Apollo 13 in 1970, when it encountered an explosion in an oxygen tank days after launching. 
"Much like Apollo 13, improving health outcomes will take a heroic effort," she said. "We'll need the best thinking of our CEOs and we'll also need community people to pitch in."
She said everyone from professionals at Oregon Health & Science University to those working with homeless populations need to work together to move the bar on health care. 
"Everyone in this room, everyone in this state is on a long journey together, maybe a journey as far as the moon in this beautiful spacecraft we call Oregon," Adams said, "and we know that something serious has gone wrong."
But Adams said what's wrong can be fixed. She told the story of Virginia Garcia, a 6-year-old daughter of migrant workers in Washington County, who died in 1975 after getting cut on her foot and getting blood poisoning. There were no providers in the area at the time who spoke Spanish, and so Garcia didn't receive proper medical care. Her death was considered preventable. It prompted the local community to create the Virginia Garcia Memorial Health Center to fix the coverage gap.
The first Virginia Garcia clinic was opened in a three-car garage in 1975 in Cornelius. Now there are 17 clinics in Washington and Yamhill counties and more than 600 employees offering services to 50,000 patients, Adams said. 
Adams, who has a Juris Doctorate from Stanford Law School in California, shared a personal health scare. A few years ago while living in New York City and working for a hedge fund, she learned she had 26 tumors in her abdomen during a routine annual exam. She also had kidney failure. 
But she was lucky, much luckier than most. She had a "Cadillac" health plan and was able to get quick treatment.
"In the course of a single day my whole life changed," Adams said. "The tumors were biopsied and eventually removed by an expert surgeon, one of the best in the world at one of the earliest appointments available and it didn't cost me anything."
Adams asked the audience to "constantly examine assumptions about what determines what as you take on this challenge of making us more healthy, and not just more covered."
She said the people in the room were in a position to enact change.
"The effectiveness of your work is not just an outcome of existing and historic social factors," Adams said. "Your work is also generating the social context for people, maybe even whole communities to prosper."
Wyatt Stayner can be reached at [email protected].