With the fourth-highest addiction rate in the country, Oregon has one of the worst records nationwide when it comes to treating people suffering from drug or alcohol addiction. But now the state is working towards a plan to change that.
Image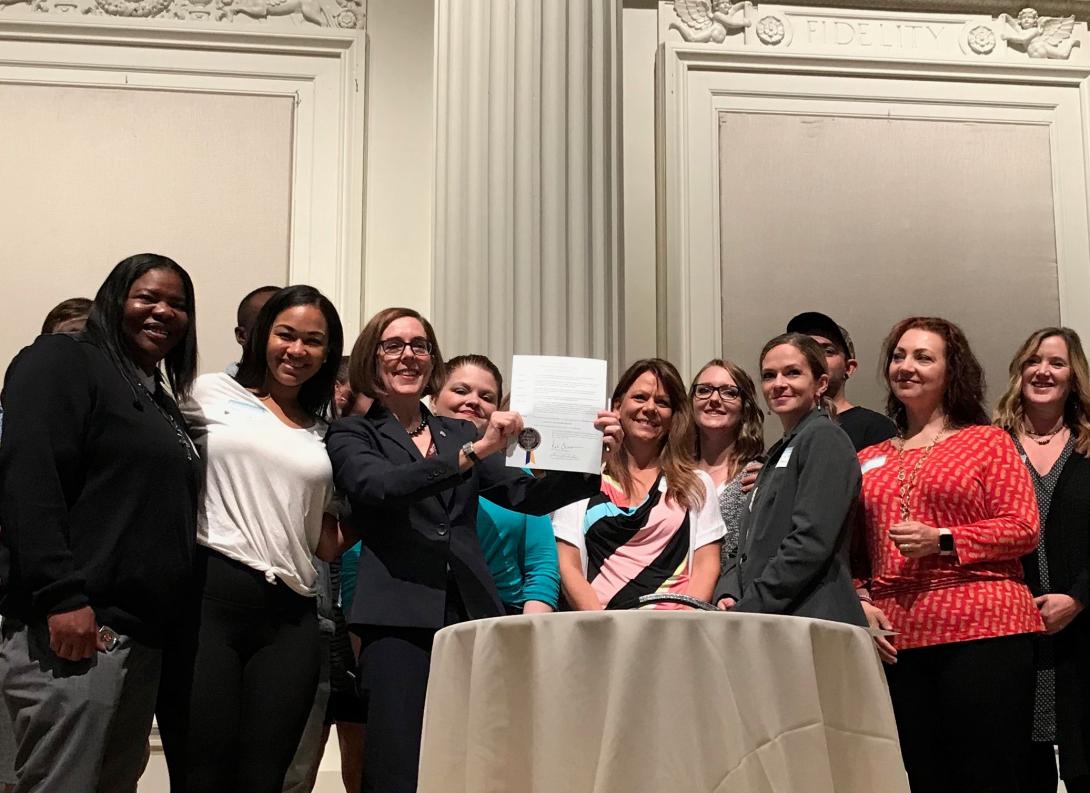 August 22, 2018
Carrie Steinseifer Bates won three Olympic gold medals for swimming in 1984.
But in January 2012, the Tualatin resident wanted to die.
The decorated athlete and mother of two was addicted to alcohol, and she didn't know where to turn. She lost her job, her husband and her children.
Steinseifer Bates, now 50, is among more than 300,000 Oregonians who are sober, or "in long-term recovery," after suffering from a drug or alcohol addiction, mental health and addiction experts said at an addiction recovery conference last week. They are the lucky ones.
Oregon has the fourth-highest addiction rate in the country, according to data from the Substance Abuse and Mental Health Services Association. It ranked 49 out of 50 states in treatment options available for people struggling with addiction. In 2016, more than 9 percent of Oregonians -- or nearly, 370,000 people – needed treatment for drugs or alcohol addiction but couldn't get it, the data showed.
"We're all here fighting this epidemic in Oregon," Steinseifer Bates said.
Oregon's Alcohol and Drug Policy Commission on Thursday afternoon will take a step toward tackling addiction disease in the state, months after Gov. Kate Brown declared alcohol and substance abuse a public health crisis.
The commission will vote on the guidelines it will use to develop a strategic plan for reducing drug and alcohol addiction and increasing recovery rates in Oregon. The plan is due to be finalized in 2020.
"Addiction recovery is an issue that unites every single one of us," Brown said at the recovery summit. "We are all among the many Oregonians who have felt the impact of addiction on our friends, our communities and our families."
Oregon will also become the first state to survey the public about their addiction and recovery status as part of a statewide health survey, officials said. The data will help policymakers and providers evaluate how effective existing treatment options are and what recovery programs require further investment.
"If we're going to transform a system, we'd better be damned sure it's working," said Robert Ashford, a social worker and research assistant at University of Pennsylvania's Center for the Studies of Addiction.
'A Death Sentence'
Right now, the system is not working, said Mike Marshall, director of Oregon Recovers, a coalition advocating for better addiction treatment and prevention in Oregon.
Oregonians struggling with addiction have to wait as many as three weeks to get into inpatient services, he said.
"We know there is a window of openness or willingness," said Brent Canode, executive director of a recovery support center called The Alano Club of Portland. "If they're told they have to wait three weeks, that's a death sentence."
Residents in the Portland area have limited options for inpatient care. Kaiser Permanente, De Paul Treatment Centers and the Native American Rehabilitation Association only have so many beds.
"We just don't have enough places to send people," Canode said.
Marshall said he suspected that treatment facilities that take private insurance -- like the Hazelden Betty Ford Foundation in Portland and Serenity Lane in Eugene -- have more space.
"Privileged people don't have to wait, but people on the Oregon Health Plan or with poor insurance absolutely do," Marshall said.
Tillamook County, Jackson County and parts of Polk, Linn and Deschutes Counties have the most need for opioid treatment services, a report by the Substance Abuse and Mental Health Services Association found.
"If I were a policymaker or a treatment provider, I might want to focus on those areas," association spokesman Phil Walls said in an email.
Marshall said it's not clear which areas of the state need the most urgent attention because officials have not tracked  the demand or supply of addiction services.
"Oregon doesn't know what it needs," Marshall said.
Setting Clear Goals
Advocates have advised the state on areas they think need to be addressed in the plan.
Oregon Recovers said the plan should identify specific outcomes; involve the public sector; include private sector and faith-based organizations; and tend to the different needs of diverse communities.
Among almost 60 recommendations for prevention, treatment and recovery support, the organization urged the state to:
set a goal to reduce the state's addiction rate from 9.6 percent of the population to 6.8 percent and increase recovery rates by 25 percent in the next five years.
annually track and publicize which communities are most at risk.
screen pregnant women and individuals with childhood trauma for depression and addiction.
increase prevention education efforts in schools.
ensure same-day access to evaluation and care.
maintain a statewide addiction resource system where people can find care.
help ensure long-term success by providing long-term support services.
help people find safe and affordable housing.
make sure people in recovery have mentors.
"The plan should be drafted to create very specific outcomes," Marshall said.
'We Need All The Help We Can Get'
Speakers at the addiction recovery summit called on local government officials and private caregivers to help Oregonians with addiction problems get care more quickly. They also urged officials to consider a range of treatment strategies and to improve long-term care options.
"We need all the help we can get," said Marv Seppala, chief medical officer of the Hazelden Betty Ford Foundation. "We need the political will. We need all the people in this room to get together, get involved and support this journey any way you can."
The foundation and Oregon Recovers hosted the summit, which drew scores of mental health workers, recovering addicts, advocates and government officials from across the state.
Brown proclaimed  September addiction "recovery month" in Oregon at the event. She also called on legislators to do more to address the state's addiction crisis. It was the latest step Brown has taken toward reforming addiction services.
In March, she signed an executive order that declared alcohol and substance abuse a public health crisis and set deadlines for implementing the statewide plan for preventing and treating addiction.
The state's Alcohol and Drug Policy Commission must come up with a framework for the plan by Sept. 15, and finalize the plan by July 1, 2020.
"Addiction is a chronic disease and needs to be treated as such," Brown said. "We absolutely need to let people know that it's OK to come out of the shadows, that it's OK to ask for help and that there is help for them."
Brown also signed into law a bill championed by Rep. Tawna Sanchez, D-Portland, that required the Alcohol and Drug Policy Commission to "actually do their job" by setting deadlines in statute. It required the commission to come up with a framework for the plan by Sept.15.
For years, the commission canceled meetings, struggled to act and failed to draft any policy that would improve addiction treatment in the state, an Oregonian investigation found.
"I don't like it when people have a job to do and (don't do it)," Sanchez told The Lund Report.
Years Of Spending Cuts
The commission's inaction followed years of funding cuts for addiction treatment, caused in large part by state budget deficits.
Three-quarters of addiction counselors in the state were laid off during the 2003 recession, Marshall said. The state's addiction services had not recovered by the time 2008 recession hit and caused more layoffs.
In 2010, Gov. Ted Kulongoski ordered $51 million in cuts to Oregon's prison system, which meant fewer resources for drug addiction treatment, officials said.
Addiction treatment is "a cottage industry that has never been well-resourced," Marshall said. "The combination of the lack of state resources and the singular isolated model of treatment has gotten us to this place."
Addiction treatment providers need to raise millions of dollars from private donors just to cover their operating costs, he said. "That's like having an emergency department having to have a bake sale."
He said the lack of a sales tax in Oregon creates a "structural problem" in how the state gets money. Limited money makes advocacy and political commitment even more important for investment.
"We need (leaders) at the top that understand and have a deep resounding commitment to addiction recovery," Marshall said. "The governor has reset the table. She is our ally."
A Chronic Disease
Recovering addicts risk relapse when they don't receive long-term care, Cheri Walter, chief executive officer of the Ohio Association of County Behavioral Health Authorities, said at the summit.
Current care models often treat addiction like an acute disease that can be cured with immediate treatment, but it's really a chronic condition that requires years of care, Walter said.
"We have to support the individual for the long term," she said. She described how Columbus, Ohio is moving to a "recovery-oriented" system of care, which assesses the individual needs of people struggling with addiction and then works with them on a long-term basis to provide customized care. Investing in long-term care means investing in recovery centers that provide people with social support groups and activities like yoga or fitness that help them stay on their recovery path.
"People in recovery should be driving the system," Walter said. "The system should not be driving people in recovery."
Recovery is Possible
Steinseifer Bates has been sober for four years. She has a steady job at the Hazelden Betty Ford Foundation. Her daughter told her she was her best friend when she dropped her off at college last week.
"Recovery is alive and well, and it does happen," Steinseifer Bates said.
Understanding that recovery is possible is key to building political will and to breaking through the social stigma that has caused many to think of addiction as a moral issue rather than a disease, said Robert Ashford, the social worker and research assistant at University of Pennsylvania's Center for the Studies of Addiction.
More than 9 percent of Americans, or 22 million people, identified as in recovery, according to a 2017 National Recovery Study conducted by psychiatrists at the Recovery Research Institute in Boston.
Addiction impacts job loss, housing insecurity, domestic abuse and families. Between 60 and 70 percent of parents who lose their children to foster care have addiction issues. It causes parents to lose their jobs and students to drop out of school.
"By fixing this problem, we lift up every Oregonian across the state," Marshall said.
Reach Jessica Floum at [email protected].