After Slipping Through the Cracks, Beaverton Man to Receive Lifesaving Surgery
Mike Trethewey applied for assistance for dozens of organizations before being accepted for cancer treatment at Virginia Mason Hospital in Seattle
February 25, 2012 – Mike Trethewey is preparing to travel from Beaverton to Seattle for a life-saving surgery he needed three months ago.
Trethewey was diagnosed last August with stage two metastatic testicular cancer and had three rounds of chemotherapy before he and his wife, Laura, who had Kaiser insurance became uninsured because they were unable to pay the monthly premium.
Mike does call center work through a temp agency. Laura was also employed at a call center when Mike was diagnosed but lost her job, after missing so many days because of her husband's medical care.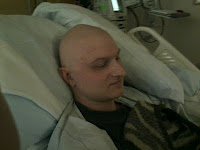 Since the couple lost coverage in November, they've sought help at non-profits and government agencies only being told that the funds were gone or they didn't qualify.
But last week they got a reprieve. They learned that Virginia Mason Hospital and Medical Center in Seattle is willing to provide treatment and financial assistance.
"Our official professional referral from Kaiser to Virginia Mason was denied at first," said Mike.
A website created to raise money for his surgery includes an extensive list of non-profit and government agencies, from the American Cancer Society to DHS Seniors and People With Disabilities to the Oregon Health Plan.
Again and again the couple was told there was no money available, or that Mike wasn't sick enough (some charitable assistance exists for terminal cancer patients, less so for patients with good prognoses). Mike hadn't been sick long enough to qualify for Social Security disability, and couldn't get into the Oregon Health Plan.
Mike's recent diagnosis, good prognosis, childlessness, and age (28 at the time of diagnosis) dropped him into a loophole. As the couple made phone calls, filled out applications and waited for something to come through, his tumors grew larger.
"The first instinct is to point a finger at somebody," Laura said. "It's not any one entity's fault."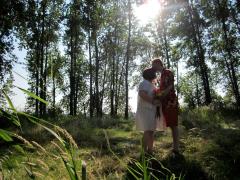 The Tretheweys managed to raise over $4,000 through their website to help pay for Mike's surgery and intend to use those dollars to purchase coverage through Oregon's high risk pool, which accepts people with pre-existing conditions who are denied traditional coverage.
The couple have also received financial assistance from other organizations: one non-profit sent them a $100 gas card, and the pastor of a church Laura attended as a child offered to help pay their utility bills.
"We're not done with this yet," Mike said. Once he's functional, he said, he wants to help figure out what's wrong with the system and how to fix it.
"It's not that I want everyone to get a free ride. That's not fitting within the existing system. There are some people who need treatment now, and need to get people back in a job so they get money and pay people back," Mike said.
Linda Nilsen Solares, executive director of Project Access Now, which coordinates and manages volunteer care for patients who've been referred through a network of 20 clinics in the Portland area -- said Trethewey's case illustrates the challenges in navigating the system as an uninsured person: "It's incredibly, incredibly challenging and you have to meet all the right criteria."
Applying for assistance programs can also require great perseverance and patience, she said – not to mention organizational skills.
"The challenge of uninsured people is not going away," she said. "If we really want to control costs in our community, we really need to make sure everybody gets access to care."