Activists Push to Halt Coal Exports, Coal Burning
Local health, environmental and clean energy groups participate in a screening to hear about the struggles of activists in the Coal River Valley of West Virginia
November 8, 2012 -- The fight to keep coal trains from passing through Oregon on their way to ports overseas was put in a national context at a free screening of the documentary, The Last Mountain, at Portland's Bagdad Theater last week.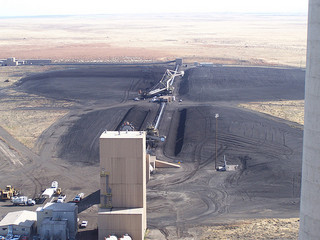 The screening was sponsored by Multnomah County, and was followed by a panel of speakers from local health, environmental and clean energy groups. But the film focused on the efforts of activists in West Virginia's Coal River Valley – those whose families had lived in the area for generations, as well as outsiders, including Robert F. Kennedy, Jr. – to halt the removal of Coal River Mountain by coal giant Massey Energy. Activists went so far as to raise money to install wind turbines at the summit of the mountain, and while the result of their efforts was not documented in the film, the mountain is still marked for removal..
However, another activist portrayed in the film – a retired man who had worked for the coal industry his whole life – succeeded in petitioning the governor's office in West Virginia to build a new elementary school in his community, after several children and teachers were sickened attending school in the shadow of a coal storage silo.
The film touched on many of the issues Northwest activists have raised regarding coal exports, including the effects of coal dust on mining communities, as well as areas where coal is burned or through which it's shipped.
Ann Gravatt, Oregon director of Climate Solutions, said preventing permits for coal exports is only part of the issue. Decreasing dependence on coal energy is also critical.
"Oregon is a leader, and I'm proud of the fact that we're a leader," Gravatt said, referring to Oregon's efforts to invest in renewable energy. However, she noted, the state still gets 35 percent of its power from coal and 50 percent from fossil fuels. Portland General Electric has announced plans to de-commission the coal burning plant in Boardman by 2020 and to continue to reduce the amount of power it receives from nonrenewable fuels.'
Getting the state to perform a comprehensive environmental impact statement and health impact assessment is "really the biggest piece of the puzzle" for halting coal train permits, Gravatt said.
Dr. Martin Donohoe, who practices at Kaiser Permanente Sunnyside Hospital and teaches in the community health program at Portland State University, urged health professionals to sign the Physicians for Social Responsibility's petition that will be sent to Governor Kitzhaber requesting a statewide comprehensive health impact assessment as well as a programmatic environmental impact statement be done before any coal export facility or transport is permitted by the state.
Donohoe talked about the link between coal dust and coronary and respiratory problems, as well as reproductive problems caused by high quantities of mercury and arsenic in the blood stream, and the health effects from noise pollution cause by the trains. In addition, coal burning in China will affect the health of people living on the West Coast, as emissions have already increased levels of arsenic and mercury in snow at Mt. Bachelor.
He added that the program would create "very few jobs" in the Northwest and workers in such plants on railroads shipping coal would have three times the rate of lung cancer compared to other people in the community.
"This is a jobs program for special education teachers, pulmonologists, neurologists and morticians," Donohoe said.
People interested in helping to reduce coal burning overall or preventing coal exports in the Northwest can sign petitions, attend upcoming rallies (including one on November 13 at the Department of State Lands in Salem, submit comments or attend a December 12 hearing and rally at Clark College.
Peter Frick-Wright, a writer for Sierra Magazine, said the most important thing people can do is spread the word about the coal industry and problems caused by coal. "The more people think about it, the more people oppose it," he said. "I think the most effective thing you could do is talk to people."
Image for this story by Nick Engelfried (CC BY 2.0) via Flickr.