With an anti-abortion measure on the ballot and differences in the governor's race, abortion will be a hot-button issue in the next few months.
Image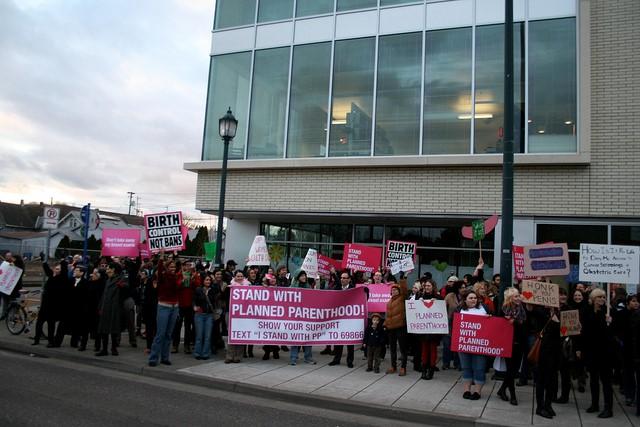 August 8, 2018
Only once in more than a decade have Oregon voters been asked to weigh in on abortion.
But now, driven by three distinct developments, abortion promises to take center stage politically in a state widely regarded as the most pro-choice in the nation.
Already, pro-choice groups such as Planned Parenthood and others are working to defeat a November ballot measure that would cut off public money for abortions. Anti-abortion forces, for their part, are just as adamant on the other side.
"Oregon is definitely an important part of the national conversation taking place right now regarding abortion," said Shivana Jorawar, state legislative counsel for the Center for Reproductive Rights, a pro-choice advocacy organization. "People will be watching closely to see what happens there."
A similar abortion debate is raging nationally, as dozens of states move to either expand or limit access to abortion. The upcoming U.S. Senate confirmation hearing for Judge Brett Kavanaugh, President Donald Trump's pick, is likely to stoke the debate further.
In Oregon, one trigger in the debate is an anti-abortion initiative that will be on the November ballot, the first one to qualify since a failed attempt in 2006 to require minors to get parental notice.
The current initiative which is backed by Oregon Life United, Measure 106, would amend the state Constitution to prohibit the use of state money to pay for abortions.
Forces both supporting and opposing the measure say they are already raising money and scrambling to build campaigns aimed at winning in November.
"Our whole issue is that we don't want to become the abortion capital of the world," said Marylin Shannon, a former two-time state senator and one of Measure 106's chief petitioners. "Many people are just finally tired of having that reputation and having our tax money spent that way."
Emily McLain, executive director of Planned Parenthood Advocates of Oregon, disagreed, saying, "What this comes down to is that it's a shared value that every person should be able to decide when to become a parent, no matter how much money they make."
McLain's organization is one of nearly two dozen that have joined forces as the No Cuts to Care Coalition. McLain promised a "robust effort that will touch every part of the state."
Oregon is among 17 states nationally that allow state money to pay for abortions, according to the Guttmacher Institute, an independent research group that collects research on abortion and related topics. It's also the only state that places no restrictions on abortion access or timing.
For the fiscal year 2017-18, the state, through the Oregon Health Authority, spent just over $1.9 million to cover costs for lower-income women to obtain 3,593 abortions, according to health authority data. That came out to about $537 per procedure.
It's this category of abortions that would be affected if Measure 106 passes.
Differences In Governor's Race
A second piece of the debate over abortion is already heating up the governor's race between Democratic incumbent Kate Brown and her challenger, state Rep. Knute Buehler, R-Bend.
Both Brown and Buehler describe themselves as pro-choice. Any hint of an agreement on the contentious issue ends there.
"During the primary, Buehler often said he opposes public funding for abortion services unless they are deemed medically necessary, which is language identical to Measure 106," said Christian Gaston, the Brown campaign's communications director. "Ever since, he's been trying to run away from his legislative record which, thankfully, isn't going to go away."
Buehler, during a recent news conference live-streamed on Facebook, said he will vote no on the measure. His campaign has insisted that Brown is attacking him as anti-choice in an effort to distract voters from her own record.
"She obviously views this as the only place for her to drive a wedge," said Monica Wroblewski, the Buehler campaign's spokeswoman. "It's pretty clear that it's not going to work."
Asked if Buehler's opposition to the measure might harm him with anti-abortion Republicans, she added, "If you're a single-issue candidate and this is your one issue, you aren't going to vote for Knute. But what he's seeing on the trail is that people are just yearning for change."
Shannon, the measure's co-sponsor, said she's already hearing from some traditionally anti-abortion Republicans who say they will focus their energies this time on races other than the governor's contest.
"A lot of people I've talked with say they won't help him," Shannon added. "I'm trying to get them to look at the larger picture."
A third factor jutting into Oregon's abortion politics this year is the upcoming U.S. Senate confirmation hearing from Judge Brett Kavanaugh, who was nominated by Trump to fill the seat of retiring Justice Anthony Kennedy.
"It's just really interesting to see these three events all lining up at the same time," said John Horvick, vice president and political director with DHM Research, a Portland polling firm. "It's definitely something we'll need to pay attention to."
Until now, Horvick said, abortion has been such a settled issue in Oregon that he's not heard a single client even mention it.
"Given everything we're seeing out there now, however, that's likely to change," he said. "Especially now that it's on the ballot, I'm sure we and a lot of other folks will be addressing it sooner than later."
Outcome Difficult to Predict
With campaigns for and against the measure still ramping up, it's too soon to predict which way voters will ultimately lean, said Jim Moore, a political science professor and director of the Tom McCall Center for Policy Innovation at Pacific University.
"If it ends up being viewed as a Democrats versus Republicans political issue, it's not going to pass," he said. "But, with budgets now under so much stress, if it's framed as a public funding issue, it could pass."
In providing some context, Moore reached back more than three decades, to when Oregon's last Republican governor, Vic Atiyeh, had to confront the then-new political reality launched by the U.S. Supreme Court's landmark Roe vs. Wade ruling, which made abortion legal in the country.
"Atiyeh was personally anti-abortion, but he said, if it's legal, public money must be spent so everyone would have access to it," Moore said. "He took that stand just as the Reagan people were coming in who said 'no' to abortion in any way, shape or form.
"What we're seeing now is a fascinating historical twist. It will be amazing to watch this all play out as we head to November."   
You can reach Dana Tims at [email protected].