2021 Preview: Health Insurance Plans Up Slightly
Health insurance companies that cover individuals and small businesses in Oregon are generally seeking relatively modest rate increases for next year, according to preliminary figures released by the state Department of Consumer and Business Services.
For the roughly 179,000 Oregonians who buy individual plans, rates would rise by a weighted average of 1.8 %, although the exact amount would depend on the insurer and type of plan.
For the roughly 174,000 people covered by a small business plan, rates would rise by a weighted average of 3.7 %, but vary depending on the insurer and kind of plan.
The preliminary rate decisions have been opened for public comment, with a final state determination due in August. 
"We look forward to gathering more information from insurers and the public during the upcoming hearings before final decisions on 2021 rates are made," said insurance Commissioner Andrew Stolfi.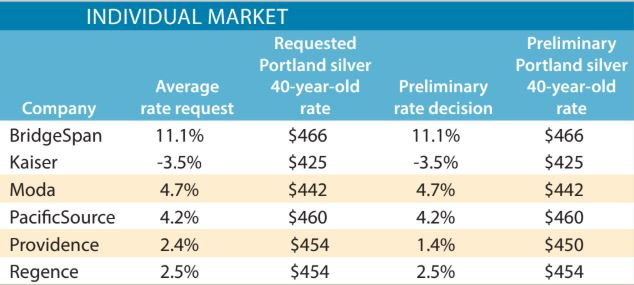 Individual and small business plans cover only a small portion of Oregon's 4.2 million residents. Most of the state's residents are covered by large employer plans, which are negotiated between employers and insurance companies, and by the government's Medicare and Medicaid programs.
But the state-regulated individual and small business markets can be valuable bellwethers about trends in health care costs.
The individual and small company markets in Oregon remain fairly competitive – a boon for consumers.
Six insurers will compete in the state individual market in 2021. In 35 of the state's 36 counties, there will be four or more insurers competing in 2021, according to state data. In five counties, which comprise more than half the state's population, all six insurers will compete. Those counties are Multnomah, Clackamas, Washington, Lane and Yamhill.
In another 11 counties, comprising 1.2 million people, five insurers are offering plans.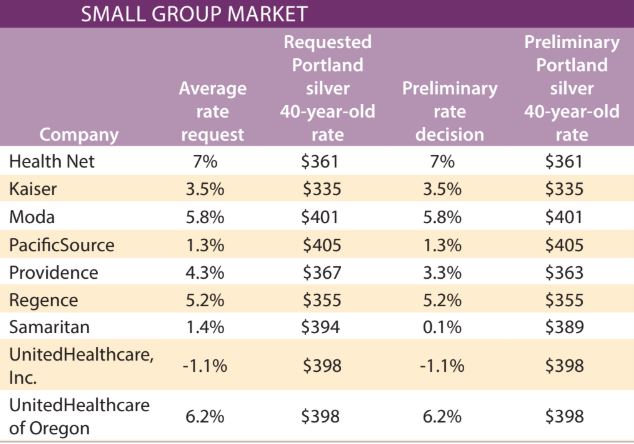 Meanwhile, in the small business market, for companies with 50 or fewer employees, there will be nine insurers next year.
One result of the competition: There typically is not a huge difference in rates among the companies.
In the state's preliminary decision, a 40-year-old Portland resident would pay between $425 and $466 a month for an individual silver-level plan, depending on the insurer.
In the small group market, the monthly cost for a silver-level plan for that same person would be from $335 to $405.
Still, the amount of the proposed rate increases varies widely by company. Among individual insurers, BridgeSpan, an arm of nonprofit Portland-based insurer Cambia Health Solutions, is seeking an 11.1% rate increase, the highest. California-based nonprofit giant Kaiser is the only one seeking a rate cut: 3.5 %. The changes would put BridgeSpan's rate for a silver plan for a 40-year-old Portland resident at $466, the top amount, while Kaiser's would be the lowest, at $425.
Among small-group insurers, Health Net, a subsidiary of for-profit Missouri-based insurer Centene Corp. is seeking the highest rate increase: 7 %, while UnitedHealthcare of Oregon, part of for-profit Minnesota-based UnitedHealth Group, is the only one seeking a cut: 1.1%. 
For a 40-year-old Portland resident on a silver plan, Health Net's monthly cost would be $361, the lowest among all nine insures, and compared to UnitedHealthcare's $398, among the highest.
You can reach Christian Wihtol at [email protected].