Up to 200,000 Oregonians Could Still be Uninsured in 2019
Although the numbers have not been adjusted to account for state-level reforms, advocates are worried about shrinking resources for uninsured people
October 19, 2012 -- A 2010 report published by the Oregon Office of Health Policy Research estimates that 35 percent of currently people lacking insurance would remain uninsured by 2019, despite expanded coverage by the Affordable Care Act.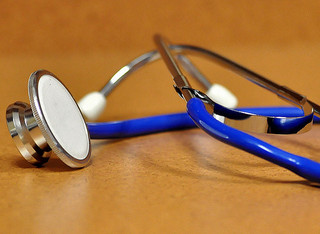 The publication does not give the raw numbers of Oregonians with insurance versus those without. But comparing it with data released by Kaiser Family Foundation that same year -- which says about 565,000 Oregonians currently lack insurance -- it can be extrapolated that about 200,000 people will be uninsured in 2019.
Some – about 24 percent – fall into a gap where they're exempt from the mandate, but still do not qualify for subsidies. The report also predicts that 42 percent of the uninsured will ignore the individual mandate and pay the penalty instead, whereas the rest – 34 percent – are undocumented workers.
The state is working to determine how many people will be left uninsured after state reforms – which will expand eligibility for Medicaid – but has not yet released those numbers, according to Alissa Robbins, communications officer for the Oregon Health Authority.
Linda Nilsen-Solares, executive director of Project Access Now, says she's been waiting for new projections of the numbers of unemployed people since the transformation bill was passed, and notes that many people whose future status are in question are considered part of the "churn" population because their income fluctuates and they come off and on the Oregon Health Plan.
Either way, she said it's likely the state will be dealing with high numbers of uninsured people – some of whom may have fewer avenues for urgent care as more safety net clinics become federally qualifying health centers (FQHCs). Where historically, safety-net clinics have focused on urgent care, FQHCs emphasize primary care for low-income people.
While those clinics will continue to serve the uninsured, the shift in emphasis from urgent to primary care is likely to leave uninsured patients with fewer places to go when their needs are urgent.
While providing primary care to more people is important, Nilsen-Solares said, the need for urgent care for people in critical need is also critical – and scarce resources already seem to be shrinking.
"The role of free clinics in the urgent care, of triaging who needs more care, is pretty important," she added.
Her organization connects uninsured people, the vast majority of whom have been referred by safety-net clinics, to a network of volunteer providers around the Portland area. In the excitement about reform at the state and federal level, public officials often forget the many people may continue to fall through the cracks.
"There's not a switch that's gonna get flipped," Nilsen-Solares said.
Image for this story by marsmet521 (CC BY-NC-SA 2.0) via Flickr.