2 COVID Studies In Oregon: More Than $3 Million Spent, Only 1 Success
In April, as the pandemic took hold in Oregon, Oregon Health & Science University hashed out a plan to track -- and hopefully stem -- the spread of the virus.
The plan was ambitious: Quickly enlist and monitor the symptoms of 100,000 Oregonians to determine the spread of illness, identify potential hot spots before they emerged and gauge compliance with strategies such as social distancing and the use of masks.
State officials liked the idea. In May, Gov. Kate Brown publicly unveiled the project, saying it would be a "game changer" in Oregon's fight against the pandemic.
"By gathering reliable data, we will replace fears of COVID-19 with facts about how and where we can contain this disease," Brown said in a statement, adding that "accurate data for those who are disproportionately at risk" would help her balance the state's economic, health and safety needs.
At the time of the announcement, researchers at Oregon State University were quietly working on a COVID tracking project of their own that involved testing wastewater from municipal treatment plants for the virus. 
The technology isn't new. It's been used since 1989 to track polio, drug use and antibiotic resistance in developed countries.
But OSU failed to gain the state's attention -- or money.
Instead, Oregon Health Authority agreed to spend $6 million of taxpayer money on the OHSU project, which turned out to be a failure. The study was poorly designed and came apart on its recruiting process and failure to include minorities in the decision-making, OHSU acknowledged last month in announcing it would be scrapped after burning through more than $1.5 million in taxpayer money.
At the same time, the Oregon Health Authority announced it would spend $1.2 million on the OSU wastewater testing project. That sampling does not track individual households as the OHSU study intended to do, but it does discover viral trends in a community. The virus tends to show up first in wastewater before cases pile up, making it a good early warning tool. 
Both projects aimed to supplement data on COVID-19 infections and deaths that the state collects daily from medical providers, hospitals, virus testing location and other sources.
The tale of the two projects offers lessons in public spending and the complexity of trying to track a virus that produces no symptoms in some people, yet in others is deadly. A population study like the one OHSU proposed is not usually done quickly.
"For large cohort studies, it's not unusual to spend over a year in the planning stage," Dr. Kimberly Repp, chief epidemiologist at Washington County Public Health, said in an email. "Getting a random sample that is representative of Oregon is incredibly difficult."
But OHSU promised to do it quickly, hoping to help the state protect people while not crushing the economy. The OSU study, meanwhile, did not involve a gamble. Based on known science, it was easy to get started while producing less detailed data.
Brown and the Oregon Health Authority opted for ambitious.
The authority declined to provide interviews for this article; instead it released statements that left key questions dangling, including who authorized the project.
It clearly had the backing of the governor. When asked, here's what the health authority said:
"OHA allocated $6 million to support the OHSU Key to Oregon study, but state officials did not have a primary role in the study's design. It is anticipated that only a small portion of state funds will be spent on the study. We will work with our partners to determine how we can redirect state funding to more effectively reduce disproportionate COVID-19 infection and death rates among people of color and tribal members in Oregon."
Project Gets Off To Slow Start
The OHSU project was led by Dr. David Bangsberg, dean of the OHSU-Portland State University School of Public Health, with the help of two top researchers: Dr. Paul Spellman, a professor who specializes in cancer genetics; and Dr. Jackie Shannon, professor in the school of public health.
OHSU presented the idea to the governor's office in April, an OHSU spokeswoman said. But an agreement between OHSU and the health authority, which the governor's office provided to The Lund Report last month, nearly four months after the health care news site requested it, wasn't signed by both parties until the end of June, nearly two months after Brown announced the project.
The agreement said OHSU would use a marketing group to enroll 100,000 people who would record their temperature with their own thermometer or a free one provided by the study. They would also note any symptoms such as a cough or difficulty breathing. The daily reports would provide "a near real-time assessment of viral activity," the agreement promised.
It said OHSU would distribute at-home COVID-19 tests -- which the agreement indicates had not been identified -- to symptomatic individuals and others to confirm cases.
But at the end of May, OHSU announced a testing snag. The Food and Drug Administration had approved one home testing kit for COVID-19 but that was not the one OHSU intended to use, according to a report by The Oregonian/OregonLive. 
OHSU said the study would continue anyway and that anyone with symptoms would be referred to a medical provider for testing.
The study effectively started in early June, when volunteers began their daily monitoring. Anyone who was invited apparently could participate, provided they were at least 18 years old.
The agreement specifies that the study would contact 150,000 randomly selected households to recruit 100,000 people representative of the state's demographics. It said the study would use Census data to "oversample rural and underrepresented minorities." 
But participants only had to be at least 18 years old.
"The only screening question they will be asked is their age; if they do not pass eligibility, they cannot proceed to consent," the agreement states.
Bangsberg told Oregon Public Broadcasting that the study intended to identify demographic trends to see whether tribes or any racial groups were harder hit by COVID-19, as they were elsewhere in the country.
But advocates for minority communities say they were excluded from the start. Angry, they wrote to OHSU and complained. Andres Lopez, research director for the Portland-based Coalition of Communities of Color, told Oregon Public Broadcasting about the study:  "All it will be able to say is if white people are fine. And then we open up counties and people of color will die."
OHSU brought in its chief of diversity, Dr. Derick Du Vivier, and Bangsberg promised to include minority leaders and rework the study in mid-stream.
"They've apologized, and have acknowledged the ways in which white supremacy culture has informed their decisions and strategies," Lopez told OPB. "And they are intent on learning different ways to power-share, and to co-create the rest of the study with communities of color."
But that did not happen.
Last month, after enrolling 100,000 people, one of the largest research groups ever enlisted in the state, OHSU announced it was ending the project, two months after the agreement was signed.
OHSU told The Lund Report that 200 of its employees had worked on the study. Though the agreement only guaranteed payment through November, researchers had hoped to continue the monitoring through next April and had drafted a budget for $24 million.
The health authority declined to say how much the study has cost taxpayers. OHSU told The Lund Report it had spent less than half of the $6 million allocated by the agreement. It released a budget of expenditures through July, showing that it spent $1.6 million, including more than $1 million on thermometers and nearly $300,000 on marketing, communications and outreach. Only $20,000 was spent on COVID-19 testing.
Only 700 people completed at-home testing, OHSU said.
The institution has not released expenses through August. It said it would return any unused funds.
Besides giving researchers a lesson in "humility," as one researcher told OPB, the study failed to achieve its goal of tapping the pulse of the virus in Oregon.
Dr. Dean Sidelinger, the state epidemiologist, said during a news conference last month that officials had expected the study to "provide a lot of data to the state to help us with our reopening and our response to the pandemic." But he said it "was slow to roll out" and that the state was filling its knowledge gaps through its own data, emergency departments and Oregon State University.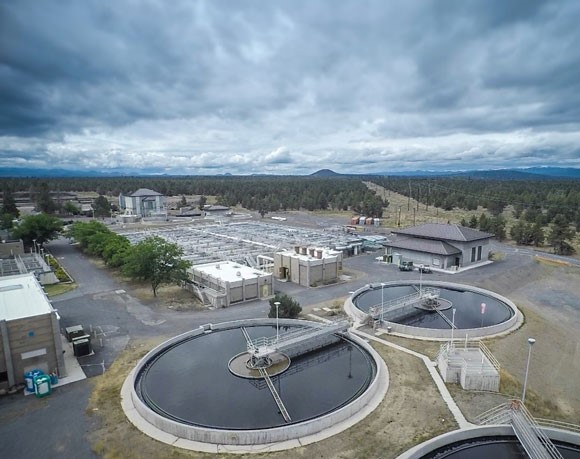 OSU Study Covers Several Communities
Meanwhile, in April, before the OHSU study was launched, Oregon State University researchers picked random areas in Corvallis to conduct at-home COVID-19 testing. The same month, researchers started working on a wastewater testing project.
Analyzing wastewater has a number of advantages over COVID-19 testing. It's not personally invasive -- no one has to go through having a swab stuck up their nose -- and it does not violate privacy laws. Researchers don't need an individual's permission, and they don't miss anyone, regardless of their symptoms. If you have the virus, it will turn up in wastewater.
"Our participation rate is nearly 100 percent," said OSU associate professor Tyler Radniecki. "If you are using the bathroom, you are participating."
One drawback is that it omits rural areas outside city limits where individual homes are hooked up to septic tanks that leach wastewater into the ground. In some parts of the state, that can be a substantial part of the population.
A big plus is that it's not expensive.
"We can cover an entire community with a few samples so the cost is reasonably inexpensive," said Radniecki, who co-leads the project with OSU bioengineering professor Christine Kelly.
All that's needed are sewage samples and the capability to detect genetic material from the virus.
OSU has the right equipment and obtained permission from wastewater managers to collect samples. Typically in such studies the samples can be taken from centralized municipal treatment plants, or from sewer lines to zero in on specific neighborhoods.
It started the project with a grant from the National Science Foundation and won funding from Clean Water Services, a utility that serves more than 600,000 customers in Washington County.
This type of study is decades-old. Since 1989, Israel, Europe, Pacific countires and the United States have analyzed wastewater to monitor polio, antibiotics, opioids, methamphetamine and other illicit drugs. After the pandemic hit, Australia, France, Finland, Germany, the Netherlands and New Zealand quickly launched COVID wastewater surveillance to track the pandemic in communities. 
The idea has also gained the attention of national researchers in the U.S. with the National Academies of Sciences, Engineering and Medicine holding a forum on it in May.
At Oregon State, researchers sampled wastewater in Corvallis, Bend, Newport, Hermiston, Boardman and throughout Washington County over the past four months.
The technology is not sophisticated enough to determine the number of cases but it does identify trends.
For example, researchers started testing wastewater in Corvallis at the beginning of May. But the virus didn't appear until a spike in July, with researchers continuing to find it since then.
"What that is telling us is that the virus is definitely present in Corvallis, and it has increased in prevalence since mid- to late July," Radniecki said.
The test results in Bend mirrored those in Corvallis, with the virus emerging in July.
But Newport, which had a June outbreak traced to a fish-processing plant, was a different story. Researchers noted a viral spike in mid-June and another smaller spike at the end of July. The sampling enabled researchers to nail down neighborhoods of concern. 
"What we found is that the virus concentrations were pocketed in the city and most strongly just north of the bay," Radniecki said.
But in Hermiston, the virus was widespread.
Umatilla County has struggled with some of the highest number of cases in the state. The researchers also found consistently high levels in Boardman in Morrow County. The number of cases in both counties have since dropped.
The infusion of $1.2 million from the Oregon Health Authority will allow OSU to expand its project around the state. It aims to conduct wastewater testing in 43 communities over the next 30 months.
An OSU spokesman said that they will include every sewage plant serving at least 6,000 people. But the Portland area will be excluded.
A health authority spokeswoman said it didn't make sense to sample wastewater in the metro area.
"In a large city like Portland, we expect that the surveillance would always detect COVID-19," spokeswoman Delia Hernandez wrote in an email. "At this time, it's more useful to use wastewater surveillance in small- to medium- sized cities where we might not always detect COVID-19 and, if we do, we have an early warning signal of increasing COVID-19 activity in that area."
"You can get a signal roughly a week before you see it in other indications, like hospitalizations or in confirmed COVID cases that are reported," Dr. Melissa Sutton, the health authority's medical director of respiratory viral pathogens, said at the news conference.
That information will help communities respond, which was one of the goals of a surveillance project. Nevertheless, Sidelinger said the wastewater sampling data will not represent extensive statewide testing of residents. Individual testing provides information about demographics, such as the number of minorities infected, and the health and age of people who contract the virus, he said.
You can reach Lynne Terry at [email protected] or on Twitter @LynnePDX.
×
This article is for premium subscribers. If you are one, please sign in below.
You can see
two
more premium stories for free. To subscribe,
click here
. We depend on premium subscriptions to survive, and they are tax deductible.