Unemployment Claims In Health Care Industry Spike In 2020 
Unemployment claims by health care workers have soared this year as the pandemic shredded Oregon's economy and health care providers shed jobs, either permanently or temporarily. 
Tens of thousands of laid off or underemployed health care workers filed for unemployment compensation in Oregon this year, even as demand for critical care nurses and other specialized staff has spiked along with a need for more workers at nursing and residential care homes.
The Oregon Employment Department provided unemployment claim data on Wednesday to The Lund Report that illustrate how health care workers are not immune from the pandemic's economic fallout. The data show a stark trendline in Oregon as the pandemic tore through the state's health care sector.
From January through the week of Dec. 5, health care practitioners and technical medical workers filed 18,394 claims. The category encompasses a wide range of workers such as medical imaging technicians, nurses, anesthesiologists and surgical assistants -- professionals who faced layoffs or reduced hours when the health care industry stopped doing elective surgeries and procedures in order to preserve personal protective equipment and bed space for hospitals anticipating a crunch of COVID-19 patients.
In comparison, for the same period last year, just 2,851 health care practitioners and technical workers filed claims. For all of 2019, some 3,025 health care workers filed claims. That means Oregon's health care sector has seen a sixfold increase in unemployment claims so far this year.
"This year's been really unusual in terms of high rates of unemployment among health care workers," said Jeff Luck, a health care economist and associate professor of health care management and policy at Oregon State University. 
Health care isn't immune from economic downturns. But this one came much quicker than the hit the industry took in the Great Recession, Luck said.
Unemployment claims also rose sharply among health care support occupations, which includes home health aides, nursing assistants, dental assistants and medical transcribers. State data show health care support workers have filed 25,675 claims this year as of Dec. 5. That's a fivefold increase from 5,108 claims filed by this point in 2019.
Overall, the data show that workers in the health care industry as a whole filed 44,069 unemployment claims this year. Workers can file unemployment when laid off or to make up the gap if their employers reduce their work hours. A single claim can run just a few weeks, or many months.
Over the summer and fall, Oregon's health care industry has begun to recover but is still off from pre-COVID-19 times. As of October, ambulatory health care services employment - that is, work at clinics, doctors offices and other outpatient businesses - was down 4,200 jobs from the same month last year. Total ambulatory health care services jobs now stand at 91,400. Employment at hospitals is down 1,800 from October 2019, and now stands at 58,100.
But employment at nursing and residential care facilities is up 4,600 from October 2019, and stands at 57,100.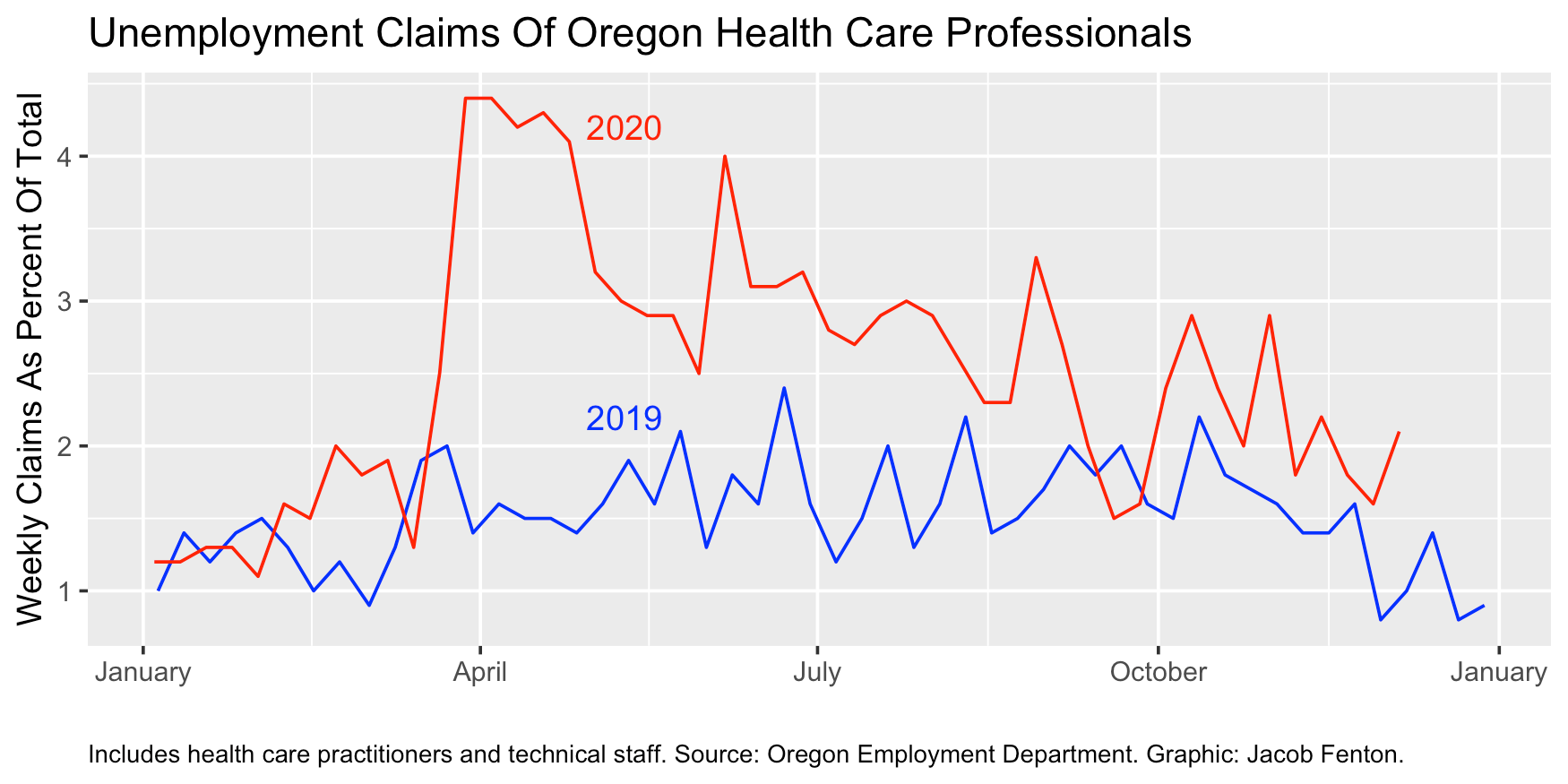 Week-by-week data show how quickly the pandemic forced layoffs in the health care industry. 
Weekly health practitioner and technical worker unemployment claims in January through mid-March held steady at a range from 47 to 77 claims each week. 
The week of March 14, just 52 claims were filed. That jumped tenfold to 529 claims the next week. During the next three-week period, workers filed more than 2,000 unemployment claims each week.
The statistics put an edge to the demand that hospitals and other providers support their workers. Meg Niemi, president of the Service Employees International Union Local 49, which represents about 10,000 health care workers at facilities throughout Oregon, said health care systems and employers need to step up during the difficult time.
"Health care workers have been on the frontlines of this pandemic for months, and instead of rewarding and incentivizing their work, the health systems they work for have laid people off, cut hours, short-staffed the hospitals, refused to pay hazard or incentive pay, and even fired caregivers who have called in sick or needed to stay home to care for kids," Niemi said. 
Niemi said health care systems need to put paid time off in place for COVID-related absences and implement hazard pay.
"All health care workers - everyone from environmental services to respiratory therapists to certified nursing assistants deserves to be respected like the heroes they are," Niemi said.
The downturn is an anomaly in an industry that is usually stable. Demand for health care has grown as the baby boomer generation ages and Oregon has pushed to get uninsured residents enrolled in Medicaid, which now insures more than 1.2 million. 
The impacts on workers can vary, based on whether their skills are crucial in a pandemic. 
In areas hit hard by COVID-19, hospitals have hired traveling nurses. They are in high demand, with some job postings offering $8,000 a week, Kaiser Health News has reported. Local sources say traveling nurses in Portland can make a similar rate. 
The American Nurses Foundation, in a survey conducted in July, gathered feedback from 178 Oregon nurses about the financial impact of COVID-19.  Thirty-six percent reported that their work hours have decreased and just 10% reported that their work hours have increased significantly, the survey found.
Health care workers are hardly the only group hit by the COVID-19-induced economic plunge.
Restaurants, bars, retails gyms and other businesses shut down or cut back.So far this year, about 576,000 unemployment claims overall have been filed in Oregon. That figure reflects traditional unemployment claims of workers with employers. It doesn't include the claims that self-employed workers were allowed to file under the federal CARES Act, which expanded unemployment benefits.
The health care industry's unemployment claims made up 7.7% of all traditional unemployment claims in Oregon. That's an increase from 2019, when health industry claims made up 4% of all traditional unemployment claims. In 2019, the state had 205,705 unemployment claims overall and 8,418 health care industry claims. 
Jacob Fenton contributed to this story.
You can reach Ben Botkin at [email protected] or via Twitter @BenBotkin1.
×
This article is for premium subscribers. If you are one, please sign in below.
You can see
two
more premium stories for free. To subscribe,
click here
. We depend on premium subscriptions to survive, and they are tax deductible.