Senate Bill 823 Outlines Courtney's Vision for Mental Health
Sen. Brian Boquist of McMinnville, the Republican co-sponsor, said the bill sets guidelines in place so the state will be more prepared to actually show results as funding becomes available
April 10, 2013 — Senate President Peter Courtney, D-Salem, teamed up with Sen. Brian Boquist, R-McMinnville, on Tuesday to press for Senate Bill 823, a broad-sweeping set of policy guidelines aimed at providing more comprehensive and proactive community mental health across the state of Oregon.
Courtney spoke passionately once more before the Senate Health Committee about the need to facilitate mental health services, particularly for young people. He specifically called out the EASA or Early Assessment and Support Alliance program, which provides early intervention for adolescents and young adults who are suffering through a psychosis.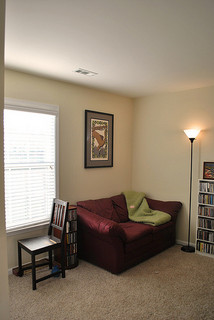 "It's a SWAT team of mental health people who move in just like that," Courtney said.
But he lamented that EASA is only available in 15 of Oregon's 36 counties, primarily in the Willamette Valley.
"The children in Eastern Oregon or on the Coast or down south, do they suffer any less than kids in the Valley?" pleaded Courtney.
The governor's budget does include $1.8 million to expand the EASA program statewide, but SB 823 directs the Oregon Health Authority to not only expand existing programs like EASA statewide it asks the agency to create entirely new programs based on evidence-based practices.
"I believe that in 10 to 15 years for now people will look back at this as one of the most important pieces of legislation to come out this session," said Sen. Elizabeth Steiner Hayward, D-Beaverton, a family physician.
Funding the programs remain a question, but Boquist said SB 823 will serve as a six-year blueprint for the state's mental health priorities and be funded as money comes along and the mental health professionals and infrastructure actually comes to provide the community's needs.
"Let's develop a policy that for the next six years, this is what we want to do and then go about funding it," said Boquist, who prefaced his remarks by noting that you can't simply throw $300 million at the problem and hope it goes away.
The bulk of the policy outlines in SB 823 are geared toward building a better mental health system for young people and children, including school-based services that would catch emotional problems and peer-support programs that would provide support.
The bill also asks that primary care doctors have better coordination with psychiatrists and develop intervention teams for adults. SB 823 doesn't leave the elderly out, either, asking for a geriatric mental health specialist for each community mental health provider.
In a separate measure — Senate Bill 4 — Courtney called for an unspecified amount of money dedicated to providing the Department of Human Services with money for mental health and addiction services to seniors and people with disabilities.
SB 4 passed out of the Health Committee on a 3-0 vote and was sent to the Joint Committee on Ways & Means to seek funding.
Courtney acknowledged that building a comprehensive community mental health network across Oregon is a much greater challenge than building a new Oregon State Hospital — a much more discrete goal Courtney was able to accomplish with broad-based bipartisan support.
He said if a new revenue stream opened up, he expected it could cause the many mental health providers to clamor for the money, opening up turf battles and special interests that would limit the big picture.
"Our bottom line is that poor person who is suffering with mental illness," Courtney said.
Sen. Jeff Kruse, R-Roseburg, gave his support to the overall effort, but asked that a vote be delayed to modify the bill to provide greater legislative oversight of the Oregon Health Authority as it implements the policy goals.
"It will completely fail if it doesn't have ironclad legislative oversight," Boquist conceded.
Sen. Laurie Monnes Anderson, D-Gresham, allowed for the amendment but said she was committed to getting the bill voted out of her committee and sent to the Joint Committee on Ways & Means by the filing deadline on April 18. The legislative oversight could always be added by that committee later, she said.
Cindy Becker, the director of health, housing and human services in Clackamas County told the legislators that the policy discussion over community mental health needed to leave the walls of the state Capitol if it was going to be successful.
She wanted mental health discussions to be raised before chambers of commerce and civic groups as well as more informal settings, helping to remove the stigma associated with mental illness.
"If you have a mental illness, you don't want to talk about it," Becker said. "People don't seek care as early as they need to."
Chris Bouneff, the director of the National Alliance on Mental Illness chapter in Portland, told the committee that just because EASA or other programs are expanded statewide, that doesn't mean they'll be the same programs everywhere because many parts of the state have different levels of mental health therapists, social workers and psychiatrists available.
Getting the state to where it needs will take time and more than just a policy bill supporting the programs.
"When you've got nothing, you've got to start somewhere," Bouneff said. "It's nice to be coming in from the wilderness this year."
Reporter Christopher David Gray can be reached at [email protected].
Image for this story by Elisa Self (CC BY 2.0) via Flickr.