Sam Chase Tapped to Lead Clinic Coalition
Chief of staff to Nick Fish takes over for Tracy Gratto after eight years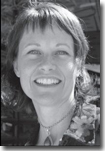 May 5, 2010 -- After eight years at the helm of the Coalition of Community Health Clinics, Tracy Gratto is stepping down. Sam Chase, who's been chief of staff to Portland Commissioner Nick Fish, assumes her role on July 26.
"Because of Tracy's leadership, we're a strong and vibrant coalition," said Lisa Cline, co-chairman of the coalition's board. Collectively the coalition serves more than 46,000 uninsured patients at 13 community clinics in Multnomah County.
Chase has more than 15 years of nonprofit and policy development experience. He founded the Affordable Housing Now! initiative to secure more than $150 million in new resources for affordable housing in Portland. As the executive director the Oregon Opportunity Network, a 125-member coalition of public, private and nonprofit organizations, he led efforts to secure and streamline funding sources, improve best practices, and increase their nonprofit member portfolios to more than 10,000 collective affordable housing units.
"We are delighted to have Sam leading our team. He is skilled in the nuts and bolts of organizing coalitions, nonprofit management, and policy development. But more importantly, he will bring a solid history of collaboration, innovation, and strategic thinking to the health care arena," added Cline.