Regence Defends Rate Hike in Rare Public Hearing
Close to 200 people showed up to voice their opinion
June 3, 2011 – Regence BlueCross BlueShield of Oregon President Jared Short defended a proposed 22.1 percent average annual rate increase on individual plan holders Thursday during a rare public hearing that drew close to 200 people. 
Short said the reason for the proposed increase had to do primarily with rising medical costs.
"There's nothing about this rate increase that I feel good about," Short said. "The reality is Oregonians are in a place where families are facing increased costs. Despite these pressures, I know this increase to be necessary."
The public hearing – the first of its kind in 20 years – was held by the Oregon Insurance Division because of the magnitude of the potential increase and the number of people affected.
Sen. Chip Shields (D-Portland) has a bill pending at the state legislature (SB 717) that would make such public hearings mandatory for rate increases that exceed 7 percent. The bill is waiting in the Joint Ways and Means Committee.
The 22.1 percent average annual rate increase by Regence was expected to cover the anticipated medical costs for its 56,000 individual members. Those members have cost the company $100 million more in medical bills than the premiums Regence collected from those same individuals and families over the past five years, Short said. During the same period, Regence said reimbursements to providers increased $34 million up to $184 million in 2010.
Regence, however, has been profitable overall mostly due to investment gains and net income in the large group market, which the state does not regulate. The state only has authority to approve insurance rates for individuals and groups of up to 50 employees. Last year, Regence earned close to
$75 million in net income.
If Regence succeeds in getting its latest increase, it plans to spend 79.2 percent on medical claims, 19.7 percent on administration and 1.1 percent toward reserves.
Oregon Insurance Division Administrator Teresa Miller questioned Short about the validity of raising rates so dramatically. She also wondered how the company claims medical costs are rising by 12 percent when reports from physicians say their own reimbursements have not gone up nearly that much.
"It's going to doctors and hospitals, but that doesn't mean it's going into people's pockets," Short said. "When you look at expansion, we have new and very expensive facilities (throughout the state). That takes money."
Laura Etherton, lobbyist with the Oregon State Public Interest Research Group, which was funded by the state to scrutinize proposed rate increases, also questioned assumptions made by Regence.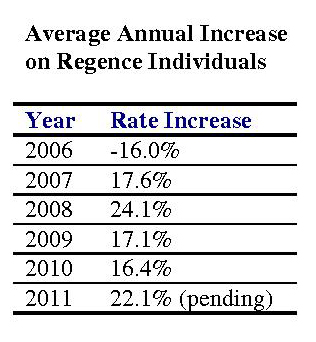 In particular, Etherton said Regence is failing to account for a continual decrease in enrollment and subsequent instability that would come with a 22.1 percent average rate hike. Since substantial rate increases began in 2007, Regence has lost more than 40,000 individual members.
"We are very concerned that Regence has not provided sufficient information to justify this rate increase," Etherton said. "We believe their reluctance to face the severity of this issue is troubling, and we recommend DCBS only approve a rate increase that ensures consumers are protected from instability in enrollment."
In public testimony to the Insurance Division, Vic Baker said he and his wife were stuck as Regence policyholders because they have pre-existing conditions that would cause another insurer to reject them.
"It's such a flawed business model," Baker said. "It can't continue to pass along double-digit price increases to its consumer base. These types of increases can't continue."
Several people testified that benefits under Regence individual plans have decreased in recent years including greater cost sharing for prescription drugs and medical procedures.
Dr. Paul Gorman, a physician at Oregon Health & Science University, said it was insurance companies that were making things worse in the healthcare industry.
"In 27 years as an Oregon physician I've seen them make it harder and harder to do what's best for patients while their profits soar and health outcomes fall," Gorman said. "It's time to say 'no' to the big insurance industry and 'no' to Regence on this increase."
Close to half of the testimony heard Thursday evening came from Regence employees, which briefly sparked an outcry from the audience that Regence had stacked the hearing with its own people.
Short largely blamed medical and prescription drug expenses for the rising costs of health insurance along with shortfalls in government reimbursements for Medicare and Medicaid.
He pointed out several examples, including emergency room visits and outpatient ambulatory care services where utilization went down but costs increased by more than 50 percent in five years. Therefore overall costs went up. Use of prescription drugs, meanwhile, largely increased along with prices that have skyrocketed.
"These are good medical advances but they do cost more," Short said.
For an audio version of this story in collaboration with KBOO radio 
click here.
To Learn More
To comment on any proposed insurance rate increase
click here.
For related stories on insurance company financials
click here.