Portland's Transgender Benefits Have Gone Unused
Last June the Portland City Council unanimously approved the new benefit joining Multnomah County and San Francisco
April 2, 2012 – None of Portland's city employees or family members have used the city's transgender benefits that were approved by the city council. But that isn't unusual, said Yvonne Deckard, director of human resources, and doesn't mean providing those benefits are without value.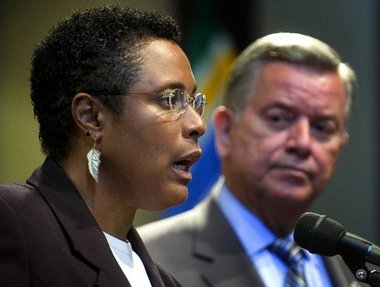 "We didn't anticipate that there would be a large volume of claims, necessarily," she said. "Part of it is just the uniqueness and the small population group that will access that benefit."
Portland's City Council unanimously agreed to include transgender healthcare to its health plans in June 2011. Sexual reassignment surgery was among the benefits added. Prior to the vote, the city already covered prescription medications, office visits, and mental health counseling and treatment.
The city's labor management committee, which makes recommendations to the human resources bureau on health benefits and other issues, had considered including transgender benefits for two years to its health plans, the city's self-insured CityCore plan and a Kaiser Permanente plan. But the committee had voted against adding those benefits.
"They wanted more research, and they wanted to know about the cost," Deckard said.
The city of Portland projected an additional cost of $32,302 by adding trans-inclusive coverage – which represented a .08 percent increase to its $41,615,000 projected fiscal budget for 2011-2012.
Deckard said there was widespread agreement among city officials that transgender benefits would be cost effective because a small number of people would likely use such coverage.
Because few employers and insurance companies offer transgender benefits, the city is a more competitive employer, she said, and reflects the city's emphasis on preventive healthcare.
There was also a moral component to the council's decision. "Having it available when we get those [claim] requests is what we believe was the right thing to do," she said. "For who will access this benefit, there's a real need [for it]. Our goal was to make it available."
In the future, Deckard expects employees and their dependents to utilize such benefits. Making the decision to have sexual reassignment surgery takes time. "That's a very hard…decision for someone to make," she added.
Portland is one of three jurisdictions in the country to add transgender benefits, along with Multnomah County and San Francisco.
It's difficult to determine the number of transgender individuals in the work force, but the Transgender at Work Project reported that 1,170 sex reassignment surgeries were performed in the U.S. in 2001, while approximately one in 2,000 residents had been diagnosed with gender identity disorder.
Group health plans rarely offer coverage for sexual reassignment surgery, leaving it up to employers to offer coverage.
In 2008, the American Medical Association published a resolution saying physical transitioning is medically necessary for some people and should be covered by insurance. However, most private insurance companies do not cover sexual reassignment surgery. Federal Medicare policies prohibit states from passing exclusion clauses regarding treatment, and Medicaid plans vary from state to state.
Image for this story appears courtesy of The Oregonian.