Oregon Pioneered Home Care Workers, Who've Waited Six Years for Raise
Home care workers provide long-term care to Medicaid clients and help low-income senior citizens stay in their homes and communities, but the workers are also the second-largest Oregon workforce eligible for food stamps.
May 1, 2013 — At 56, Rebecca Sandoval has grown kids but decided several years ago she would adopt someone new — a grandmother.
Sandoval works as a home care worker for Edna Jaques, a 99-year-old Medford woman. Jaques lives with her granddaughter, who had been Sandoval's roommate in Indiana.
"I cared about her because I loved her. It was a totally natural thing to work out, this household," Sandoval said.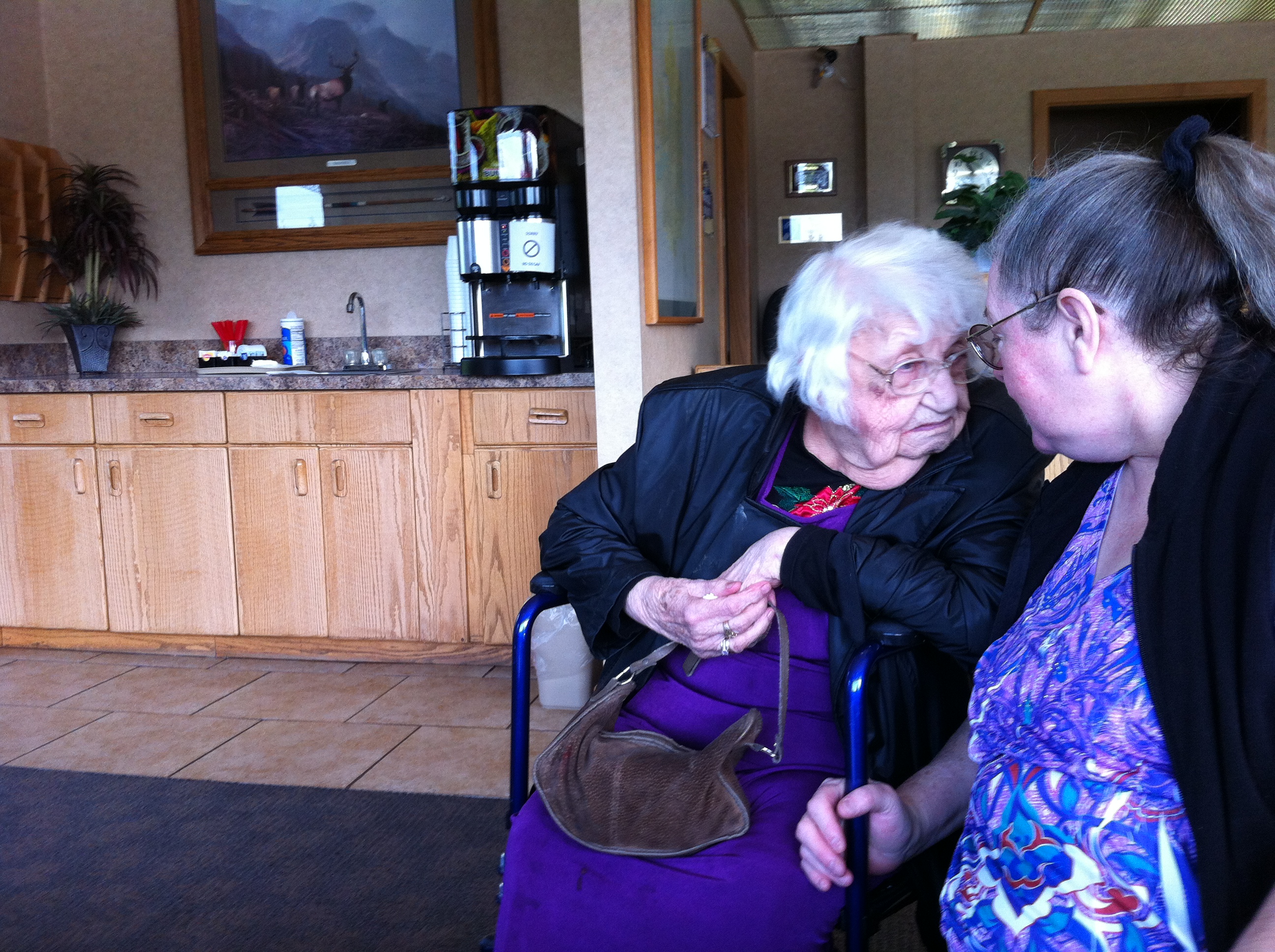 Jaques has congestive heart failure and spends much of her time in a wheelchair for lack of balance. "She's so good. She spoils me," Jaques said on a recent trip to Salem.
Oregon has pioneered home care workers for the indigent elderly, helping them to live with greater dignity and freedom in their old age.
Many of Oregon's 10,000 homecare workers are family members who often take on the full-time work of assisting elderly Medicaid clients with long-term care needs. Others are hired from a registry of homecare workers that's managed by the Oregon Home Care Commission.
Each client is assessed for needs and given a certain number of hours with a home care worker each week. Home care workers do everything from helping clients regulate their medicines to shopping for groceries. If needed, they bathe, dress and feed their client, as well as make sure they check in with their doctor.
The home care workers were organized in 2000 by the Service Employees International Union, which helped stabilize the workforce with a living wage and access to health benefits, but that wage has been stuck for six years at $10.20 an hour.
Without a raise in six years, SEIU political organizer Meghan Moyer said they're seeing increased turnover, with more clients having to shuffle through home care workers to find one who will stick.
After Wal-Mart, the Home Care Commission has the largest workforce in Oregon eligible for food stamps, Moyer said, and the average worker is a 50-year-old women not far away from relying on Social Security and a home care worker for themselves.
Savings at Home
"They've been a critical provider of services for quite some time — as long as I can remember," said Mike McCormack, the deputy director for Aging and People with Disabilities at the Department of Human Services. "The recipients much prefer to remain in their own homes or in community settings. The state saves significant funds through home and community-based care as opposed to nursing facilities."
McCormack said home care workers serve about 40 percent of the state's Medicaid clients who have long-term care needs. Only 17 percent are in nursing homes, with about 11 percent in residential care facilities. The rest live in adult foster homes or assisted living facilities.
Jaques has lived all over western Oregon, from Medford and Veneta to Salem, Springfield and Newport. Most of her 27 descendants are scattered across the state.
"She's been here for two-thirds of Oregon's history," said Sandoval. Her husband was a pile driver on the Yaquina Bay Bridge at Newport, built in the Great Depression.
Sandoval is active in her union and spent a few months in 2011 in Washington, D.C., on its behalf. During that time, Jaques was placed first in adult foster care, and then a pair of nursing homes. She hated all of those choices, where she had to deal with roommates acting inappropriately and was unable to receive the personalized care she receives from Sandoval.
"It was pretty darn rough," Jaques said.
Finally, Sandoval returned to Oregon and was asked to take care of Jaques because her other living situations were intolerable.
Sandoval said she recently had a checkup with her cardiologist, and 18 months after she left the nursing home, her health had improved.
Budget Hole
The Democratic budget chairmen in the Legislature took a bit of a gamble when they laid out their preliminary budget this session. They're counting on the federal government delivering an additional $100 million in Medicaid money to provide long-term care in community-based settings — but that money hasn't been approved.
"If we don't get it, we have a huge hole," Moyer said.
Gov. Kitzhaber called for a cost-of-living adjustment for home care workers in his budget — but Sen. Richard Devlin, D-Tualatin and Rep. Peter Buckley, D-Ashland, who chair the Committee on Ways & Means, removed that money along with $135 million in other funds from the Department of Human Services and the Oregon Health Authority to boost funding for education. The legislators also scaled back cuts to the Public Employees Retirement System.
Sen. Alan Bates, D-Medford, told The Lund Report that he thinks about half that money could be restored to human services, but wouldn't provide details.
The raise for the home care workers is now on a $74 million wish list of other items, but that wish list is dependent on coming up with new revenue.
"I couldn't make any promises," Devlin told The Lund Report.
The revenue effort was dealt a blow last week when the Democrats' five-part $275 million tax package failed in the House. That package included an increase in corporate taxes and a reduction in tax breaks for wealthy individuals, but only the smallest portion was able to get the necessary Republican votes.
A unanimous House passed that measure, which could generate $18 million by authorizing the Department of Revenue to pursue corporations that illegally take advantage of off-shore tax shelters for business conducted in Oregon.
A tax deal greater than $18 million could still be brokered in the Senate, but without it, the Democratic budget will come up $257 million short, including the wish list for things like home care workers.
Moyer said she was hopeful a Senate deal will be reached to get close to the $275 million that Devlin and Buckley wanted. "We feel really vulnerable if new revenues don't occur," she said.
Meanwhile, Sandoval and Jaques spent their time in the Willamette Valley visiting her many relatives, getting a haircut and gambling away $10 at the casino.
They returned to Medford last week but invited The Lund Report and anyone else to a planned celebration next January 22 — Edna's 100th birthday.
Image for this story (of Sandoval and Jaques) by Christopher David Gray.
Christopher David Gray can be reached at [email protected].