Oregon's Waiver to CMS Nears Completion
The waiver is necessary for Oregon to proceed with its efforts to reform the Oregon Health Plan
June 19, 2012—The Oregon Health Authority is nearing the end of countless hours of negotiations with the Centers for Medicaid and Medicare Services (CMS) to finalize a waiver that will allow the state to legally move forward with reforming the Oregon Health Plan.

The authority plans to submit the waiver on July 1, which will allow the state to be exempt from certain regulations and rules in federal Medicaid law. That way, the state can "do things that aren't in strict adherence to the standard, cooking cutter federal law that covers Medicaid" in an
effort to develop "creative and innovative things at the state level," Tina Edlund, the authority's policy chief, told the Oregon Health Policy Board meeting last week.

Particular components of the waiver represent "small, but significant" changes, so the state can implement coordinated care organizations (also known as "CCOs"), she said. Coordinated care organizations are expected to begin providing care to many of 650,000 Oregonians on the Oregon Health Plan in August, and integrate physical, mental and dental health, providing more efficient and effective care, and decreasing emergency room and specialty care use.

CMS has expressed strong interest in these coordinated care organizations and considers them a demonstration project for how other states could develop a more coordinated Medicaid system. The federal agency agreed last month to give Oregon $1.9 billion over the next five years to help fund coordinated care organizations.

But Edlund said that agreement is "in principle" only, and receiving those dollars is contingent upon the waiver's approval.

"CMS is not approving the dollars without approving the entire waiver," Edlund said. "There have been a lot of questions about the relationship between the money and the waiver. They are the same thing."

In its waiver request, Oregon is asking for greater flexibility in how it spends its Medicaid dollars, which would allow coordinated care organizations to "pay for services that might not be strictly medically necessary," such as shower seats for disabled people or air conditioners for those with congestive heart failure, Edlund explained.

The state is also wants the ability to reimburse community health workers, personal navigators, and other non-traditional health workers. Edlund said. CMS has asked for "evidence" that there are "clear criteria and standards" for those workers, which have been developed by a task force.

"They're very interested in the idea of using these alternative workers in order to achieve some meaningful savings," Edlund said.

Oregon also wants CMS to loosen some restrictions around electronic communications and marketing materials for Oregon Health Plan members. The state would like coordinated care organizations to be able to give their members educational materials—which are currently
considered marketing materials—as well as communicate with them via email.

"It's a real issue," Edlund said, referencing the prohibition to email patients. "It's a waiver they've never granted."

CMS has tentatively agreed to allow some communication over email, she added, but all grievance and appeals processes would still be done using postal mail.

Through the negotiations, CMS has asked Oregon to increase its state support to bolster primary care workforce development, invest in loan repayment programs, and make investments to train community health workers. CMS also wants the state to create an incentive system encouraging providers to focus on preventive care.

Also, the $1.9 billion must be spent on developing coordinated care organizations. "They worry a lot about states backing out general fund [dollars] and using that for other purposes," Edlund said.

Finally, Oregon has agreed to reduce Medicaid spending by two percentage points in two years. "This is the subject of a lot of back and forth," Edlund said. "We're communicating once, or two or three times a day."

It's still yet to be determined when the growth of Medicaid spending will actually be measured and when that starting point will begin.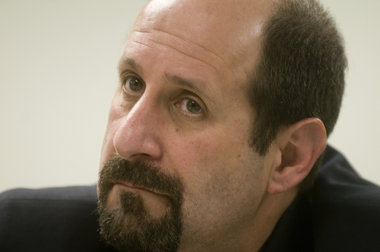 "How we've controlled costs is by cutting rates," said Dr. Bruce Goldberg, director of the Oregon Health Authority. "That's artificial. We've still had care [costs] grow. We're trying to have a very clear, upfront conversation with CMS about the tools that states use to reduce payments and balance their budgets, versus what really is true utilization [of Medicaid dollars]."

Edlund expects the waiver to be approved because it's been so thoroughly discussed and negotiated.

In 1995, Oregon received a federal waiver from CMS to create the Oregon Health Plan. Another waiver allowed the creation of the plan's prioritized list of services, and covered all childless adults who earned up to 100 percent of the federal poverty level.

Image for this story appears courtesy of The Oregonian.