OHP Transformation Pegged for November
Lawmakers received a draft timeline for integrating the Oregon Health Plan
March 17, 2011 – The Health System Transformation Team received a draft timeline Wednesday night that sets a deadline of November for significant changes to the Oregon Health Plan.
"If folks were expecting to see another lawyerly document that looked like legislation, I hope you're not disappointed," said Bruce Goldberg, the Health Authority's director.
He and Mike Bonetto, the governor's health policy advisor, presented the team with a
three-page summary
of "coordinated care organizations" (CCOs) – the regional entities that would work with community partners to integrate public health.
The timeline laid out by the Health Authority shows just how rapidly the state wants to implement this change.
The Transformation Team will hand its work – presumably a more specific legislative concept – to lawmakers next week to craft a bill by July 1. The Health Authority will spend the month of July applying for federal waivers and collecting stakeholder input about the bill and transformation initiative.
Development and drafting of a request for proposals to implement the transformation plan will be completed by Nov. 1, the same date that CMS will make a decision about waivers.
Contractors will be selected by the end of March 2012, though some healthcare organizations that are currently practicing elements of the Transformation Team's objectives (such as integrated, community-based healthcare) will be invited to apply for "early adopter" status, and could start implementation in early March of next year.
By July 1, 2012, the Health Authority plans to implement the process statewide, with the goal of serving everyone on the Oregon Health Plan through the CCOs described in the summary document.
"The goal is to have this fully implemented by year two of the biennium," said Goldberg.
"Wow," said an incredulous Rep. Mitch Greenlick (D-Portland). Others also expressed skepticism that such a timeline could be executed without inciting bitter political battles on the local level.
However, Morse and others favored an aggressive timeline.
"No diddling, piddling, or dallying," said Morse.
Above all, several team members contended, the Health Authority needs to educate communities around the state about this process, "so we can quell organizations' fear that they might be going away," said Sen. Laurie Monnes Anderson (D-Gresham).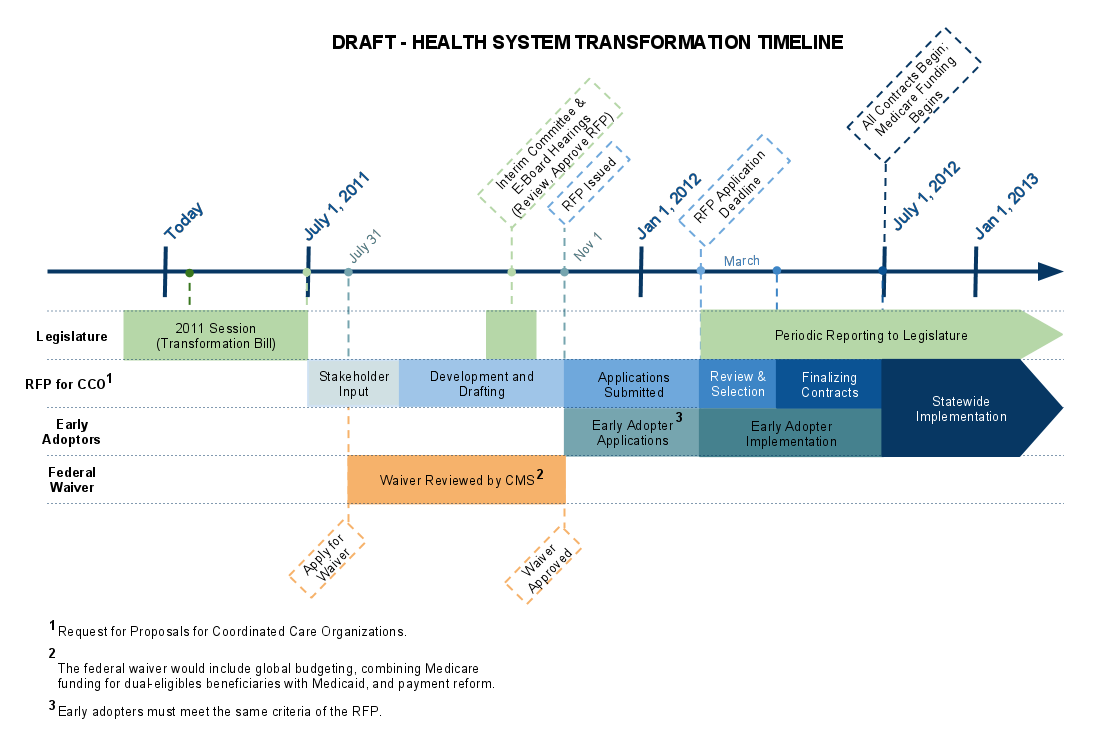 TO LEARN MORE:
Previous Transformation Team coverage in The Lund Report
here.