New Portland Parks Program Offers Kids An Interactive Way to Experience Gardening, Cooking, and Food
Park officials hope that teaching kids how fruits and vegetables are grown, cooked, and how they taste will encourage them to eat healthier
June 1, 2012—Portland's Parks and Recreation bureau has started a new pilot program at two North Portland community centers focused on providing interactive activities for kids to learn more about healthy eating.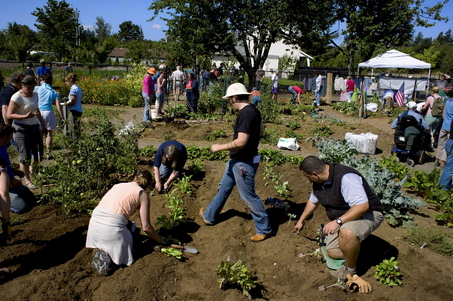 The program, called the Grow Afterschool program, will be offered at north Portland's University Park and St. Johns community centers. In eight-week courses taught three times a week after school, kids will learn how to plant and grow vegetables, cook different meals, and do taste tests.
Lessons, said Ali Ryan, a Parks bureau program specialist, may include taste testing a particular vegetable and developing a vocabulary to talk about what they're tasting, and food in general. Another might be a cooking lesson using the same vegetable, but cooking different meals that look and taste different.
A $13,000 grant from Oregon's department of education is funding the program. Ryan said approximately 60 kids are enrolled in the program, but there's no limit on capacity. "Ideally, we want to get as many kids as possible in the program," she says.
The program is part of Portland City Commissioner Nick Fish's Healthy Portland Initiative, which incorporates programming that promotes health, reduces health disparities and risk of chronic disease into the services the Parks bureau already offers.
"When it comes to health, we recognize that place matters," Fish said in a press release announcing the Grow Afterschool program (he did not respond to a call for further comment). "Communities who have easy access to healthy food and safe places to exercise are healthier communities."
Ryan said that, as the parks bureau was developing the program, staff focused on finding a way to encourage kids to be more active and healthy.
"The more adventurous kids can become about what tastes good and the earlier they're able to realize that vegetables and fruits…taste amazing, the more likely they are to seek those out as snacks and meals," Ryan said. "It's really just opening them to a new way of looking at how they're eating."
A wide variety of studies exist that show a child's health is improved by eating fresh food, fruits and vegetables. A child's likelihood of becoming obese, developing Type II diabetes, heart disease and other physical health problems is also reduced by eating healthier food, and their ability to learn, focus, and concentrate in school.
The Grow Afterschool program is one among many programs developing, both statewide and in Portland, that work toward the goal of encouraging children to adopt healthy eating habits at a young age, and carry those habits through to adulthood. Last year, the state legislature created the Oregon Farm-to-School and School Garden Program,which encourages schools to use food grown by local farmers in school lunches. Numerous schools throughout the Portland area have started vegetable gardens on school grounds and have incorporated gardening into classroom activities.
Ryan said a more robust version of the Grow Afterschool program will start in September, and last throughout the school year. It will continue to be held only at the University Park and St. John's community centers, but Ryan said the program can be extended to other community centers and park sites.
Image for this story appears courtesy of The Oregonian.