Modern Day 'Silent Spring' Author to Visit Oregon
Sandra Steingraber's talk comes on the heels of toxic regulation stalling in the Legislature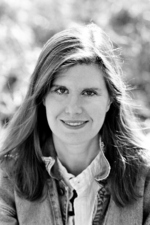 March 19, 2012 -- The Northwest Center for Alternatives to Pesticides will host a nationally influential environmental health activist when author Sandra Steingraber gives a free talk from 7 to 9 p.m. on Thursday, April 5 at the Old Church, 1422 S.W. 11th Ave. in Portland.
Josh Vincent, the center's campaigns associate, is not alone in seeing Steingraber's "Living Downstream: A Scientist's Personal Investigation of Cancer and the Environment" as a modern-day "Silent Spring." Like Rachel Carson, Steingraber's book has inspired scientists and the general public alike to advocate for chemical regulations and promote alternatives.
"'Living Downstream' became a real call to action for many groups, including our own," Vincent said.
Written in the '90s, "Living Downstream" opened a lot of people's eyes to the connection between cancer and toxins, and the book has been republished in a second edition alongside a 2010 documentary film of the same title.
"She's been a frontrunner in talking about the health issues of pesticides and making it accessible for the general public," Vincent said.
But unlike Carson, Steingraber makes a connection with her own experience having survived bladder cancer and the use of toxins in her Illinois childhood home.
"Carson felt it necessary to conceal her history as a cancer patient because it might well have been used against her by the chemical industry," Steingraber said. "It's a fairer world now than when she was writing, so I have more narrative options."
Steingraber is accustomed to being compared to Carson, and among the numerous awards she's received is Chatham College's biennial Rachel Carson Leadership Award.
Steingraber has also won the Hero Award from the Breast Cancer Fund and the Environmental Health Champion Award from Physicians for Social Responsibility in Los Angeles.
"I'm proud to wear the mantle of Rachel Carson, and she's a deliberate role model of mine," she said.
Long anticipated visit
The Northwest Center for Alternatives to Pesticides started working with Steingraber last year for an Oregon visit, but had to cancel a talk scheduled in October after her son crashed his bike. The incident resulted in no permanent injury and even provided Steingraber with a way to introduce her latest work, "Raising Elijah."
"My son's life may have well been saved by the fact that he was wearing a helmet," Steingraber said. "The state has an interest in preventing head injuries in children, and everyone benefits from that kind of public health regulation."
Just as Oregon mandates helmet for people 16 and under on bikes, Steingraber calls on state governments to recognize chemical contamination of the environment as a human rights and public health issue.
"When we see an inherently dangerous situation, we tend to remove children from the situation or we correct the situation. In contrast, our environmental laws are not precautionary of childhood cancers and these things are released into the environment without really any attempt to prevent ill effects," she said.
With such a personal approach, Steingraber identified the relationship between pollution and human illness in ways that Carson could only have dreamt of. A scholar in residence at New York's Ithaca College, she was an advisor to the California Breast Cancer Research Program and provided briefings to Congress.
"We're really at this interesting crossroads right now because the shale gas boom is really driving chemical production as well," she said. "We're just dumping more and more carbon on the market so it's getting harder and harder to regulate."
Oregon movement
Activists have targeted organic compound Bisphenol A (BPA) because it has been linked to increased risk for cancer and other healthcare issues. It can be absorbed by the human body after it seeps from commonly manufactured plastics.
Renee Hackenmiller-Paradis, the environmental health program director with the Oregon Environmental Council, said it's been difficult to get legislation enacted on BPA at the state level. In 2011, its BPA-ban legislation passed in the Senate and stalled in the House, but Multnomah County passed an ordinance last October and is holding community forums, in preparation for enforcement to begin this summer.
Moving away from the single-chemical approach, Hackenmiller-Paradis has been looking at ways to inform lawmakers about other critical environmental health issues. In rejoinder to the common statement that such changes have to happen at the federal level, Hackenmiller-Paradis said states still have a lot of power to make effective changes.
"There are people at the state level who think that exposure to chemicals is not a problem, but you'd have to be under a rock to think that," she said.
During the brief 2012 session that ended last month, the Oregon Environmental Council helped introduce House Bill 4123, which sought to identify harmful chemicals in children's products through regulation by the Oregon Health Authority, but the bill died in committee.
"When they're trying to balance the budget, anything that requires revenue is going to be tough, but we were pleased to get bipartisan support of this," Hackenmiller-Paradis said.
Rep. Alissa Keny-Guyer (D-Portland), who sponsored the legislation, intends to re-introduce the bill during the 2013 session.