Mental Health Carve Out Bill Faced Governor's Veto
The bill would have required the state to pay for drugs that treat mental illnesses, HIV/AIDS, cancer and immunosuppressant disorders
March 12, 2012—A bill that would have required the state to continue paying for drugs used for mental illnesses, HIV/AIDS, cancer, and immunosuppressant drugs until 2016 died in the last days of the Legislature, blocked by the House and facing a veto threat from Governor Kitzhaber.
Senate Bill 1570 would have required the Oregon Health Authority's Department of Medical Assistance Programs (DMAP) to continue paying for drugs that treat mental illnesses, HIV/AIDS, cancer and immunosuppressant drugs used by Oregon Health Plan members and other people who receive healthcare from state programs.
The bill would have expanded what's known as a "carve out" of mental health drugs, which DMAP currently pays for (rather than the managed care plans responsible for Oregon Health Plan members).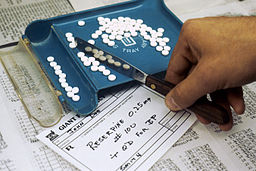 Prior to 2009, the state did pay for such drugs. But that year the Legislature changed the law, and mental health drugs continued to be under the state-run program, but the state was only responsible for the refills of HIV/AIDS drugs, cancer and immunosuppressant drugs.
Senate Bill 1570 was sponsored by Sen. Jackie Winters (R-Salem), and co-sponsored by 12 other Senate Republicans. Winters argued the bill was necessary to ensure that patients had uninterrupted access to the most effective drugs available to treat their illnesses.
She worried that coordinated care organizations (CCOs), which will replace the state's managed care plans in July and integrate the physical, mental, and dental healthcare of Oregon Health Plan patients, may restrict a patient's access to drugs to save costs. She also was concerned that the state's preferred drug list—a list of cheaper, generic drugs deemed to have the same clinical efficacy of more expensive medications—would be expanded to include those that treat mental illness, HIV/AIDS, cancer, and immunosuppressant disorders.
"Most would agree that treatment of these conditions is of critical importance," Winters said. "I do not want to play Russian roulette with the lives of individuals."
As part of a compromise, the bill's provisions would have ended in 2016 with the CCOs responsible for covering the drug costs.
The bill was supported by numerous advocacy organizations representing people who would have been impacted including Cascade AIDS Project (CAP), the Urban League of Portland, the African American Health Coalition, the Oregon Bioscience Association, the Leukemia & Lymphoma Society, the American Transplant Foundation and the American Cancer Society. None of these organizations testified during the committee hearings.
The bill passed the Senate with 24 votes, with 4 no votes coming from some of the Senate's most liberal Democrats—Sens. Ginny Burdick (D-Portland), Jackie Dingfelder (D-Portland), Diane Rosenbaum (D-Portland), and Elizabeth Steiner Hayward (D-Hillsboro), who is a family physician.
But the bill ended up having one powerful opponent: Governor Kitzhaber, who told legislative leaders during the last days of the legislative session that he intended to veto it if the bill passed the House.
Sources say the Governor's office was concerned that the bill would have increased healthcare costs--rather than allowing CCOs to cheaper, equally effective, generics drugs, the state would have had to continue paying for name-brand drugs.
"We spent this session working to bring down healthcare costs to make businesses more competitive and ensure more people can access care," said House Co-Speaker Arnie Roblan (D-Coos Bay).  "This bill isn't about patients—it's about undercutting our efforts to improve healthcare quality and control costs."
During the Senate's debate, Sen. Richard Devlin (D-Tualatin), who voted for the bill, expressed frustration that the Governor hadn't voiced his intentions earlier in the session.
"We have a legislative process," Devlin said. "The bill passed unanimously through the policy committee, the Ways and Means subcommittee, and through the full Ways and Means committee. If people had objections to the bill, they should have come earlier to the process. I'm not making any direct objection to any person or to the Governor or to anyone else. This process would be much more beneficial if people were truthful, if they were open, and if they stated their objections."
It's unknown, right now, if similar legislation will be introduced in the 2013 Legislature.
Image for this story appears courtesy of National Cancer Institute photographer Linda Bartlett courtesy of Wikimedia Commons (public domain).