Insurers Ready Another Round of Double-Digit Hikes
State actuaries say medical costs went up 12 to 13 percent last year
February 4, 2010 -- Regence BlueCross BlueShield is asking the Insurance Division to approve a 25.3 percent average premium increase on more than 73,000 individuals whose policies renew starting April 1. These same members just absorbed a 24.4 percent rate increase last year.
Regence, which has the state's largest pool of individual health plans, insists that it has been losing money on these plans since 2006 after it lowered rates by 16 percent that year. 
The move triggered other insurers to compete by lowering their premiums. By 2008, the average individual premium for Oregon's largest insurers was 36 percent less than the average premium for all other health insurance policies, including small and large group markets. 
That's among the findings in an
annual report on health insurance
released last month by the Insurance Division. "Individual premiums tend to be lower because benefits are not as rich and because insurers can limit their risk by denying coverage to people with health problems," the report found.
By 2009, Regence reportedly lost $15 million on its individual health plan business, according to
rate filings
. Now, by rapidly increasing rates, Regence is losing members. Last year more than 25,000 people canceled their individual plans. But for those who have a pre-existing condition, switching health plans isn't an option. They can either stay with Regence or join the Oregon Medical Insurance Pool whose rates are among the highest.
"Regence wants to get back to a point where they break even on this line of business, which makes sense," said Teresa Miller, administrator of the Insurance Division. "I don't think we want any company continually losing money on a particular line of business."
The division is expected to issue
new rules
soon that will broaden the state's regulatory authority and give consumers more information about the profitability of insurance companies.
Although Miller wouldn't comment on pending rate requests, if past decisions are any indicator, it's unlikely that Regence will get approval to raise individual rates by 25 percent in April.
Late last year, Regence asked for a 26 percent increase on individual plans that renewed after the New Year, but the division approved a lesser 17.3 percent hike. Earlier, in July, regulators allowed Regence to raise rates by 15.9 percent on plans that renewed after October 1.
"Regence would like to get back to that profitability quicker than we're agreeing to," Miller said. "What we're saying is that we're going to let you get back to that break-even point but we're going to do it over time, and we're going to phase this in to lessen the financial burden on consumers."
The latest give and take between Regence and state regulators marks the second time in the past year that the division has turned down the carrier's request, disrupting a pattern of more than two decades where regulators had not denied a single request from any insurer.
In the small group market, businesses insured by Regence faced a 16 percent increase in January. For those who renew after April, those groups will see their rates increase by 14.6 percent from the year before.
Rates continue unabated rise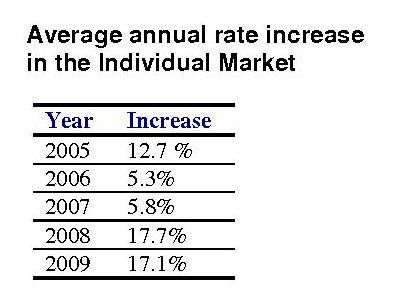 Overall, health insurers across the board will continue posting double-digit increases this year, based on the
latest rate requests
. For an excel spreadsheet of recent rate increases
click here
.
The trends in skyrocketing health insurance premiums are very close to actual medical costs, which grew around 12 to 13 percent last year in Oregon, according to Miller. That information comes from actuaries who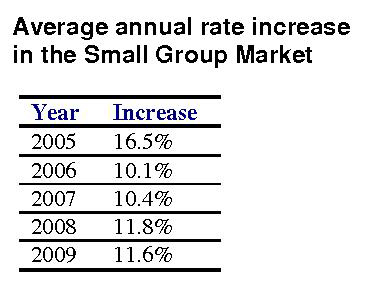 analyzed trends and claims' costs in company rate filings.
"What we're seeing is not out of the ordinary," Miller said. "That highlights the need for healthcare reform. This is not sustainable"
The Insurance Division's
annual report
shows just how unsustainable health insurance has become. Average monthly premiums in 2008 were $365 for single coverage and $1,049 for family coverage, up from $184 and $467 in 1998. The report highlights the general rise in individual and small group health plans, the two categories where regulators approve rates.
Enrollment figures in 2008 show that the largest number of insured Oregonians fell into the large group market, which represented 727,000 Oregonians, 19.2 percent of the population. Small group plans covered 254,000 people, together with portability plans, representing 7 percent of the state's population. Association health plans covered 222,000 people and individual health plans represented 201,000 people.
The
report
also examined profitability, administrative costs and surplus, concluding that, in the past 10 years, insurers have socked away, on average, a 1 percent annual profit, while administrative expenses have been around 6 percent.
For a complete list of recent rake hikes in an excel spreasheet
click here.