Insurance Exchange's Small Employer Program Takes Shape
Easing administrative burden for employers is a main focus
June 19, 2012—The program and technological infrastructure allowing small employers to purchase health insurance through Oregon's exchange is beginning to take shape. Making the process easy for employers and reducing administrative burden will be key to its success, according to its staff.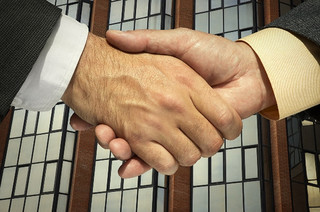 Called the Small Employer Health Options Program and colloquially referred to as the "SHOP Exchange," employers with 50 or fewer employees will be able to compare and purchase health plans. The exchange, which will act as a one-stop shopping place for individuals and small businesses to purchase affordable health insurance in January 2014, could serve as many as 700,000 uninsured individuals and small businesses—or more, if employers and individuals decide they would rather purchase insurance through the exchange.

A survey released on June, commissioned by the Small Business Majority and Kaiser Permanente, found enormous interest in Oregon's exchange among small businesses. According to the survey, the number of small employers that would offer health insurance once the
exchange gets underway would jump from 26 percent to 42 percent.
"The goal of the small employer is to create what would be the most desirable marketplace in Oregon for small employers and their agents to access health benefits that offer meaningful choice to their employees," Damien Brayko, the exchange's staff person working on the project,
said during a board meeting last week.

Much of the program's design so far, Brayko told board members, is based on market research and numerous conversations with small business owners, insurance companies, and agents about how employers go about purchasing insurance, what they value in health plans, and what they want in terms of choice.

The SHOP Exchange, Brayko explained with no pun intended, will be a lot like a shopping experience. After employers enter basic information about their business, including income and number of employees, they'll be able to see, sort and compare the various health plans.

"We don't want to force them into any one path," Brayko said.

Employers will choose the plans available to employees, and will be the only ones that employees can choose from.

"It's the employer's choice for how much choice to allow their employees," Brayko said.

The Small Business Majority/Kaiser Permanente survey backs up the emphasis Oregon's exchange is placing on choice: 63 percent of surveyed businesses want their employees to be able to choose among multiple health plans.

Brayko and other exchange staff are working on ways to make the process as streamlined and simple as possible to reduce the administrative burden. That includes making it easy for employers to renew their health plans, and simplifying invoicing and the payment process.

The exchange staff is also taking a close look at ways to notify business owners about their eligibility for tax credits, Brayko said. The Small Business Majority/Kaiser Permanente survey also found that the majority of small businesses, both in Oregon and California, are not aware of the tax credits currently available to them. In Oregon, 55 percent of businesses were either unaware of the tax credit, or did not apply for it.

"We want to inform every small business," Brayko said, in part because it could help entice businesses to purchase insurance through the exchange.
Image by Wirawat Lian-Udom (CC BY-NC-SA 2.0) via Flickr.