Insurance Agents to Play Critical Role in Oregon's Insurance Exchange
At the same time, agents will need special training and have to meet specific criteria to become eligible
April 16, 2012--The Oregon Health Insurance Exchange wants to train and use insurance agents to help uninsured individuals and small businesses purchase insurance starting in 2014. But questions remain about the role of insurance agents and their impact on consumers who may rely on them for advice.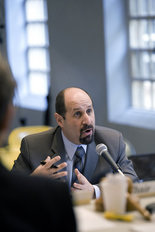 During the board's meeting on Thursday, exchange staff member Kim Wirtz explained that using insurance agents will ensure that the exchange will be able to reach people throughout every part of Oregon, and "assure connection with hard-to-reach populations in the most-cost-effective manner."
Insurance agents help individuals and businesses pick a health insurance plan that best fits that person or business' needs. They typically work for insurance companies and are paid a commission, by that insurance company, depending upon how many plans they sell. There are approximately 13,000 licensed agents in the state.
Using the agents makes business sense for the exchange, which can use agents to help people find out about the exchange once it begins providing coverage in 2014, and buy insurance through it. That is essential to the exchange's long-term success: the exchange is currently funded by a federal grant, but it will have to generate enough revenue to be financially self-sustaining starting in 2014.
According to the exchange's business plan, a 2.52 percent administrative fee will be the source of that revenue. It equates to about $16 charged to each individual participating in the exchange to remain financially self-sustaining. The exchange must have between 100,000 and 125,000 people enrolled by the end of 2015.
The agents working for the exchange, Wirtz said, will be paid by the exchange itself, which will take the commissions from insurance companies and pay them directly to agents. She also said that agents would be given a special training about the exchange and the plans the exchange will offer. The exchange would also develop criteria that would determine whether an agent would work for the exchange.
Dr. George Brown, the CEO and president of Legacy Health System, and Bruce Goldberg, director of the Oregon Health Authority, both voiced concerns about how much the general public knows about insurance and how insurance agents work.
"There is very little the public, excluding those within the industry, understands or knows about how commissions are paid, what they are, and how they're paid," Goldberg said, urging the exchange develop a way for people to "Have the ability for anybody to see what commission is paid for service they gave and how."
Liz Baxter, who chairs the exchange board, questioned whether people would pay the same premiums regardless of whether they use an agent or not. That same concern was voiced last year by Rep. Mitch Greenlick (D-Portland) during an interim legislative session. "I have a problem with people being charged when they don't use an agent," he said. ""They ought to know what they're paying for. It should not be hidden, or buried in the costs."
That issue, as well as many other parts of the agent program, is "something we do need to work on," said Wirtz.
Baxter, the executive director of We Can Do Better, asked how agents will be "removed," or fired, if they do not perform adequately. She also wondered how the exchange could find particular information about an agent, such as if they speak a second language and could do outreach to minority communities.
Agents, similar to a typical subcontractor, will sign a contract with the exchange that will detail their working relationship and responsibilities with the exchange, Wirtz said, adding that the exchange intends to build "a robust profile" about each agent.
Image for this story courtesy of The Oregonian.