Hospitals, Physicians To Share Millions From Clear One Sale
The sale of for-profit Clear One to PacificSource nets investors big money
February 25, 2010 – Although the sale of Clear One Health Plans by PacificSource Health Plans awaits approval by state regulators, documents filed with the Insurance Division express very clearly who will benefit from the $46 million acquisition: hospitals and physicians.
Eight hospitals in central Oregon, led by St. Charles Medical Center in Bend, which holds the majority interest, will reap $9.7 million, having 373,125 shares valued at $26 per share, according to the acquisition. Those hospitals are part of a network known as CONet, Inc., and include Blue Mountain Hospital, Harney District Hospital, Lake District Hospital, Mid-Columbia Medical Center, Mountain View Hospital, Pioneer Memorial Hospital (Prineville), and the St. Charles Medical Centers in Redmond and Bend. 
Taking a look at the physician community, records indicate that 105 doctors will reap benefits. Dr. Michael Kendrick is the largest shareholder and will earn $1.9 million based on his holdings of 74,533 shares.
The largest shareholder by far is a brokerage firm known as Cede & Co., which holds 663,276 shares valued at $17.2 million. It's unknown who will benefit from this transaction because such information is considered proprietary.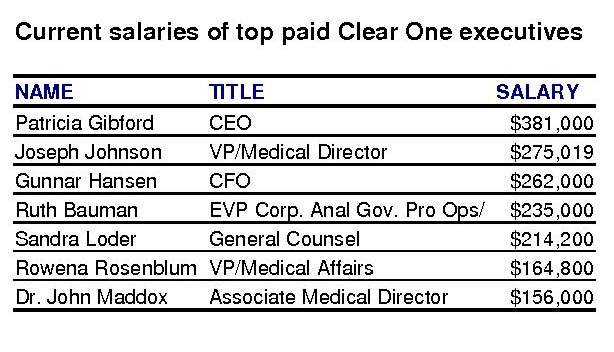 Patricia Gibford, president and CEO of Clear One, holds 21,583 shares in a family trust valued at $561,158. Her latest compensation figures show Gibford earned $380,999.84.
PacificSource's Financial Picture
PacificSource, which announced publicly that it had reached a definitive merger agreement in December to purchase Clear One, has been outspoken about its intentions.
Not only will the health insurer have a stronger presence in central Oregon, but PacificSource will have the ability to expand into Medicare and Medicaid "and provide a foundation for future growth in this market," according to its documents.
Its goal is to "provide more people with affordable, quality healthcare and provide more service at the local level all with greater efficiency and cost effectiveness."
Based on its projections, PacificSource indicated how it will benefit, financially, from the acquisition over the next three years
Its assets will grow by 18.6 percent by Dec. 31, 2012, showing an increase of $34,898,389.
Net premium income will increase by 23.1 percent (+$137,628,919).
Administrative costs are only expected to increase by 8 percent (+$6,575,492).
Its net income will realize a 124.6 percent gain.
For a complete look at these financial projections,
click here
(xls).
A Few More Details
In the 4th quarter of 2009, PacificSource anticipated that its capital position would increase by $2.5 million, while ClearOne Health Plans anticipated having a $1 million reduction in its capital and surplus during the same time period.
Between 2010 and 2012, premium revenue is expected to grow annually by 10 percent due to rate increases and membership growth.
PacificSource estimates its medical-loss ratio (the percentage of premium spent on medical expenses) will be 84 percent for its commercial business.
Administrative costs are projected to increase 3.5 percent annually.
Transaction costs associated with the sale are estimated at $5.9 million in 2010 and $1.5 million in 2011.
The Insurance Division is expected to approve the sale during the 2nd quarter of 2010, and the transaction will be completed 60 days later. 
For More Information
For a complete list of shareholders with more than 7,500 shares,
click here
(xls).
Learn more about the merger from Clear One's perspective by
clicking here
(pdf).