Health Insurers Make More, Cover Fewer People
The 2010 financials for Oregon health insurers paints a troubling picture as nation grips for reform
March 28, 2011 -- Oregon health insurers covered fewer people and made more money last year than in recent years past according to the year-end financial statements submitted to the Oregon Insurance Division.
Compared to 2009, Oregon's top eight health insurance companies covered 1.5 million people last year – down 14 percent – and made more than $207 million in net income – more than double what they earned previously.
Overall profit margins, meanwhile, averaged 3 percent, and about 88 cents of every premium dollar was spent on medical costs.
Cheryl Martinis, spokewoman with the Oregon Insurance Division, said the majority of insurance financial gains in 2010 resulted from investment income – some $127 million. The rest, she said, came mostly from the large group or Medicare markets, which the Insurance Division does not have authority to regulate.
"They're not making money in the markets we regulate," Martinis said. "They are making very little if anything in the rate requests we see."
The Division approves rates only for the individual and small group markets. It could scale back rate requests in those markets, which it has down in several recent cases, but there are dangers, Martinis said.
"If rates are too low than what they actually need, at some point down the road they will have to jump up," Martinis said.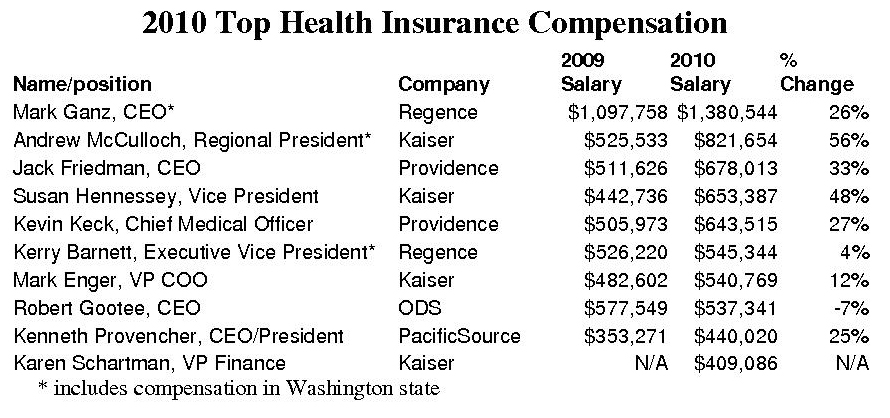 The year-end financial statements also come with the public reporting of executive compensation. Mark Ganz, president and CEO of Regence BlueCross BlueShield, was the state's highest paid health insurance executive. He earned $632,404 in Oregon and $748,140 in Washington for a combined $1.38 million in total compensation. Ganz also earns a salary as head of the Regence plans in Utah and Idaho, however those financial records are not available to the public.
Andrew McCulloch, regional president for Kaiser, earned more than $800,000, increasing his salary by 56 percent, while Jack Friedman, CEO of Providence Health Plans, was the third highest paid executive, taking home $678,013, representing a 33 percent increase.
Based on the financial documents submitted by insurers, 40 Oregon health insurance executives earned more than $200,000 each last year.
The state's top eight health insurers collected nearly $7 billion in premium revenue and spent $6.1 billion on hospital and medical costs including $683 million on prescription drugs. Close to $500 million went to administrative expenses and $238 million on claims adjustments.
Kaiser Permanente received the most premium dollars – $2.5 billion – followed by Regence, which collected nearly $1.9 billion. Though Regence continued to shed members, now down to a little over 500,000 enrollees, it earned the most net income with more than $75 million at the end of the year, matching its earnings from 2006. More than two-thirds of those gains, however, were off investments. 
LifeWise was the only insurer to end the year in the red. It reported a $4 million deficit. LifeWise President Majd Fowzi El-Azma earned more than $400,000 in total compensation last year.
| Health Plan | Members | Net Income | Net Investment Gains | Premium Revenue | Prescription Drug Costs | Total Hosp/Medical Expenses | General Admin Costs | Claims Adjustment Expenses | Profit margin | Medical loss |
| --- | --- | --- | --- | --- | --- | --- | --- | --- | --- | --- |
| Regence BCBS of Oregon | 513,522 | $75,158,557 | $56,377,696 | $1,892,922,218 | $208,383,088 | $1,560,421,394 | $174,187,396 | $122,198,162 | 4.0% | 82.4% |
| Kaiser Health Plan of the Northwest | 461,373 | $39,486,783 | $25,786,054 | $2,469,151,111 | $240,107,627 | $2,369,082,017 | $118,475,639 | $25,384,847 | 1.6% | 95.9% |
| Providence Health Plan | 179,788 | $54,658,768 | $25,289,493 | $980,489,404 | $96,500,716 | $880,647,522 | $37,439,654 | $35,191,520 | 5.6% | 89.8% |
| PacificSource Health Plan | 183,233 | $8,134,728 | $5,965,642 | $582,966,063 | $54,064,668 | $493,099,186 | $68,459,200 | $16,519,543 | 1.4% | 84.6% |
| Health Net of Oregon | 88,786 | $16,606,808 | $3,213,056 | $363,756,046 | $35,312,477 | $295,109,630 | $36,930,716 | $11,317,140 | 4.6% | 81.1% |
| ODS Health Plan | 63,478 | $3,580,211 | $4,818,529 | $216,412,855 | $21,912,155 | $201,964,285 | $7,874,068 | $6,509,104 | 1.7% | 93.3% |
| LifeWise Health Plan of Oregon | 56,221 | -$4,185,255 | $5,072,908 | $189,476,152 | $12,997,997 | $157,350,861 | $28,402,232 | $15,817,317 | -2.2% | 83.0% |
| PacifiCare of Oregon (UnitedHealth Group) | 20,032 | $13,775,916 | $1,041,514 | $221,937,187 | $13,723,076 | $150,679,659 | $26,808,620 | $5,095,814 | 6.2% | 67.9% |
| Total | 1,566,433 | $207,216,516 | $127,564,892 | $6,917,111,036 | $683,001,804 | $6,108,354,554 | $498,577,525 | $238,033,447 | 3.0% | 88.3% |